Ananda. Tiny Bomb. Gotta Get Up To Get Down. Wiseacre Brewery's beers are iconic and so is their brewery the doubles as a Memphis wedding venue.
Photos: The Warmth Around You
About Wiseacre Brewery Event Spaces
Wiseacre Brewery exists in the heart of the Broad Avenue Arts District right along the train tracks. They offer two event spaces perfect for weddings.
Their skilled staff is well versed in throwing good parties. They can help with arrangements, entertainment, decorations, and catering to create a memorable event that is guaranteed to be fun!
There are three event spaces available to rent:
The Taproom (the main bar/facility for groups from 30-200)
Gemütlichket Room (private room for 16 seated or 40 standing)
Chautauqua (outdoor pavilion for up to 200)
About Wiseacre Brewery Taproom
Wiseacre's taproom is their main bar area available for rent. The Taproom offers space for 30-200 people with seating for 60.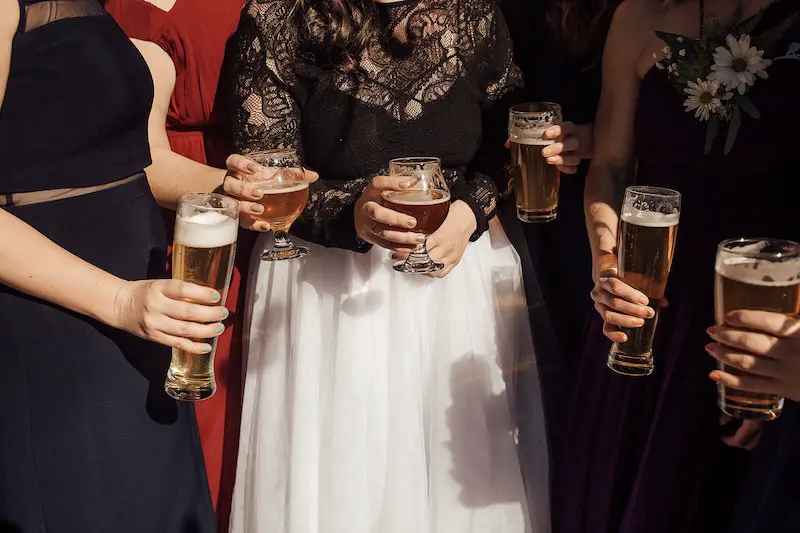 The Taproom at Wiseacre has a private bar, large communal seating tables, floor-to-ceiling windows and a large door for outdoor/indoor vibes.
In addition to the space the taproom features include:
19 beers on tap
seasonal beer selections
a large barn door that opens to the patio
access to outdoor games
A/V equipment
windows looking into the brewhouse
ample parking for wedding events
If you rent the Taproom then the brewery is closed to the public during the event and you have full use of the space.
About Wiseacre Brewery Chautauqua
Wiseacre's outdoor pavilion space known as Chautauqua is a 30' x 60' open-air pavilion. It's a fully customizable space that you can dress up or down depending on your needs.
Features of Chautauqua include:
an awning
wooden stage
two concrete silos
cafe lights
unique tables and seating
barrel high-tops, wooden benches, and up to eight wooden picnic tables
private bar or use of the taproom bar
Chautauqua accommodates a variety of wedding event sizes, from 50 – 200 people.
The outdoor space at Wiseacre is available for rent year round with a four hour minimum.
Location & Contact Information
To contact Wiseacre Brewery:
You can visit their online properties here:
Wiseacre Brewery Memphis Wedding Venue
The event spaces at Wiseacre allow for flexibility, customization, and beautiful events.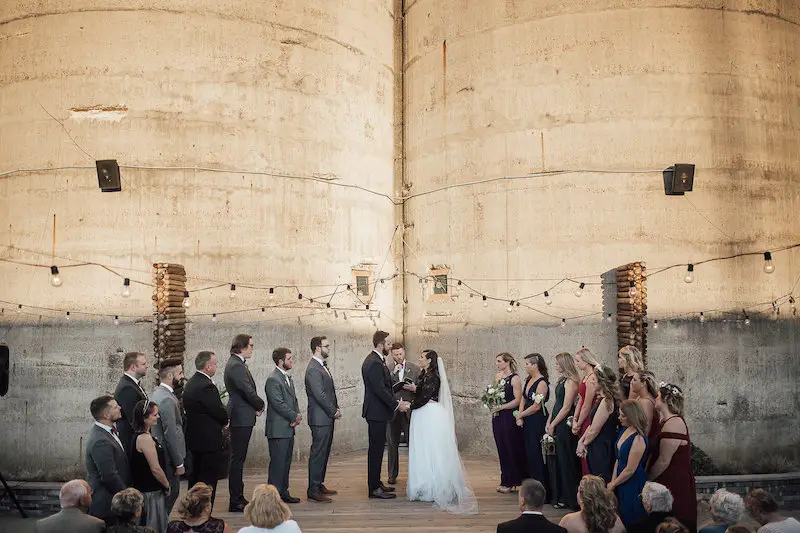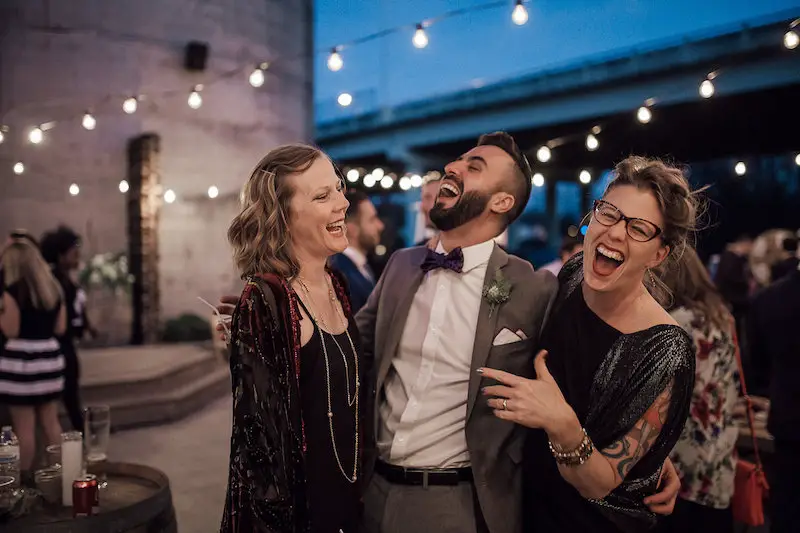 Photos: The Warmth Around You
The event space is a blank canvas that you and your wedding planner can transform. It can be dressed up into an elegant but trendy event or kept casual for a fun event.
Wiseacre Brewery Wedding Cost
The cost of a wedding or other event at Wiseacre Brewery depends on which space you are renting. Below are the rates as of 2022.
Taproom Rental Costs
Facility Rental Fee: Ranging from $750 – $7,500 for a four hour event, Monday – Sunday.
Service Fees: $20 per hour per bartender for the length of the party, plus one hour each for set-up and clean-up
Chautauqua Rental Costs
Facility Rental Fee (for 4 hours in the space): 

Monday – Thursday: Depending on the month, $1000-$1300 for the first 4 hours and $250-$300 for every additional hour.
Friday – Saturday: Depending on the month, $1500-$1800 for the first 4 hours and $250-$400 for every additional hour.

Tent: Tent rental is optional, but please note that events are rain or shine. If a tent rental is desired, we will coordinate it through our preferred vendor. The basic structure (ceiling, no walls) is approximately $1,900 with set up and delivery fees. Additional tent amenities (tent walls, fans, space heaters) can be priced upon request.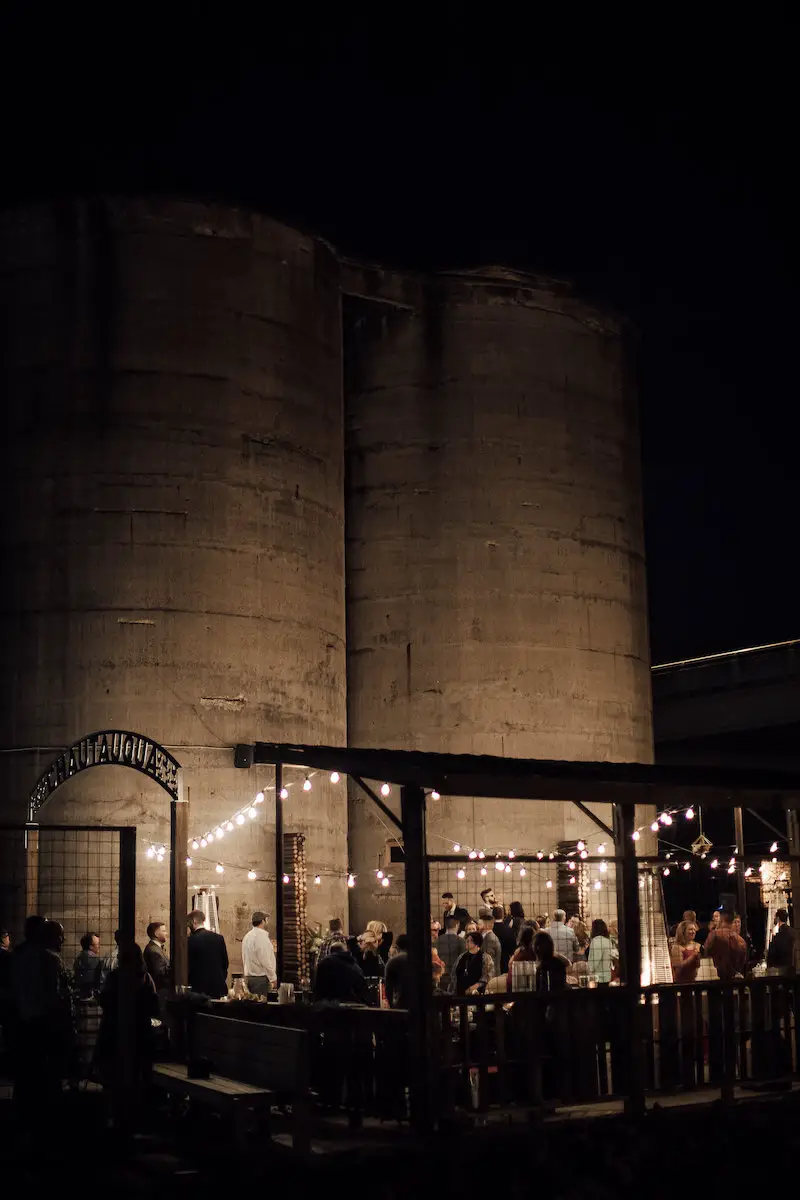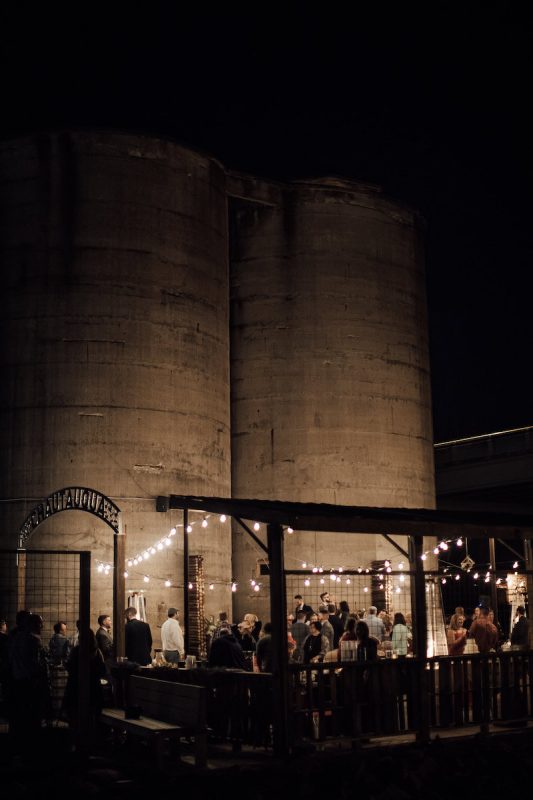 Frequently Asked Questions
Below are the most common questions we see about weddings at Wiseacre Brewery in Memphis.
How do we order beer for a wedding at Wiseacre?
For all spaces, Wiseacre typically charges beer upon consumption,
They also offer drink tickets or drink packages upon request. Basically, they are open to working with you. In planning with advanced notice you can also do a master tab.
Other options include a private portable bar for an additional fee. 
For wine at your event, Wiseacre bartenders are able to pour it for a $15 per bottle corkage fee (capped at $350).
Is there a required vendors list?
Wiseacre does have a preferred vendor for rentals.
They offer to coordinate any rental needs through that preferred vendor. This includes any additional tables, chairs, and tents of all sizes. These are additional expenses beyond the rental fee but they can help fit it to your budget.
Wiseacre is flexible with flowers, bands, and photo booths but can help you coordinate as well.
Is there a required catering vendor or menu?
For food they allow you bring in home-made items, use your own caterer with advanced approval and no added fees, or use a caterer from their extensive list of recommended vendors and food trucks.
For more hands off couples, they also coordinate delicious in-house menus (for an 20% coordination fee). 
Are there extra offerings for events?
Wiseacre has multiple fun activities that can be customized to fit your event or wedding.
Events you can add on include:
tours of the brewing facility
beer tastings with the expert staff
beer trivia
pairings to match menus
There are lots of fun ways to take advantage of this venue!
What does CHAUTAUQUA mean?
Did you know what CHAUTAUQUA meant already? If you didn't, the Wiseacre team explained the name and the meaning behind it:
"Named "CHAUTAUQUA" after the highly popular adult educational movement from early in the last century. A Chautauqua Assembly brought together entertainment and culture for the whole community with speakers, teachers, musicians, entertainers, preachers, and specialists of the day. Teddy Roosevelt was quoted as saying that Chautauqua is, "the most American thing in America." There's one other meaning behind the word that reveals itself in the metal work on the new arch for the space."
Wiseacre Brewery Events
We attended a party hosted by Wiseacre and CFY Catering to kick off this venue. We were extremely impressed with the experience and the space.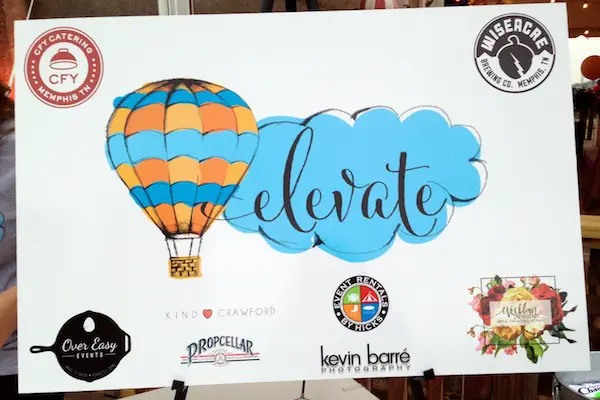 The party include work by a ton of awesome Memphis wedding vendors including:
CFY Catering
Kind Crawford
Propcellar
Event Rentals By Hicks
Kevin Barre Photography
Everbloom Design
Just look at some of the gorgeous decor, food, and styling done to make the party at CHAUTAUQUA a success.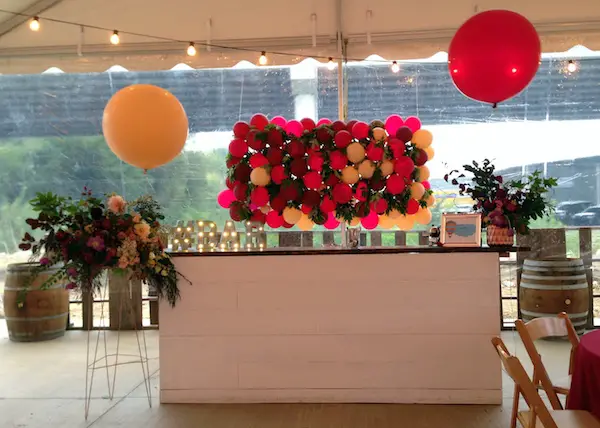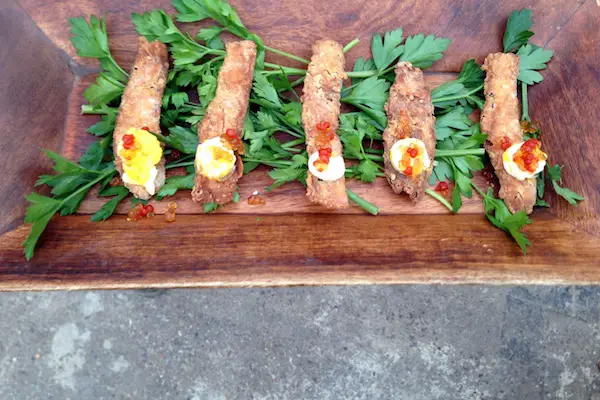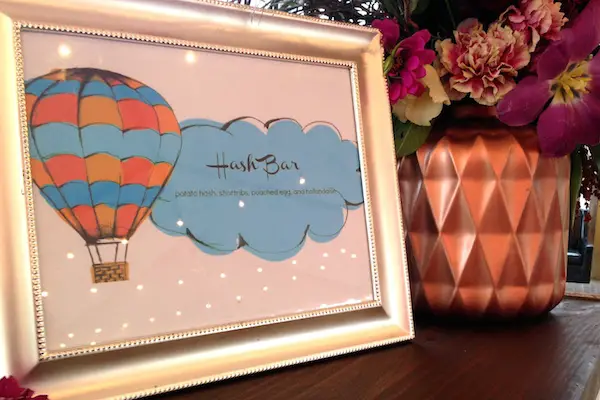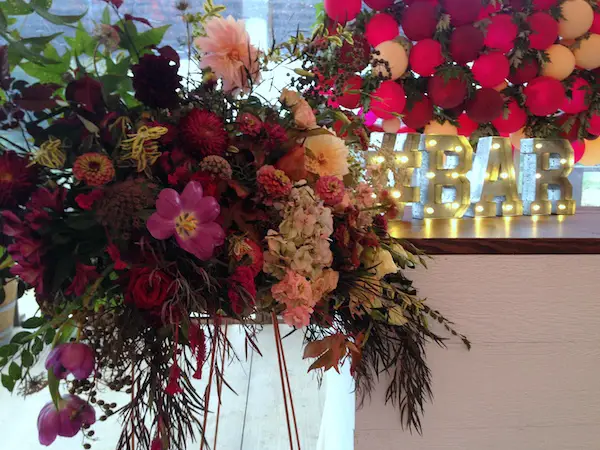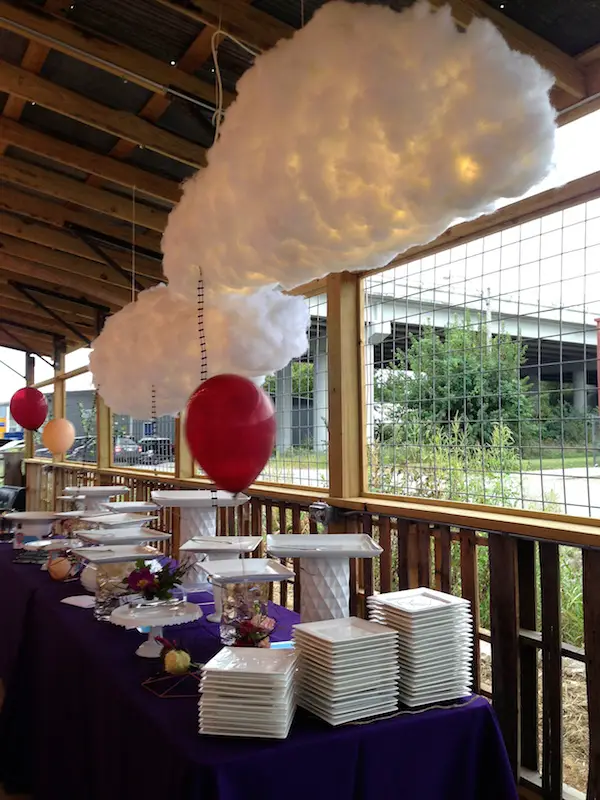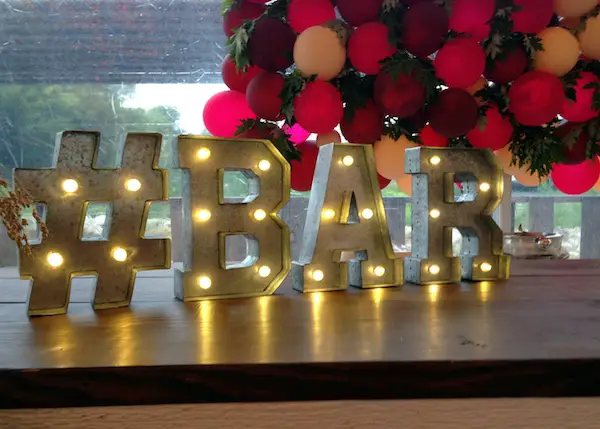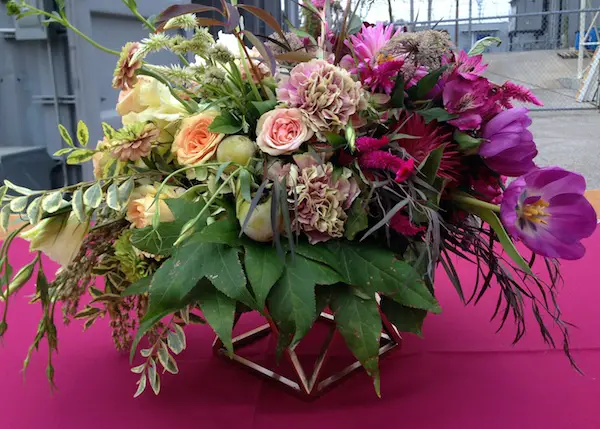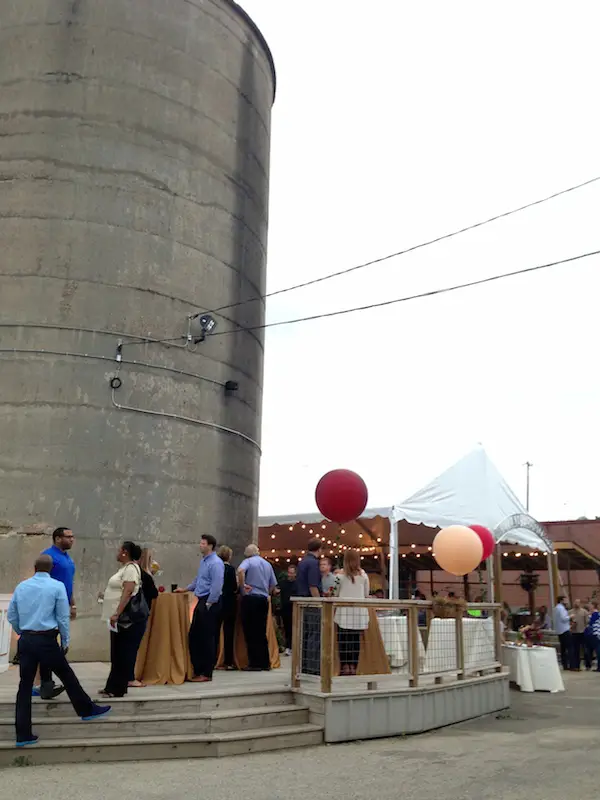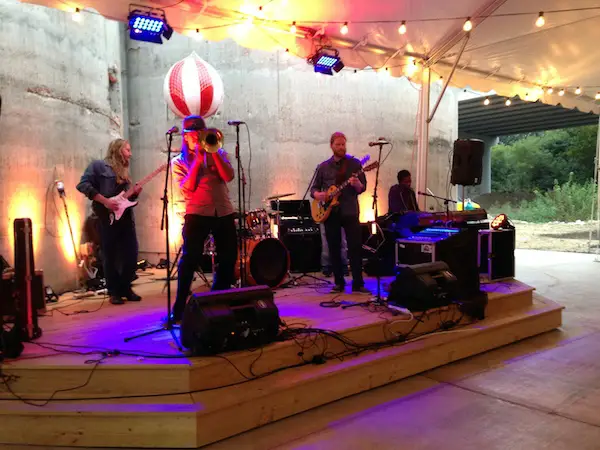 This Memphis wedding venue is perfect for a super fun rehearsal dinner or a laidback wedding reception.
Wiseacre has already been renting out a variety of spaces and now this all-seasons outdoor venue space rounds out their venue offerings and gives you a great place to host an event.
CHAUTAUQUA Wedding Venue Details
At the party we were given adult coloring books that shared some of the more important details you might want to know about CHAUTAUQUA as a wedding venue.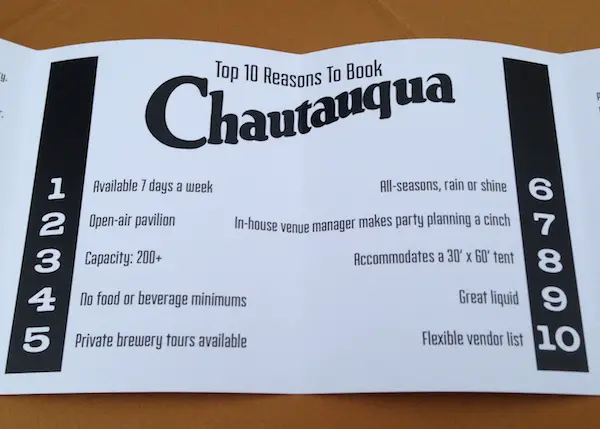 CHAUTAUQUA is:
available 7 days a week
an open-air pavilion
has a capacity of 200+
requires no food or beverage minimums
has private brewery tours available
open all seasons, rain or shine
include and in-house venue manager that makes party planning a cinch
accommodates a 30′ x 60′ tent
offers great liquid options (obviously)
allow a flexible vendor list
If you are looking for a laid-back wedding reception venue without a ton of restrictions on what you can and can't do for your wedding day then you should check out CHAUTAUQUA as an option for your reception.
The best part is that Wiseacre has an event planner on staff ready to help make your wedding or event unforgettable. Her only job is to make sure your event is both fun and easy.
You can learn more about this awesome new event space by visiting wiseacrebrew.com. Make sure you drop by for a tour and a brew – that's the best part!