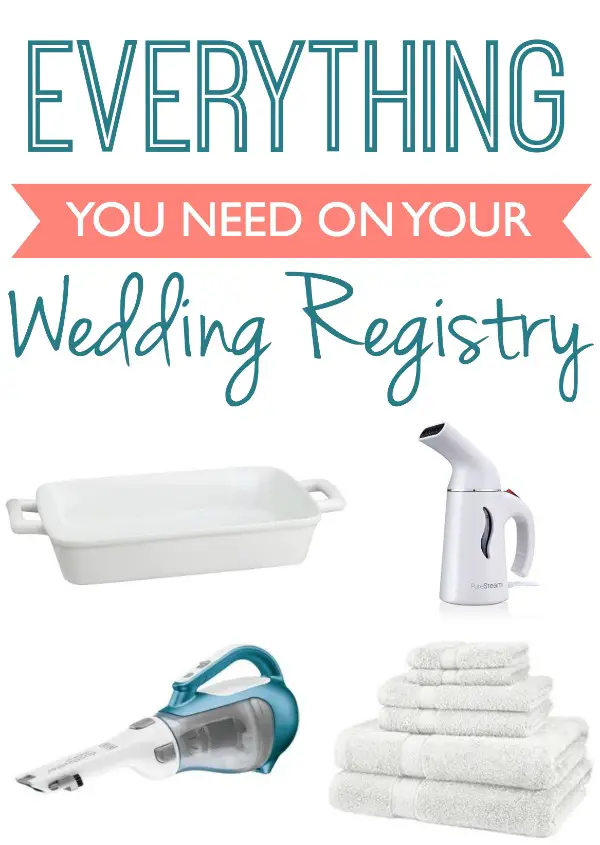 When you create a wedding registry it is tempting to walk through a store scanning anything and everything that catches your eye. Bacon press? Sure! Blue elephant statue? Sure!
While running wild with a scanner can be fun, it's a good idea to create a bridal registry with a strategic eye for things you will need in your home together. The following list is an extensive list of potential registry items you might want to include when creating your own wedding registry. You don't need to include everything on the list but it should give you ideas for items you might want in your home now and in the future. It will help you think about the big picture and the growth that will occur in your life after getting married. Between showers, parties, and the wedding you'll need an extensive list to help all your guests pick the right item for you.
Complete Wedding Registry List
If you're not sure where to start with this list, just work your way through. We're linking to Amazon so you can check out all these products and potentially build an Amazon Wedding Registry there. They are great for out of town guests and give you millions of options!
You can view all of these items in a stand alone store here.
Kitchen Wedding Registry Items
Dining Wedding Registry Items
Bedroom Wedding Registry Items
Bathroom Wedding Registry Items
Home Wedding Registry Items
Outdoor Wedding Registry Items
Gift Card Wedding Registry Items
Bridal Wedding Registry Tips
When you are creating your registry be sure to include items at all price points. You'll most likely have people buying you gifts with all different budgets so make sure they have options. Also giving a large variety helps people stick to buying things on the registry options.
Registering in a store is a time consuming process so be prepared to spend a few hours in a store. It might even take you a full afternoon to register for everything you want and need! Make sure you have enough time to not rush the wedding registry experience.
Use the list above to go through the sections of your house and analyze what you need or what you want to upgrade. You might find you have hand me down items that have years of use and need replacement. The wedding registry is a great opportunity to do this!
Additionally, offer at least two registry options so people can choose from either in case one is inconvenient for them. We always recommend 1 or 2 stores for people that like to shop in person and an Amazon Wedding Registry for the people that like to shop online. It covers every type of shopper who will be buying from your wedding registries.