There are many alternatives to a traditional guest book. One of the most popular guest book alternatives over the last few years has been the Fingerprint Tree.
Creating a wedding fingerprint tree allows couples to have a non-traditional guest book and piece of art for their home. It's a fun, interactive way for guests to record their attendance at the wedding instead of the traditional guestbook message writing.
Fingerprint Tree Examples
Below are a few examples of different types and styles of fingerprint trees from weddings. As unique as you are as a couple, you are sure to find a wedding fingerprint tree that will work for you.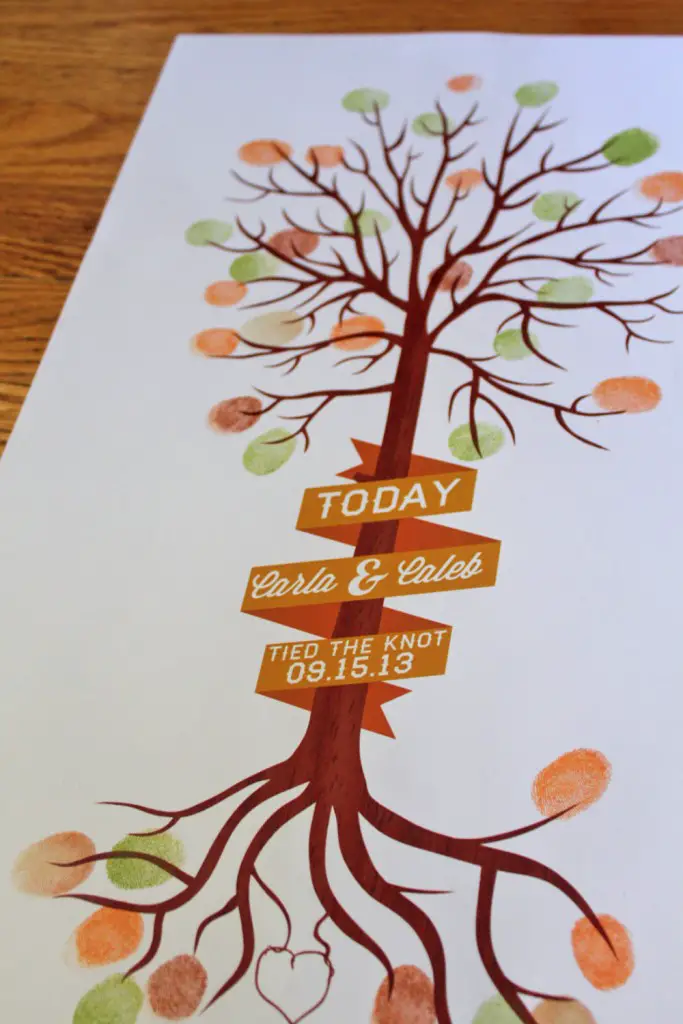 Fingerprint Tree via LoveFromTheThumb on Etsy 
This fingerprint tree design from Love From The Thumb features a stylish tree ready for colorful thumbprints and a gorgeous ribbon design with your wedding information.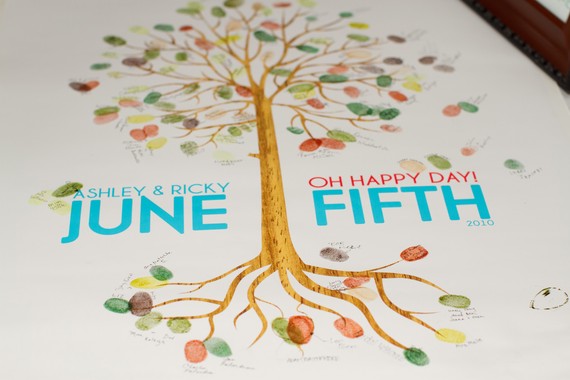 Fingerprint Tree via LoveFromTheThumb on Etsy 
How adorable is this thumbprint tree? It's a fun way to remember your wedding date that is such a happy day!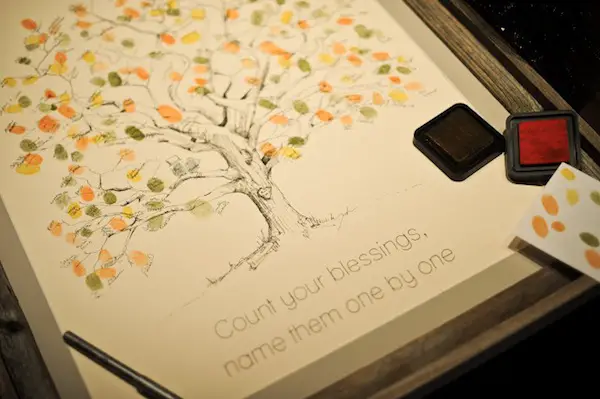 Bleu de toi on Etsy and David Parks Photography
This fingerprint tree features a gorgeous old tree sketched out along with the phrase "Count your blessings, name them one by one." It' a great keepsake for your future home together.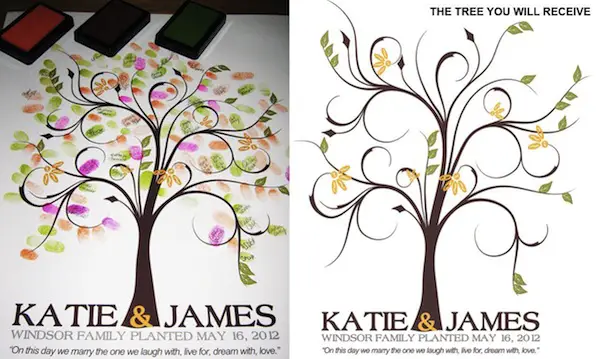 Wedding Fingerprint Guest Book Tree via Amazon
Stylistically different from all the other fingerprint trees on our list, this tree design is much more whimsical. It features your name as a couple along with your wedding date and the quote "On this day we marry the one we laugh with, life for, dream with, love."
Fingerprint "Tree" Alternatives
In addition to the fingerprint tree idea you can use the fingerprint idea with other types of prints like bicycles, balloons, etc.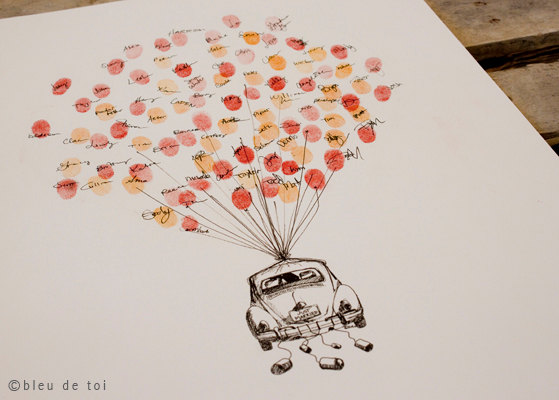 Volkswagen Love Bug Fingerprint Balloons via Bleu de Toi on Etsy 
A great alternative to the tree style is the use of thumbprints as balloons! This cute idea has thumbprint balloons carrying away the wedding car.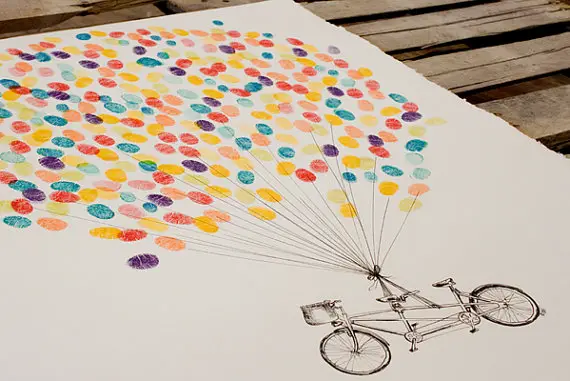 Thumbprint Balloon with Tandem Bike via Bleu de Toi on Etsy
Similar to the thumbprint balloons carrying away a car, this cute tandem bike gets carried away via balloons. It's the perfect thumbprint idea for bike lovers out there.
Where To Buy Inkpads For Fingerprint Trees
You can buy dye inkpads to use with your fingerprint trees at most craft stores or online. We recommend drop dye inkpads from Tsukineko
These inkpads come in various colors that can match your wedding colors. The drop shape is also a cute little twist on traditional inkpads but still gives plenty of room for guests to use their fingers.
We love these 4 packs because they come in closely coordinated colors that will create a beautiful look on your finished fingerprint tree.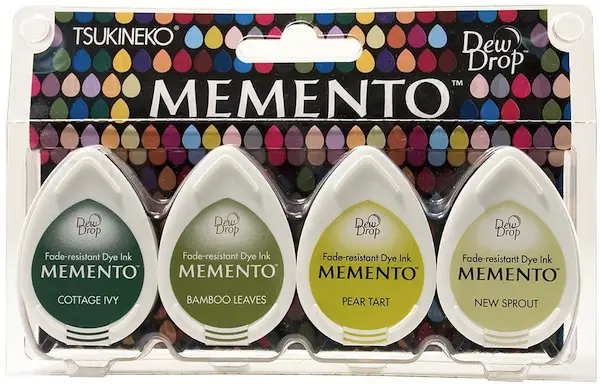 Tsukineko 4-Pack Assortment Memento Dew Drops Fade-Resistant Ink
This memento dew drop 4-pack feature four color-coordinated fade-resistant dew drop dye inkpads comes in a reusable package and gives your guests enough colors to make them happy while still keeping your color scheme in tact.
Additionally, if you want more colors for your fingerprint tree you can buy a pack of 12 colors and let wedding guests go wild choosing colors for their fingerprints.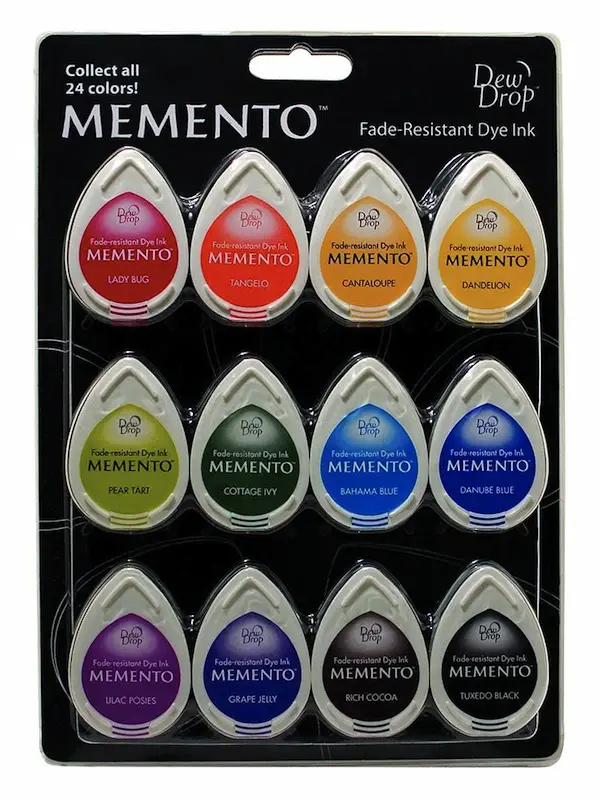 Tsukineko 12-Piece Assortment Memento Dew Drops Fade-Resistant
There are so many colors in this package of Tsukineko's memento dew drop 12-pack feature color-coordinated fade-resistant dew drop dye inkpads. You'll end up with a much more colorful look when using this dyepad for your thumbprint wedding tree.
Don't forget to get Sanitizing Hand Wipes Individually Wrapped 100-ct. Box and Tsukineko StazOn All-Purpose Stamp Cleaner to keep things from getting messy! This is something you can't forget if you plan on doing a fingerprint tree at your wedding – no guest wants to walk away with messy inked fingers!
Where to Buy Fingerprint Trees
You can buy fingerprint trees in a few different places.
Regardless of whether you decide to buy a thumbprint tree, or create your own, you'll end up with a beautiful art piece from your wedding that will last throughout the years.
We hope you enjoy this wedding trend!