Elvis's former home at Graceland offers a magical wedding venue straight out of the movies.
As seen in the Hallmark Channel Original Movie "Wedding at Graceland," the chapel sits on the serene and historic grounds surrounding Elvis Presley's Graceland estate.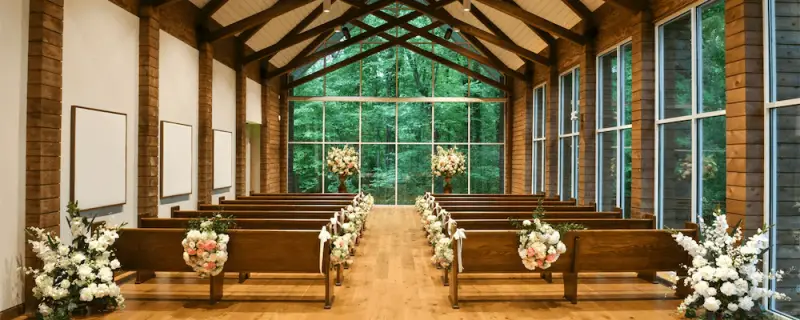 About The Chapel In The Woods
Nestled in the woods adjacent to Elvis Presley's beloved home, Graceland, the quaint Chapel in the Woods is the perfect setting for a wedding to remember.
Whether it's an intimate event with just the bride and groom, or up to 50 family and friends, the Graceland Wedding Chapel in the Woods offers all the amenities and services you'd expect from much larger wedding venues in Memphis, TN.
The chapel features:
high-beam wood ceilings
spacious bridal and groom's rooms
floor-to-ceiling windows
a surrounding forest backdrop
authentic, antique church pews
outdoor patio 
Weddings Graceland's Chapel In The Woods
Graceland's Chapel In The Woods offers a unique wedding venue AND a team dedicated to helping you plan your day.
The team at Graceland can orchestrate everything you need from flowers to photography. Graceland Special Events team is ready to make as many arrangements as you desire, including coordinating the ceremony for you.
Weddings at this venue can range from an elopement up to 100 guests.
Unique Graceland Features
What special Graceland specific features do couples receive?
All couples receive a beautifully designed marriage certificate for you and your family to treasure for years to come. 
Depending on conditions, the wedding couple and up to six guests may have the opportunity to have a photo made in front of the world-famous Graceland Mansion. 
The Chapel also offers exclusive gifts, such as a "We Got Married at Graceland" bumper sticker, Unity Candle and an exclusive CD of Elvis' love songs produced especially for the Chapel in the Woods.
Guests can also experience 120 acres dedicated to the life and career of an American legend, Elvis Presley, the King of Rock 'n' Roll. 
Location & Contact Information
To contact this venue:
Visit: Graceland, 3734 Elvis Presley Boulevard, Memphis, TN 38116 
Call:  901-332-3322
You can visit them online here: