These days an average wedding will cost you tens of thousands of dollars. The average wedding cost in Memphis is between $17,360 and $28,933 on average for their wedding. However, most couples have a limited wedding budget and spend less than $10,000 on their wedding.
If you're trying to save money on your wedding then you will need every resource you can get. Cutting corners, doing things yourself, and being smart about your spending will help you save thousands. When you're planning you might want to forgo the hours of Pinterest inspiration that can lead to overspending and instead spend a few hours with a good budget wedding blog or budget wedding book. These blogs and books are all about helping you stretch your wedding dollars to get the big day you've always dreamed of for less.
Budget Wedding Blogs
Here is a list of some of the best budget wedding blogs out there that can help you save money on your wedding:
The Budget Savvy Bride is one of the best and biggest budget wedding blogs out there. It gives you the ability to view and search real weddings based on the couple's budget. This is a great way to get ideas from couples who had a similar budget. This wedding budget blog also has a large DIY section and posts about wedding deals and steals each week.
DIY Bride helps brides create a handcrafted wedding without all the expense and stress. If you are crafty, going the DIY route can help save you thousands of dollars on your wedding. This DIY wedding blog will inspire you to try at least a few projects and will also help you keep your work within the budget you've set.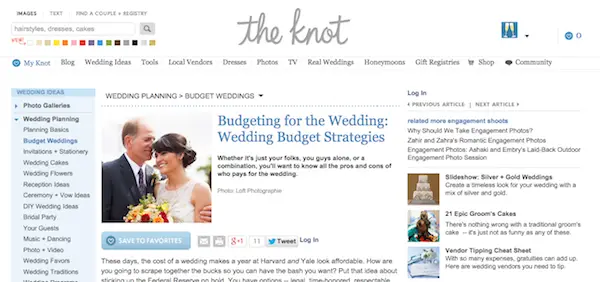 The Knot is one of the biggest wedding websites in the world and it has a very robust budget wedding section. They host a ton of articles, tips, tools, calculators and more to help you plan your wedding and stay on budget.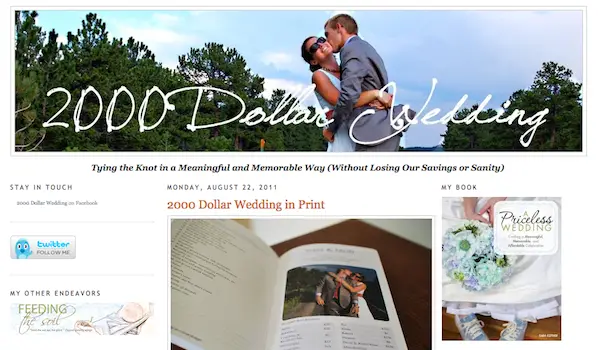 If you've set an extreme wedding budget or just don't want to spend much then you should check out this website. While it is no longer updated, the archives are full of budget wedding inspiration and tips from a bride who planned her very own 2,000 dollar wedding. This budget wedding blog might not be to your style but it will definitely give you ideas and inspire you to put in the work to make your dream wedding happen for less.
Budget Wedding Books
Below are some of the best budget wedding books that will help you save money on your wedding:
Bridal Bargains offers real life wedding budget solutions and creative plans for budget weddings. From listing money-saving resources to sharing tips on negotiating with vendors, this book will help you get the best bargains on everything for your wedding.
This book is one of my favorites to buy for Mid-South brides I know. It's a large book full of a lot of ideas to trim costs without compromising on the things that matter for your wedding. You'll get ideas on how to save money on your wedding dress, cake, catering and more. You won't use every tip in the book but you'll find at least one that will save you the cost of the book and possibly thousands more!

From the author of the blog A Practical Wedding, this book is about having a wedding with purpose and realistic expectations. Doing this helps you keep your budget on track while having a fun and sensible wedding. It's a great read for all brides whether planning a budget wedding or not!
Hopefully these blogs and books get you off to a good start when planning your budget Memphis wedding!