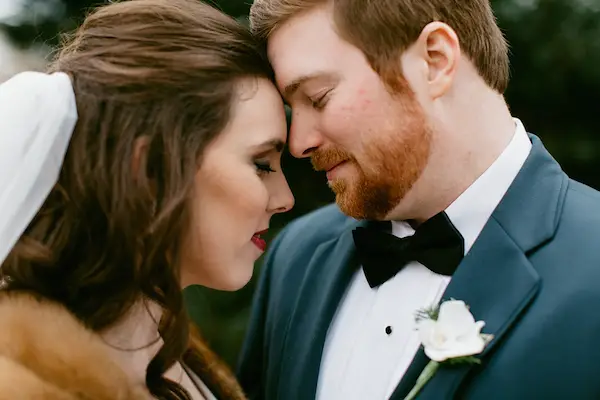 Aleshia and Landon's Mississippi wedding is full of sentimental touches and classic wedding ideas. The navy dresses, black tuxedos, white flowers… it's timeless. The lovely details and thoughtful design were made to be captured in black and white which photographer Brian Flint did perfectly. Decades from now the photos and love from this beautiful weddingday will still be fresh.
The Love Story
Aleshia shared the story of meeting and falling in love with Landon:
"Landon and I met one night playing intramural basketball at Baptist College of Health Sciences in Memphis, TN. After getting to know each other, we realized that we had lived in the adjoining freshman dorms at Ole Miss at the same time. I had transferred to Memphis to finish my degree, and then Landon had transferred a year later. Who knows how many times we passed one another walking to class at Ole Miss and never knew it?
After several years of dating, Landon surprised me with a weekend vacation to Asheville, NC. We were to drive around the Blue Ridge Parkway, enjoy the fall foliage, and have a relaxing weekend. Landon had planned an entire day of activities including a picnic and a hiking trip through DuPont State Park. Although our picnic did not go as planned (We forgot the crackers to go with our hummus and an opener for our wine), the day culminated with Landon taking me on a small side trail and getting down on one knee to propose. He lovingly presented the most beautiful ring I have ever seen and asked me to marry him. With tears in my eyes, my response was, "Of course I will!""
Wedding Day Vision
Aleshia explained her vision for the wedding day:
"I knew from the beginning that I wanted a timeless, classic look to our wedding. The bridesmaids wore navy dresses. The groomsmen wore classic black tuxedos with suspenders and bowties. Landon wanted to be a little different from his groomsmen so he chose to wear a navy tuxedo with black bow tie and suspenders which turned out wonderfully. My dress was an ivory satin A-line dress with a long train and beaded straps on the back. As much as I loved my dress, I truly adored all of my wedding day accessories. I wore Landon's grandmother's vintage fur stole. I had navy sequin wedge heels with sequined bows on the top. Landon surprised me a double strand pearl bracelet on wedding day which I wore and will treasure for years to come.
I have always loved all white wedding flowers. I explained to my florist that I wanted bouquets made of different white flowers with winter greenery. The florist did not disappoint; all of the flower arrangements were beautiful and exactly what I wanted."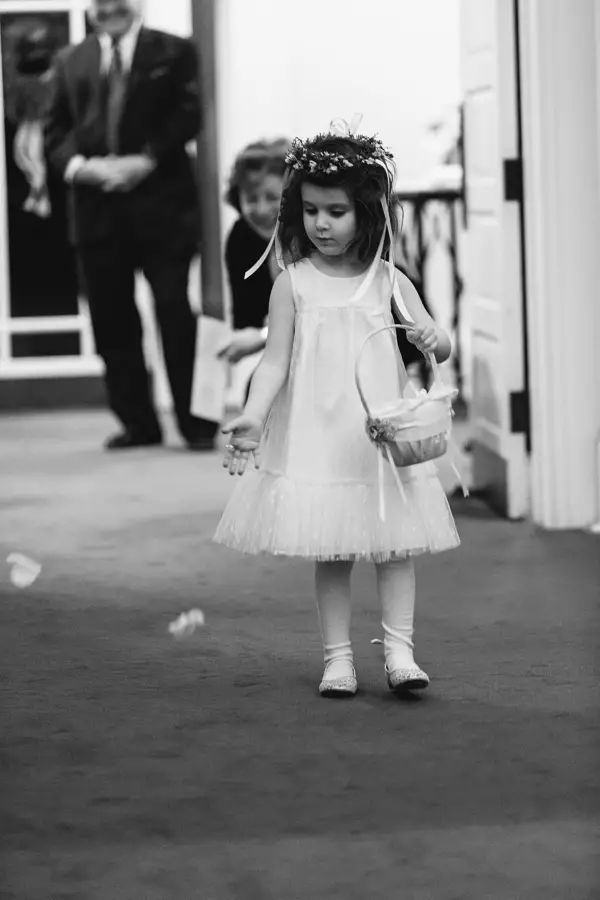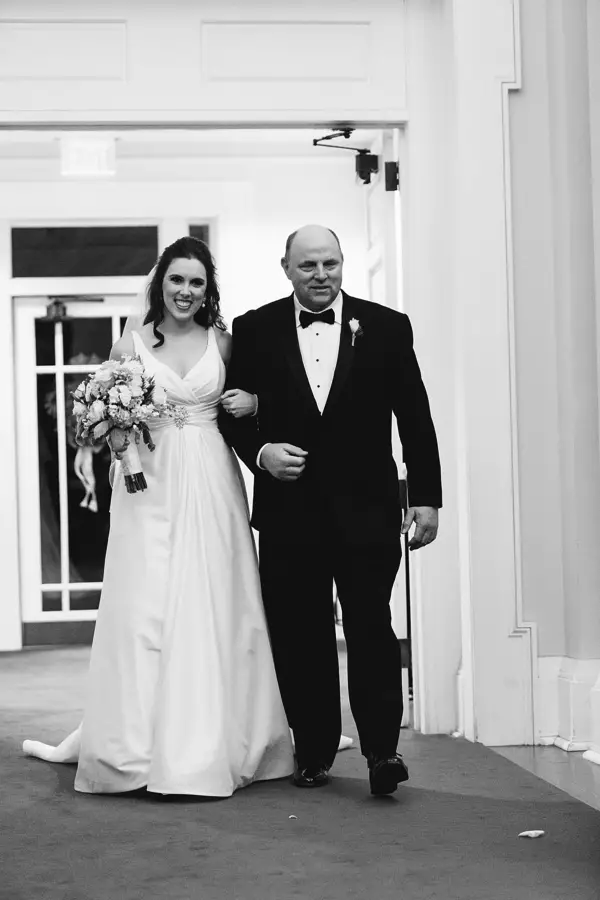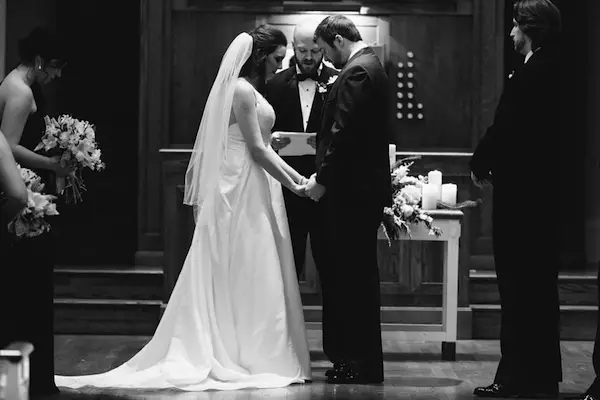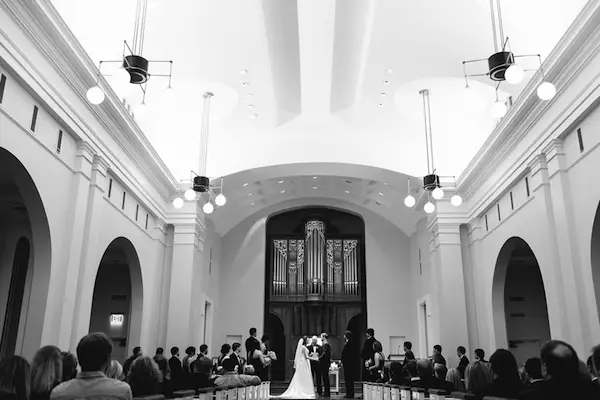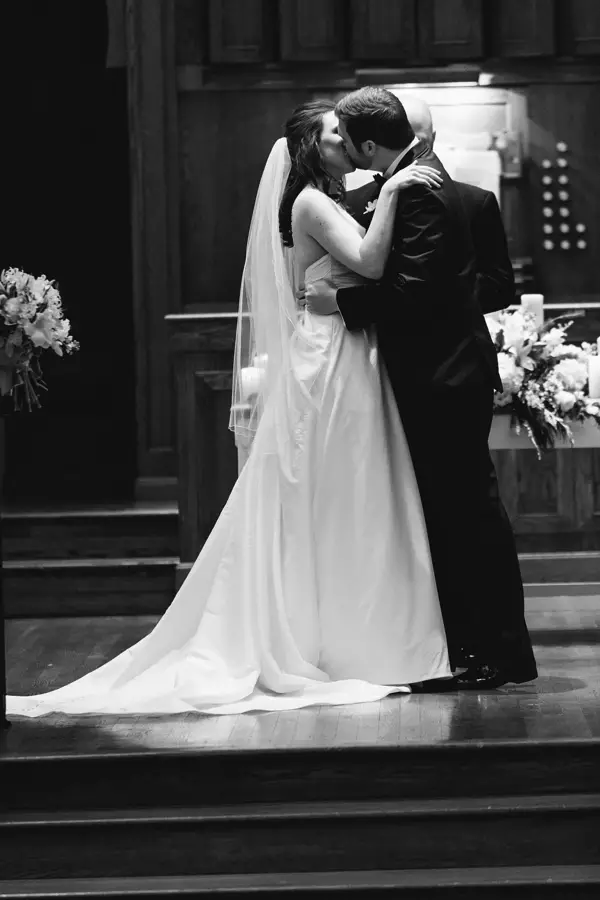 "So much time and effort goes into the details of wedding day. A few of my favorite details include the traditional Southern elements we incorporate throughout the day. Our hotel guests found gift bags in their rooms consisting of some Landon's and my favorite things: trail mix, yogurt covered pretzels, brownies, Oxford postcards, Mississippi coasters, and Advil (just in case!). The reception food was chosen based on some of our favorite Southern foods as well. Before Landon and I arrived to the reception, a sausage and cheese tray was served as well as cocktails and wine. We served beef brisket, colorful balsamic winter vegetables, and shrimp and grits. We had a potato bar that served white and sweet potatoes in martini glasses where guests could add their own toppings. Landon chose to have warm cobbler and ice cream in lieu of Groom's cake. We had a traditional guest book but also chose to have a wine bottles numbered with corresponding anniversary years. Guests were asked to write little notes and place the notes into the bottles for us to open on our anniversary each year. At the end of the night, all of the bottles were full. We can't wait to open the bottles and remember our wedding for years to come!
Landon and I had the most wonderful wedding day surrounded by our family and friends. The night ended with the Sensation Band from Memphis playing "Shout" and every guest at the reception came onto the dance floor and danced. It was the perfect end to a perfect day!"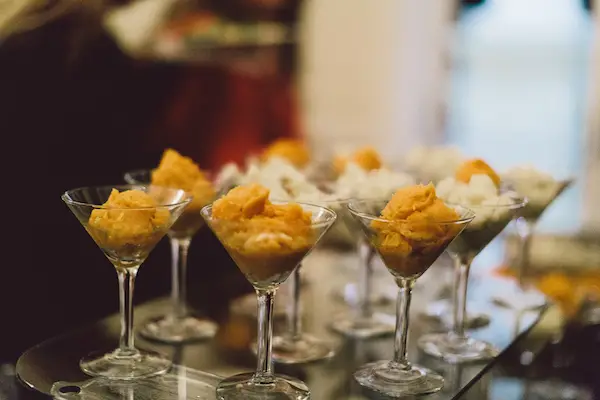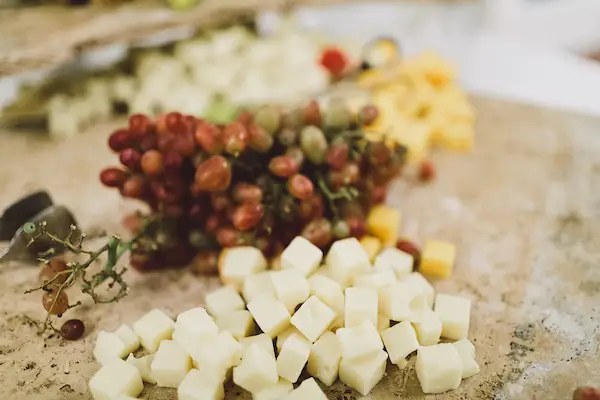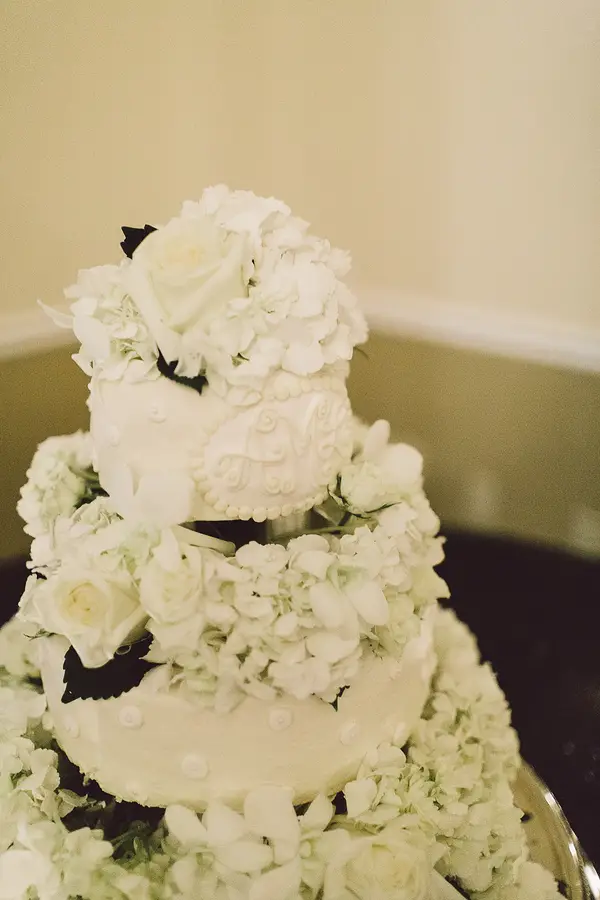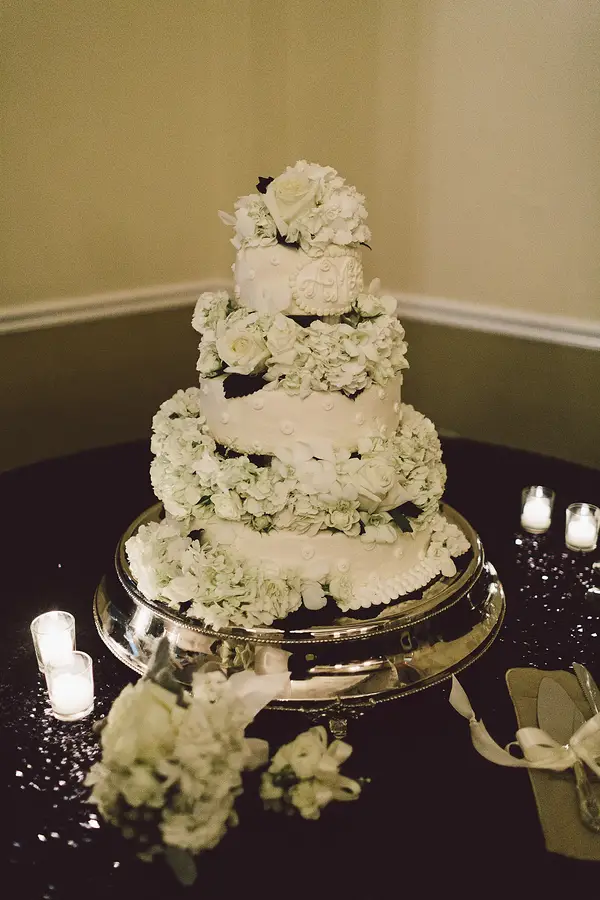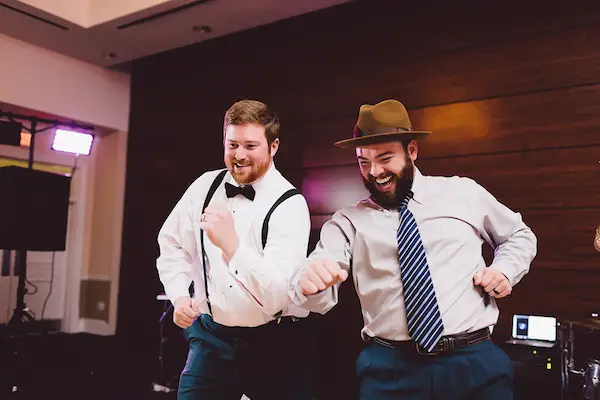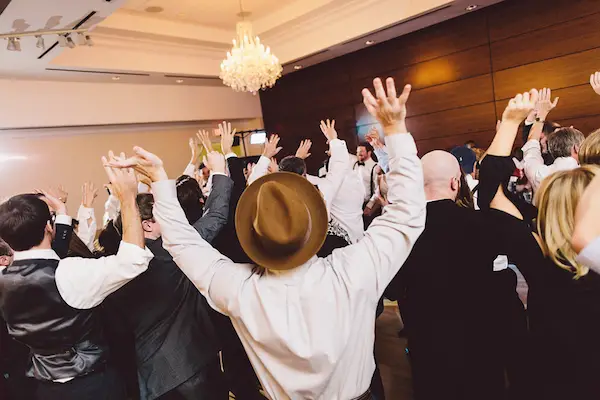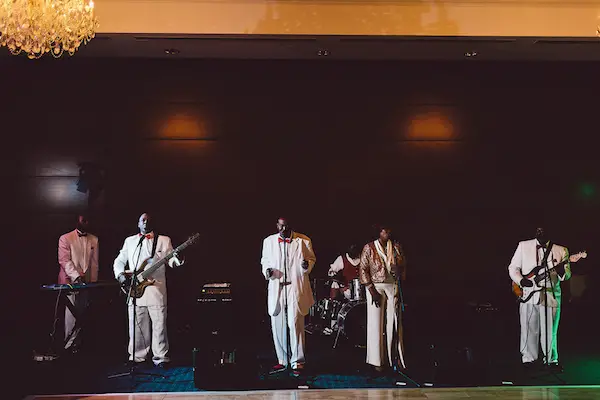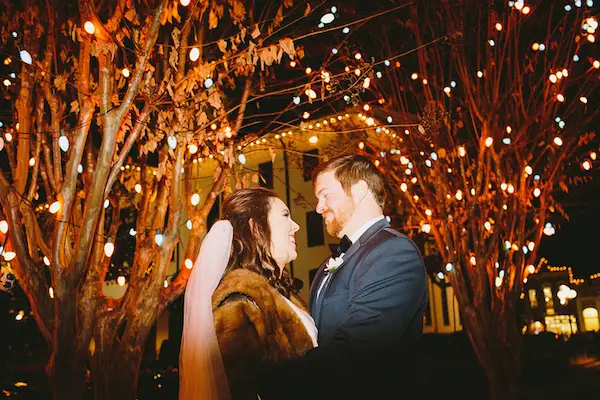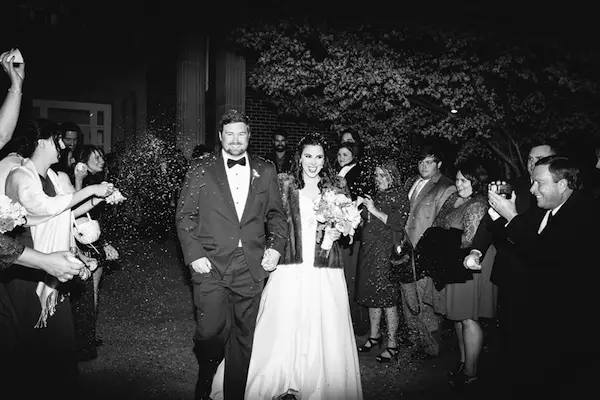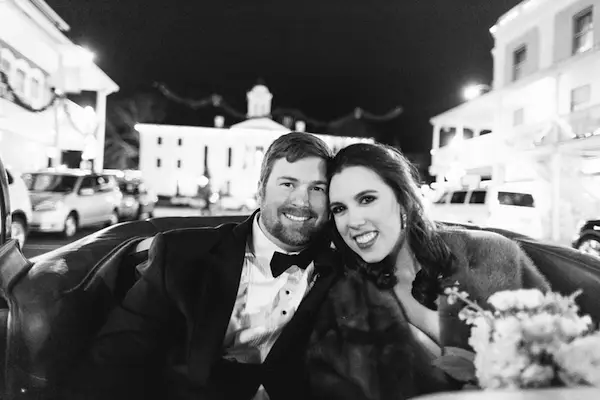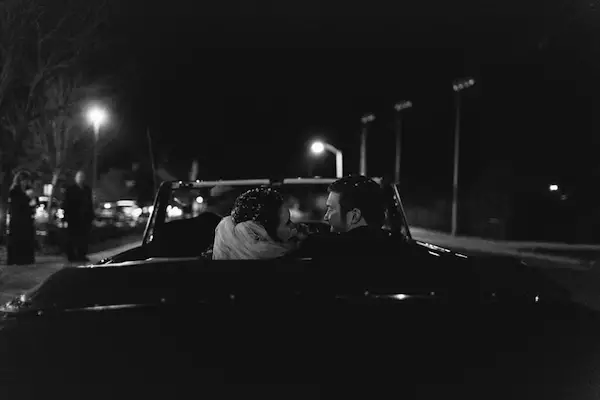 Photos: B. Flint Photography
Congrats Aleshia and Landon! Thank you for sharing your special day with us.
Mississippi Vendors: