If you're looking for unique and budget-friendly ways to add charm and elegance to your big day, consider incorporating DIY washi tape projects into your DIY wedding projects.
In this article, we'll explore some creative and inspiring ideas to help you make the most of this versatile and colorful crafting material.
DIY Washi Tape Painted Flower Vases
Centerpieces are an essential part of wedding decor, and with washi tape, you can create stunning and eye-catching designs. Transform plain glass vases or candle holders into works of art by wrapping them with colorful washi tape.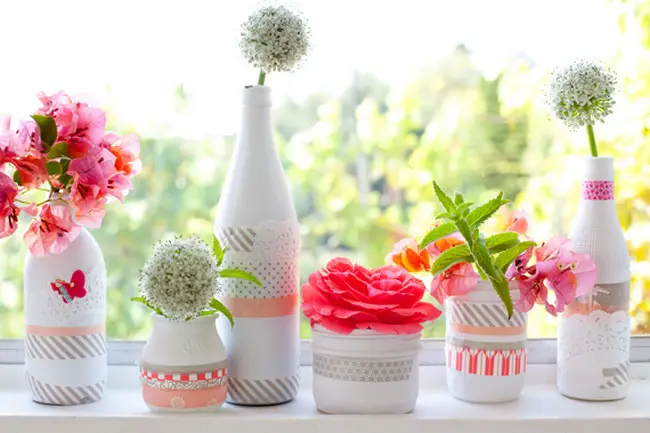 Via Decor8 Blog, Photo: Leslie Shewring
You can decorate random bottles or jars as centerpieces by spray painting them and adding colorful washi tape.
Mix and match different patterns and colors to match your wedding theme or create a cohesive look. These personalized centerpieces will add a touch of elegance and creativity to your reception tables.
DIY Washi Tape Wedding Table Runner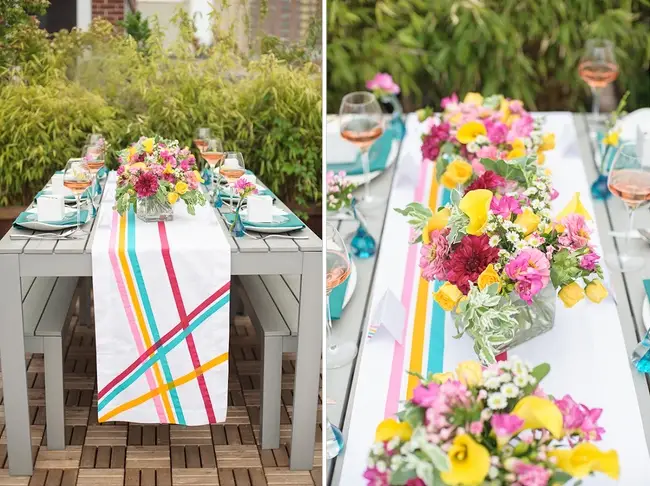 Via: Revel, Photo : Brklyn View Photography
You can match your wedding colors with washi tape to crate a colorful table runner. This striped design gives the space an instant lift in color and fun. Washi tape is quick and can be removed leaving table runners unharmed.
DIY Washi Tape Photo Wall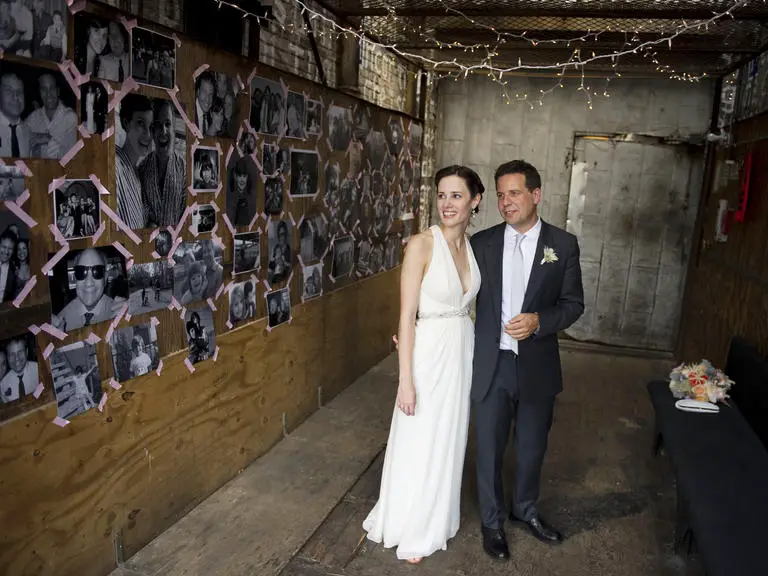 Via: The Knot, Photo: Bonnie & Lauren
Instead of hanging photos you can use washi to create an impromptu photo wall at your wedding reception. The washi tape adds color but is easily removed when the reception ends leaving no marks or residue.
DIY Washi Tape Wooden Letter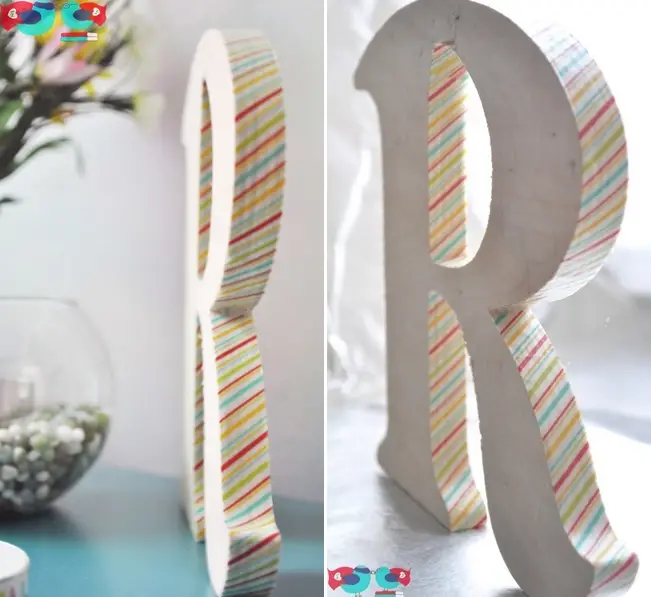 Via: The Love Nerds
You can jazz up basic wood letters by adding a strip of your favorite colored washi tape to the side for a bit of pizazz.
DIY Washi Tape Feathers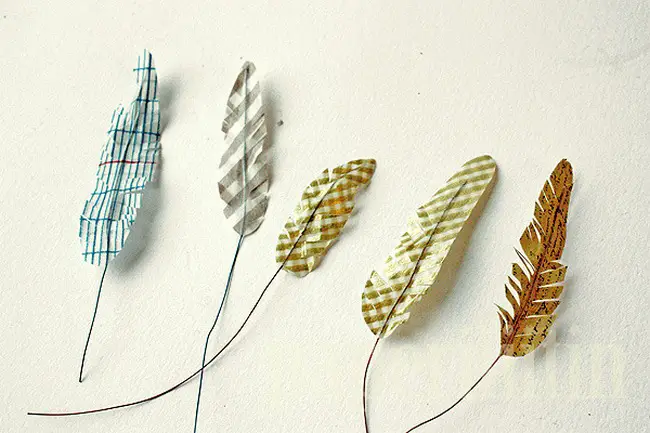 Via: Paper Iliitin
These whimsical and colorful feathers embellished with washi tape can be used in your table decor, seating tags, or even in your wedding bouquet.
DIY Washi Tape Clothes Pens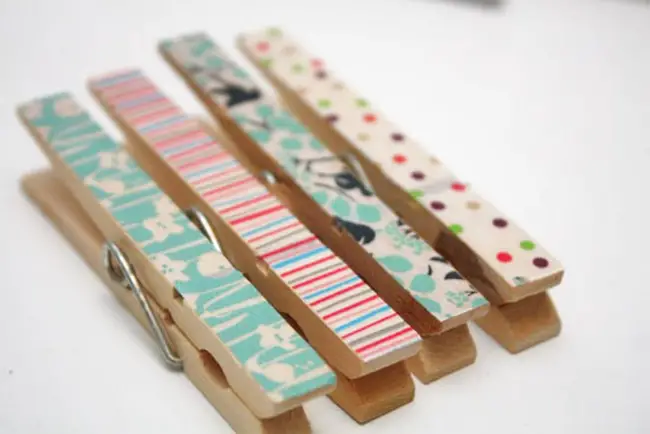 Via: Factory Direct Craft
Clothes pins can be very useful at a rustic wedding to hang photos, secure guest seating place cards, or even as clasps on favor bags. You can dress up basic clothes pegs by adding a strip of washi tape to each side.
DIY Washi Tape Escort Cards
Guide your guests with style by creating custom signage and banners using washi tape.
Whether you're directing guests to the ceremony or reception area or adding a personal touch to your photo booth, washi tape can help you create beautiful and unique designs.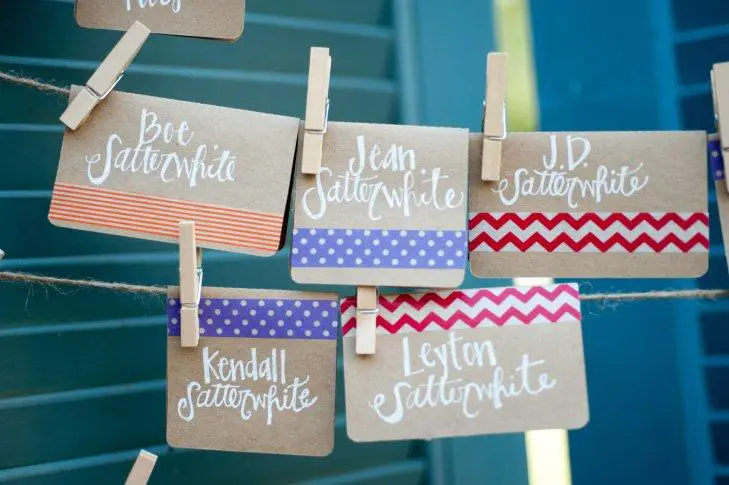 Via: The Knot, Photo: Jessica Maida Photography
Mixing colors and patterns on a neutral canvas like kraft paper can add an element of fun and color to your escort card display.
Write messages or names on plain banners using washi tape letters, or create colorful arrows and directional signs. Your guests will appreciate the charming and playful atmosphere that these handmade signs bring to your wedding day.
DIY Washi Tape Wedding Invitations
Your wedding invitations are the first glimpse your guests will have of your special day, so why not make them extra special with washi tape?
Create a unique and personalized design by adding a strip of washi tape along the edges of the invitation or use it to create beautiful borders. Choose washi tape that matches your wedding theme or opt for a mix of complementary colors to add a touch of whimsy.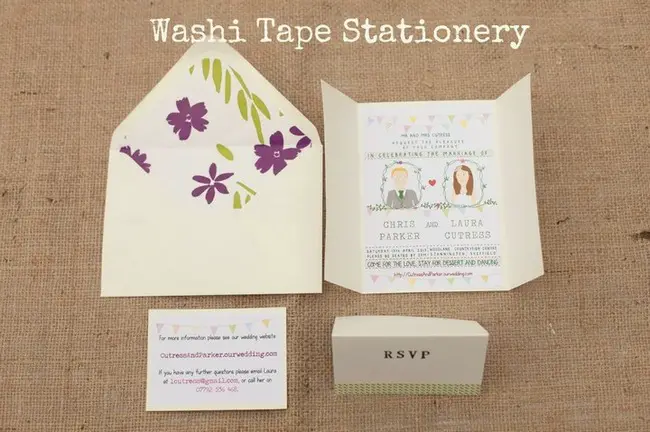 Via: Boho Weddings, Photo: Jess Petrie
If you're planning to create your own wedding stationary then you can get creative using washi tape to make it extra special!
Your guests will be impressed by the attention to detail and the thought you put into making your invitations stand out.
DIY Washi Tape Gift Favor Bags
Thank your guests for celebrating your special day with unique and stylish wedding favors.
With washi tape, you can easily transform ordinary favor boxes or bags into memorable keepsakes. Wrap the boxes with strips of washi tape, creating patterns or designs that reflect your wedding theme.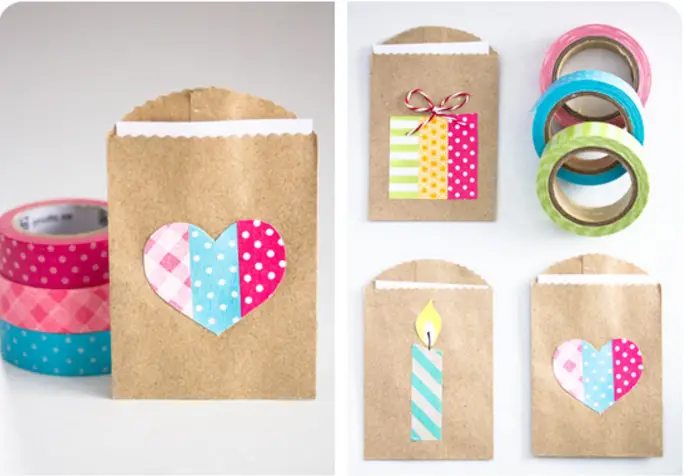 Via: Craft & Creativity
You can use colorful washi tape to create designs on plain paper gift bags for your wedding favors.
Finish off the look with personalized tags or labels, and your guests will be delighted to take home a special memento that shows your attention to detail.
Using Washi Tape At Weddings
Washi tape is a versatile and cost-effective tool for adding charm and elegance to your wedding day. From personalized invitations to creative signage and decorative centerpieces, the possibilities are endless.
With a little creativity and some washi tape, you can infuse your wedding with unique and handmade touches that will make your big day truly memorable. Get ready to impress your guests with these DIY washi tape wedding ideas and create a celebration that reflects your personal style and love story.
Where To Buy Washi Tape
You can find washi tape for these DIY wedding projects in a number of places. From your local craft store to any big box store, washi tape's popularity means you can pick it up at most places.
You can also find plenty of washi tape online at the following sites:
Happy shopping and DIY!