It has been raining for days here in the Mid-South. Will it ever end? Of course, but unending sprints of rain or even just a quick shower on the weekend can wreak havoc on any bride's best laid plans.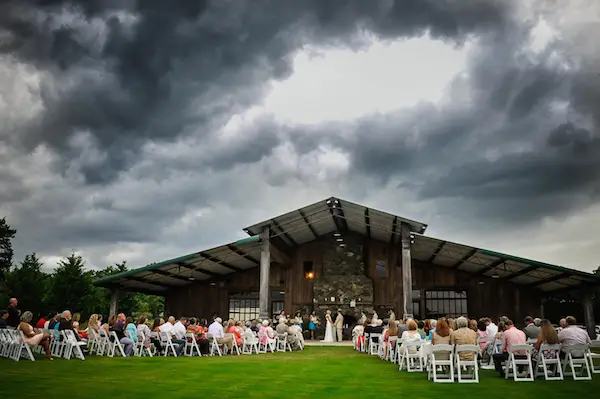 Photo: KTB Sparkle Photography
For those brides getting married next weekend hoping the rain will end soon, never fear. You can survive rain on your wedding day with the tips we share today. You can't stop rain from falling on your wedding day, but you can plan to make the best of it!
Do A First Look
There are tons of reasons to do a first look session on your wedding day including rainy weather! If you do a first look you'll have more chances during the day to take photos together giving your photographer more chances to get shots without rain. The rain normally slows down during different parts of the day so this will give you a better chance.
Ask Your Hair & Makeup Artist  To Stay Later
Rain can wreak havoc on your hair and makeup. Ask your artists to see if they are able to stay later or return to freshen up your look before the ceremony. Make sure you have what you need on hand to update your makeup yourself if needed.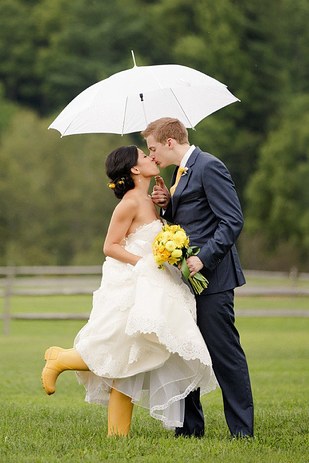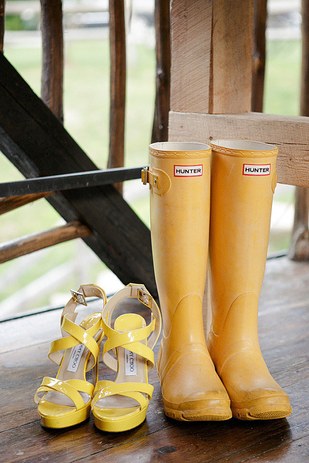 Photos: Wayne & Angela
Bring Colorful Rain Boots
If there is any rain in the forecast for your wedding day, make sure you buy a pair of cute, colorful rain boots. Coordinate the rain boots with your existing wedding colors and your pictures will end up being just as adorable.
Buy A Colorful Umbrella
White and gray umbrellas might blend in with an overcast sky, so buy a colorful umbrella that will pop on the rainy day. Make sure you have both boots and an umbrella purchased before your wedding day to keep your mind at ease.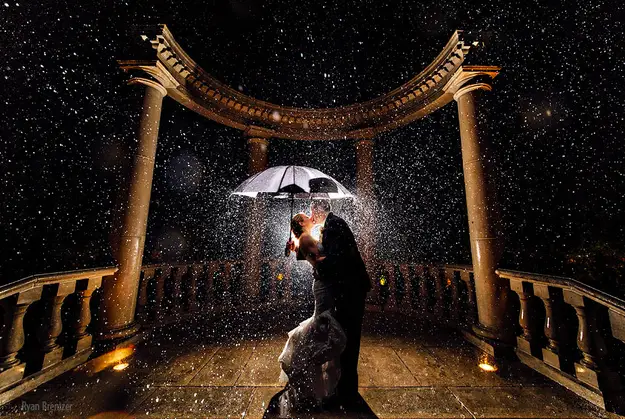 Photo: Ryan Brenizer
Make Sure Your Photographer Is Prepared
Once you think it might rain on your wedding day, make sure your photographer has a plan for the rain. There are specific techniques for lighting in the rain so simply ask your photographer how they plan to make the best of the rain. They might also have some tips for you so opening up a conversation can make sure you are both on the same page.
Be Flexible
Your flexibility on your wedding day can make rain on your wedding day much easier. Due to the weather you might have to shuffle your schedule to do something like take photos with your spouse during the wedding reception because the rain has stopped. Make sure you are available and willing to switch things up to work around the weather.
Let Your Wedding Planner Help
Hiring a wedding planner can make your wedding day much easier and it can save your sanity on a rainy wedding day. Your wedding planner can help immensely in creating and implementing a wedding day plan B as well as helping you adjust to a different schedule on your wedding day because of rain.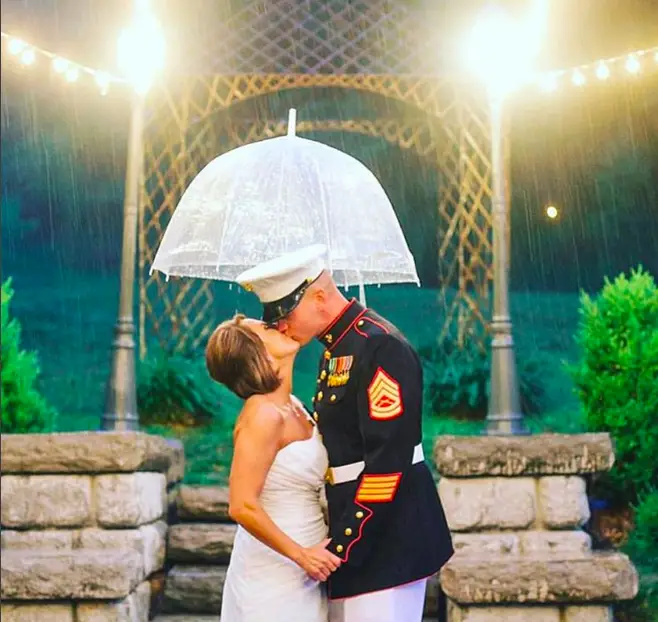 Photo: Brittany Conner
Have A Backup Location
No one wants to think about a backup plan for their wedding, but it is always a safe bet to have a backup plan for your outdoor wedding in case it rains. Plan out the backup location and setup in case the rain is overwhelming and plan alternative indoor locations for photos.
Bring Towels
Towels are an essential accessory for a rainy wedding day. Towels will help you and your party dry off after photos in the rain and moving from location to location. They are also important to wipe down benches and other seating areas throughout the day.
Consider Wedding Insurance
While a little rain won't cancel your wedding or require insurance, you might need it for a stronger storm. If there are very strong thunderstorms or tornadoes on your wedding day it could force you to cancel and reschedule your wedding. Wedding insurance might be worth considering for natural disasters like this.
Enjoy your day! 
Rain isn't the end of the world. While rain on your wedding day might not be ideal, your wedding will still be amazing and something you should enjoy! Go with the flow and enjoy all the happiness you can.