Addressing your save-the-dates and wedding invitations with beautiful calligraphy can wow your guests but not everyone has the calligraphy skills to pull this task off. Even if you do have amazing handwriting, finding the time to complete hundreds of addressed envelopes can be hard to do during the midst of wedding planning.
If you want to outsource the tedious task of addressing your wedding invitations, Etsy is the place to go. Today we've rounded up some of our favorite wedding calligraphy vendors who do custom wedding calligraphy for envelopes. Post contains affiliate links that help support Mid-South Bride.
BP Calligraphy offers options for wedding envelope calligraphy like the beautiful envelopes below in a traditional calligraphy style, messy modern calligraphy style, or several other unique calligraphy type fonts.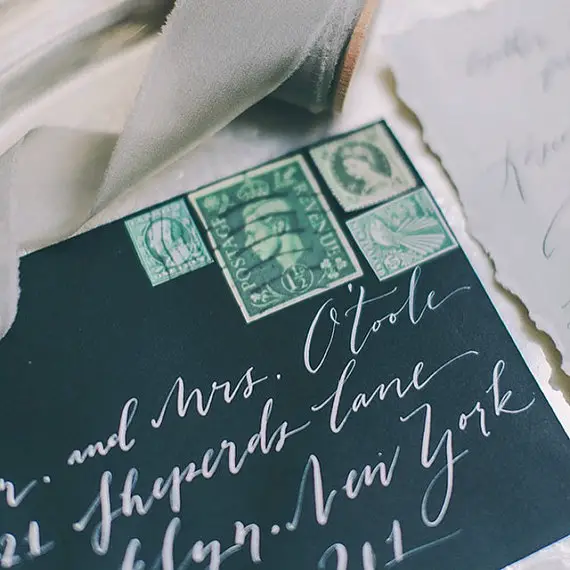 Calligraphy Envelope Addressing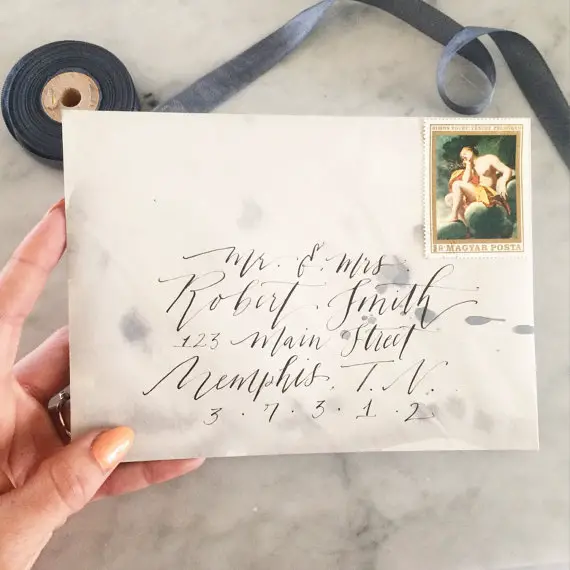 Modern Messy Style Wedding Calligraphy Addressing
Southern Calligraphy is a professional calligraphy studio that has several different styles of calligraphy available for your wedding invitation addresses.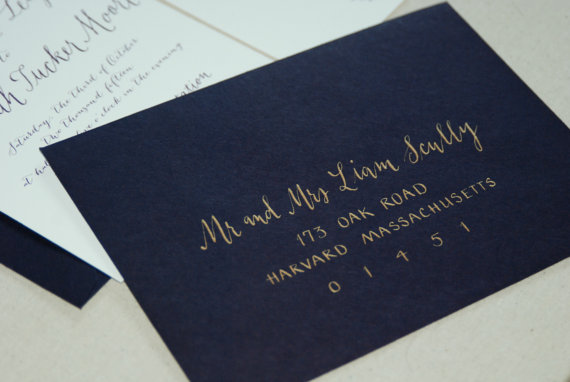 Wedding Calligraphy Envelope Addressing – The "Jenna Style"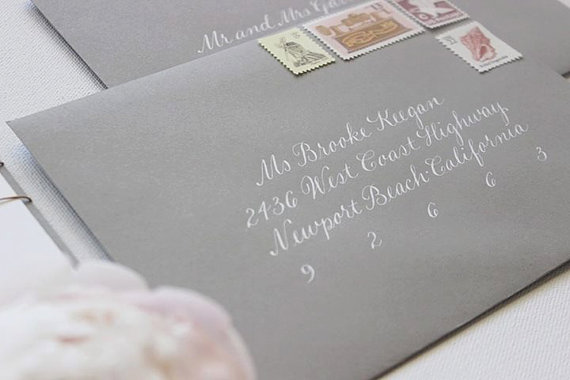 Wedding Calligraphy Envelope Addressing in White Ink – "The Jacqueline Style"
LoveLettered by Bekki offers hand lettering and modern calligraphy with watercolor for your wedding invitations. The watercolor calligraphy on your envelopes would play well with a watercolor themed wedding invitation.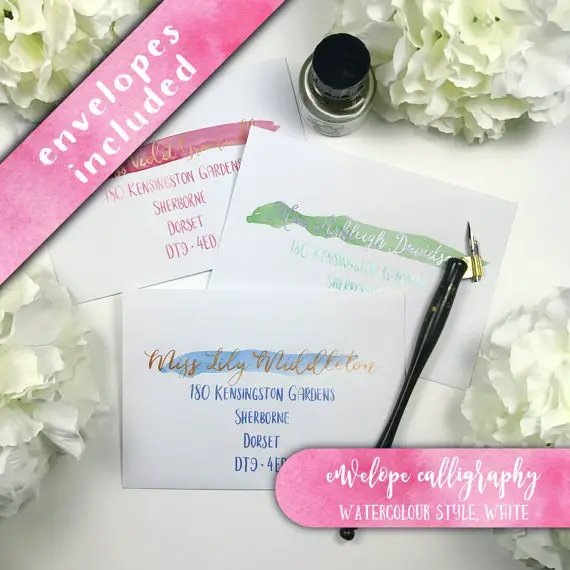 Calligraphy Envelope Addressing Watercolour Wedding Calligraphy
Leen Machine Calligraphy and Design offers a beautiful modern gold calligraphy featured here along with a variety of color options for your wedding invitation envelopes.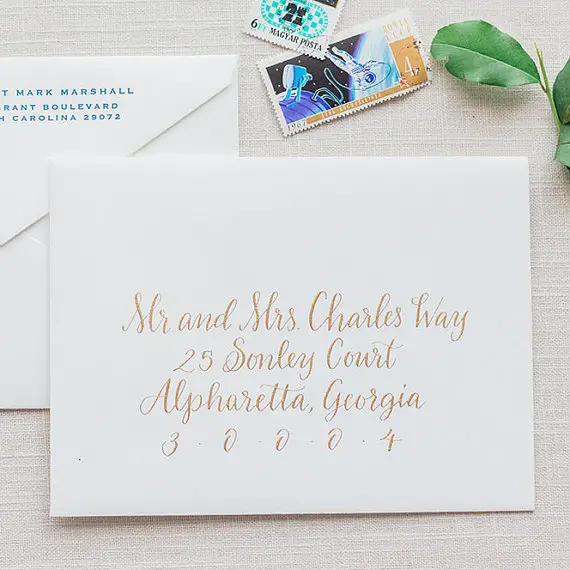 Wedding Envelope Addressing Gold Modern Calligraphy 
The Scribblist provides custom artwork and calligraphy for wedding invitations like these wonderful "Ada Script" address wedding invitations.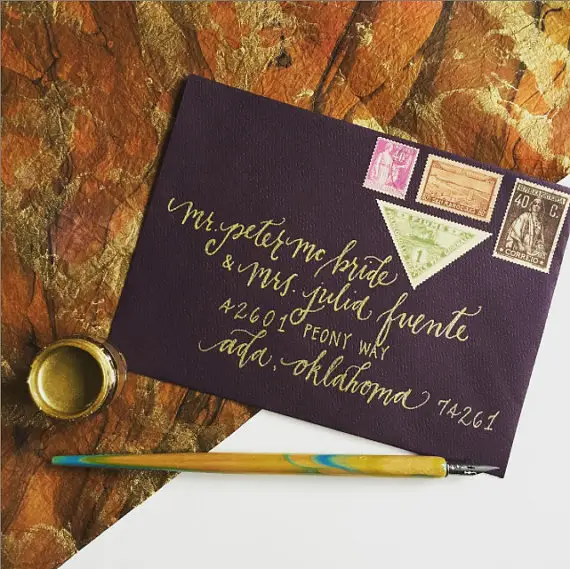 Ada Script- Custom Wedding Calligraphy- Envelope Addressing
Love Always Cards provides gorgeous light calligraphy for wedding invitation envelopes.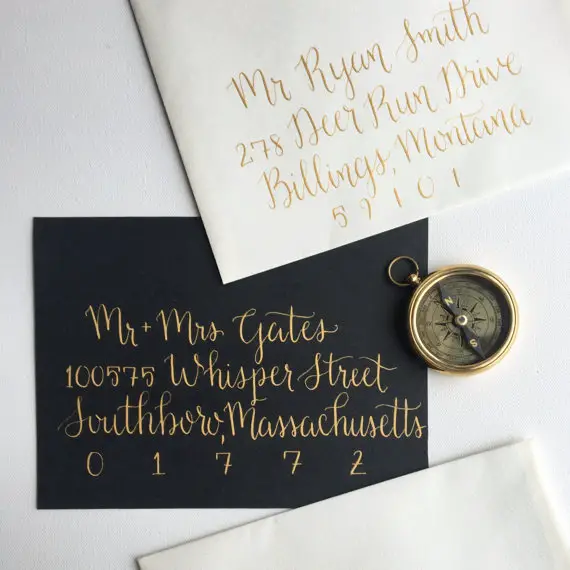 Wedding Calligraphy Envelope Addressing
Grey Snail Press offers many options for wedding invitations and fun modern calligraphy addressing. If you're wanting a touch of calligraphy while still having legible and modern invites, this might be a great choice.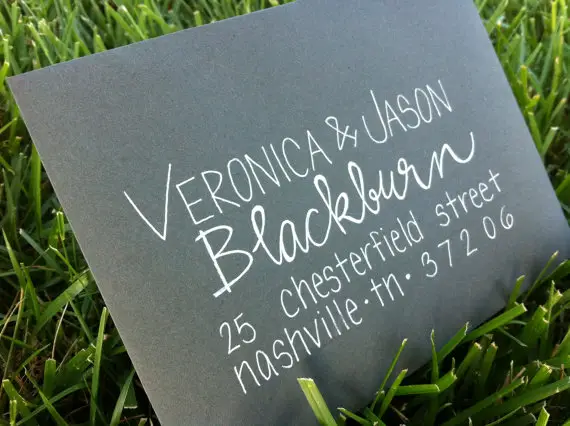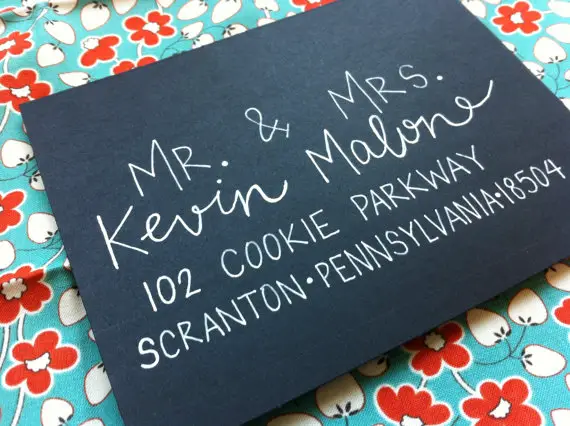 Modern Calligraphy Envelope Addressing
Whether you choose a modern calligraphy style or a traditional calligraphy style, there are hundreds of Etsy stores that can help you address all your wedding invitations.
Why should you hire someone to address your wedding invitations with calligraphy? If you love the calligraphy style, you'll get beautiful, custom created calligraphy on all your wedding invites to wow your guests – but you'll save yourself hundreds of hours of trial and error from the heartbreak of DIY calligraphy. While we will do love DIY options, this is a wise and great choice for many brides without handwriting skills or those who just want one less task during an already very busy season of life.
Hopefully one of these amazing vendors on Etsy can help you address your wedding invitations with calligraphy!