Planning a wedding on your own can be overwhelming. With the additional work and decision making on top of your regular responsibilities, the stress of planning a wedding adds up quickly.  Many Mid-South Brides turn to an experienced wedding planner to help manage their special day to avoid stress and save time.
Once you've decided to hire a wedding planner, how do you decide which planner is right for you? Below we share the steps involved in choosing and hiring a wedding planner for your Memphis wedding.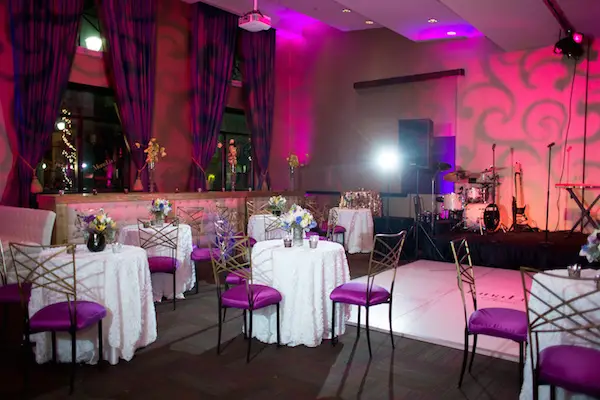 Photo: Amy Hutchinson Photography, Planner: Andria Lewis Events, Lighting: Mark Mazanti with Event Production Services
Research Memphis Wedding Planners
Researching wedding vendors is the first step in choosing your wedding planner. We recommend checking a quality Memphis wedding vendor guide (or even two!) as your first research step. Wedding planners will be listed in these wedding vendor guides with profiles that include detailed information, photos of their work, and reviews from other brides.
Next, browse wedding blogs. Wedding blogs are a great source of inspiration and a wonderful way to find potential vendors for your wedding. Blogs that feature real Memphis weddings like ours will include vendor information for real Memphis weddings. If you see a wedding that is similar to the one you want in size and style then that wedding planner might be a good fit for you.
Then you should ask people you know! Word of mouth is a great way to find wedding vendors. Let people in your circles know that you are looking for a wedding planner and ask which ones they may have used. You will hear about wedding planners people used and planners they didn't hire as well, which will help you make your decision.
Create a short list of wedding planners to contact from your research and then reach out to them. It's best to have at least two or three on your list in case a wedding planner is already booked for your date. If you need help creating a short list of Memphis wedding planners, keep reading for our list of some of our favorite local wedding planners.
Interview Memphis Wedding Planners
Once you have your short list of Memphis wedding planners that interest you, you should set up informational interviews. Wedding planners should be willing to meet with you at their office or in a local coffee shop to determine if their services match your wedding vision and needs.
Create a list of questions you want to ask the wedding planner about how they operate so you can determine if it is a good match. You can ask questions about the wedding planner's experience, the team that will work your wedding, examples of past weddings, and how they work on your wedding day. During the interview pay attention to whether the planner shows interest and enthusiasm in your vision and if communication between you both is easy.
Ask the planner how many weddings they work at once and how often you will expect to communicate and meet during the planning process. You want to make sure your wedding planner will be available to you and willing to meet and discuss your wedding when you need to communicate.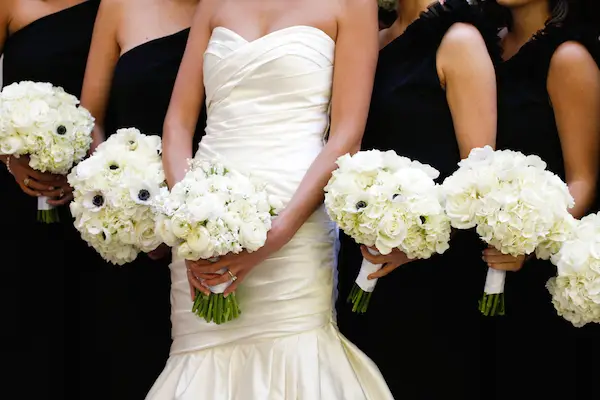 Photo: Angela Acker Photography, Planner: WED Memphis, Floral: Terri Hannah
Check Memphis Wedding Planner References
Even if you got a word of mouth referral for a wedding planner and loved them in the interview, you should still request references from recent couples. If you are trying to decide between two wedding planners it might help you decide by speaking to past brides about their experience with the wedding planner.
Contact a couple references given by the wedding planner and speak to the bride, groom, or mother of the bride. Ask them the questions you are most concerned about as well as their general opinion and experience with the wedding planner. Add their opinion and experience to what you already know about the wedding planner.
Sign A Memphis Wedding Planner Contract
Once you've researched, interviewed, and checked the references of your Memphis wedding planner candidates, you are ready to choose! By this stage you should know exactly who you want to work with on your wedding day vision. If not, you can create a pros and cons list of your final wedding planner candidates to narrow it down to one.
When you are sure of your decision to hire a Memphis wedding planner, the final step is signing the contract with that planner! The wedding planner contract will outline the services you will receive, the fees you will pay, and a payment schedule for paying upon delivery of work. If you have any final questions about the contract, then the time to ask is before signing. Make sure you speak up and are comfortable with the contract you are signing for your wedding planner.
Finally, celebrate choosing your wedding planner! The wedding planning process will be much easier with an experience planner by your side.
Memphis Wedding Planners
If you are looking for a Memphis wedding planner we've compiled a few of the local wedding planners and planner teams that are always known to do great work for brides. Check out any of these planners for your wedding:
Connor & Co. – Kelsey and her team of associate wedding planners offer services across the Memphis area ranging from day of coordination to full scale wedding planning. Connor & Co. also offers floral design and wedding rentals which makes this one stop shop a winning choice.
Betts Made – This mother and daughter owned event planning business offers full event planning services to create the wedding of your dreams. Having a two person team dedicated to your wedding will guarantee you are able to relax and enjoy your wedding.
Southern Sparkle Wedding & Event Planning – Southern Sparkle might not be based in Memphis but they plan and coordinate a large number of Memphis weddings every year. The expertise they bring from planning weddings in multiple cities is a huge benefit.
Those are just a few of the wedding planners we've worked with and love to recommend. There are many more throughout the Memphis and Mid-South area that are well worth the addition to your wedding vendor team.
Happy wedding planning!