Today's DIY tutorial shows you how to make paper flower garland from the spiral paper roses we made in a previous video. (You can learn how to make the rolled paper rose flowers here: https://youtu.be/9P9sRHzb44U )
DIY Rolled Paper Flower Garland Tutorial
This paper flower garland is very easy to make once you've made a supply of spiral paper roses. It's easy enough that kids and non-crafty friends can help out.
You can use this paper rose garland to dress up food and dessert tables, to make a backdrop for photos, or to just pretty up any corner that needs a pop of color.
Supplies needed (affiliate links):
– Colored paper – http://amzn.to/2D66t4J
– Scissors – http://amzn.to/1OMib7v
– Hot glue gun and glue sticks – http://amzn.to/2qUrVUQ
– Jute twine – http://amzn.to/2GFMPhx
Want to seem more paper flower and DIY wedding decor tutorials? Subscribe for future videos!
Where To Buy Rolled Paper Flower Garlands
If making this cute paper garland seems like too much work or is too time consuming, you can purchase a similar paper flower garland from many sellers on Etsy! Below we show you a few of our favorite options. Some of the links in this post are affiliate links, meaning, at no additional cost to you, we will earn a commission if you choose to make a purchase. Thank you for helping Mid-South Bride continue to run!

Paper Flower Garland Teal with Book page Flowers by kC2Designs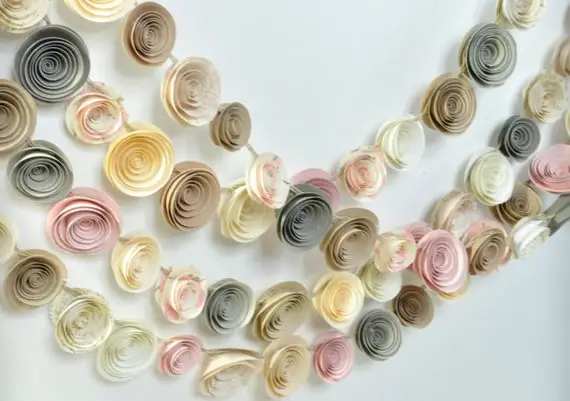 Paper Ranunculus or Buttercup Flower Garland by Wedding Trousseau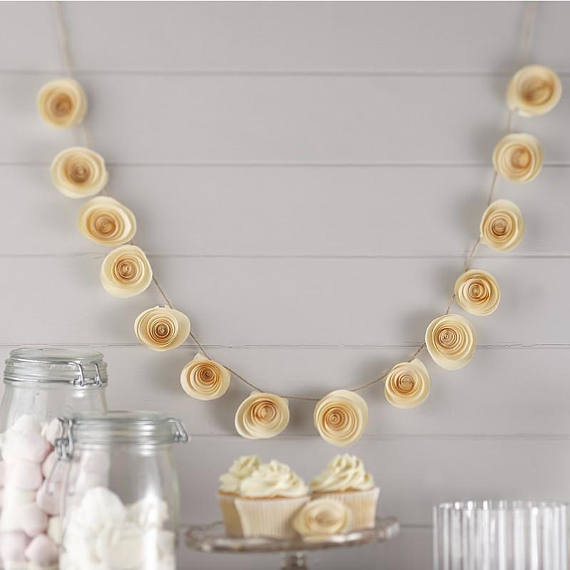 Ivory Paper Flower Wedding Garland by Super Sweet Party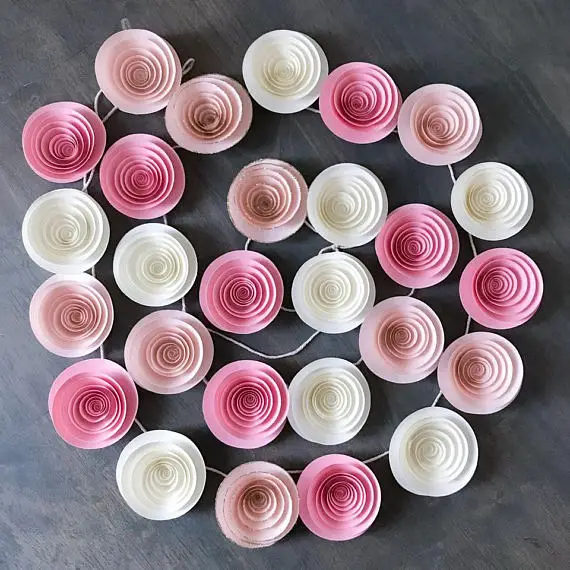 Pink Ombre Gold Glitter Paper Flower Garland by Bella Luna's Flowers
Those are just a few of the paper flower garland options available on Etsy if you love this look but don't want to DIY or don't have time to complete enough garland strands.