We've shared Etsy sellers that will address your wedding invitations with calligraphy, but what if you want to do it on your own?
Maybe you've always wanted to learn calligraphy and your wedding invitations are the perfect opportunity. If this is the case you might want to look into buy a DIY calligraphy kit that will help you get started with brush lettering or modern calligraphy.
There are a few awesome and highly rated Etsy sellers who offer these kits for those brides-to-be looking to start calligraphy. Post contains affiliate links that help support Mid-South Bride.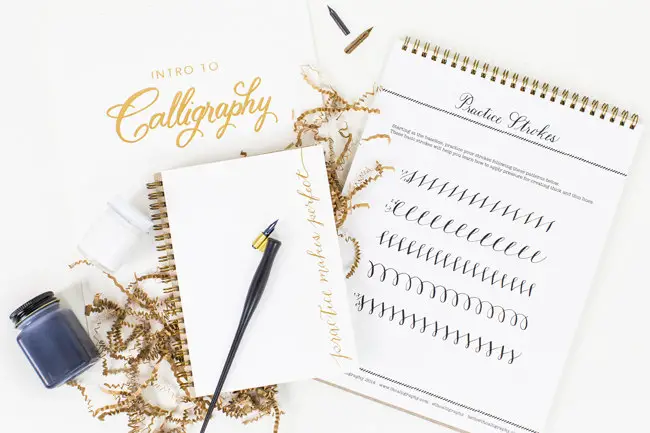 Laura Hooper Calligraphy offers an amazing Calligraphy Starter Kit.
The kit from the well-known Laura Hooper comes with an online video instructions, pen, nib, ink, and more and is made especially for beginners who have not done calligraphy before.
It includes detailed instructions and tips from a professional calligrapher who has taught thousands of students how to start in modern, pointed-pen calligraphy. In this kit you'll learn the mechanics of creating strokes, patterns, and the upper and lower alphabet. It's all the basics of calligraphy along with the necessary pen, nib, ink and more.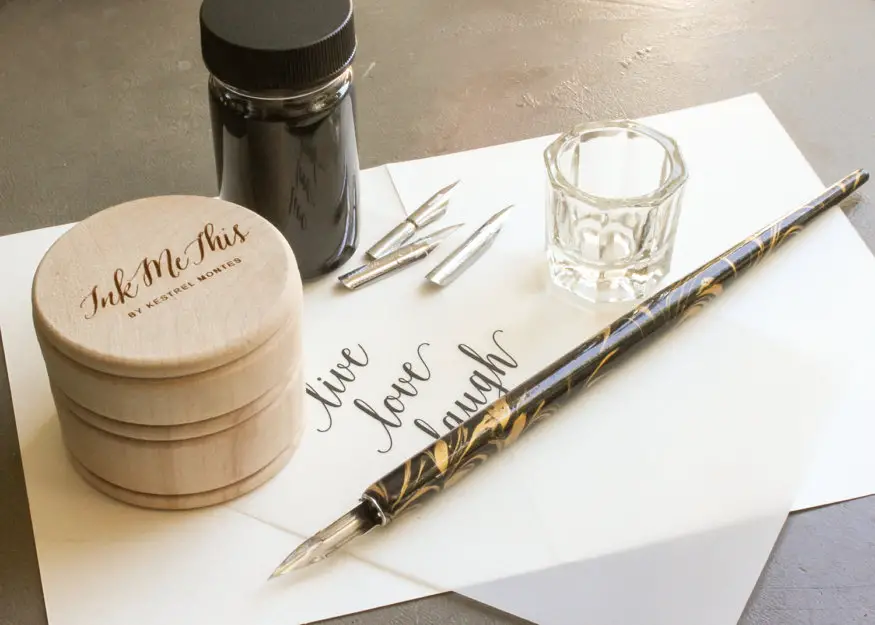 InkMeThis pulls together this Calligraphy Start Kit by Kestrel Montes.
The kit includes everything needed to start with calligraphy including 1 straight calligraphy pen, 1 glass inkwell, 3 nibs, 1 nib box, and 1 bottle of black ink.
This kit is excellent for someone that is looking for a lot items in one kit since it comes with multiple nibs and plenty of ink. The kit doesn't come with as many instructions but you can easily plan to use educational resources like calligraphy books or YouTube videos showing beginner and advanced calligraphy techniques.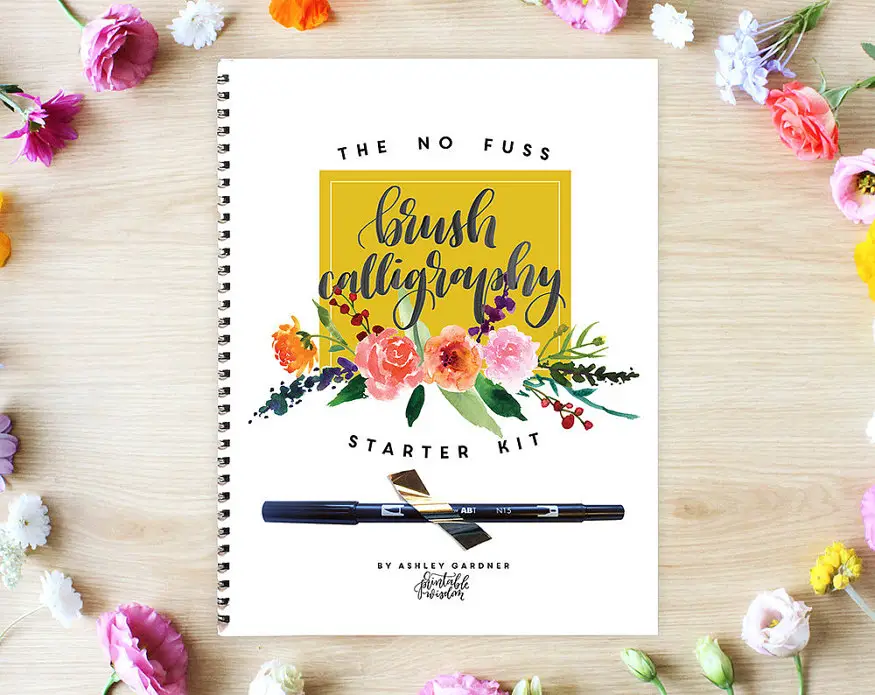 Printable Wisdom creates beautiful hand lettered decors and gifts and also offers a Brush Calligraphy Starter Kit.
Brush calligraphy and hand lettering is rather popular lately and this kit created to get you started with brush calligraphy. It features a flexible brush calligraphy pen and a detailed instructional book on how to use a brush pen for calligraphy.
The brush calligraphy starter kit was created with beginners in mind and offers a fun style of calligraphy.  The instructional book included in the calligraphy kit will teach you the calligraphy letters and how to connect them. With this kit you'll come out able to compose quotes and create a cohesive look with brush calligraphy. You also get some guided projects to start you off.
If you are looking to learn brush calligraphy then the Brush Calligraphy Starter Kit might be the perfect way to start!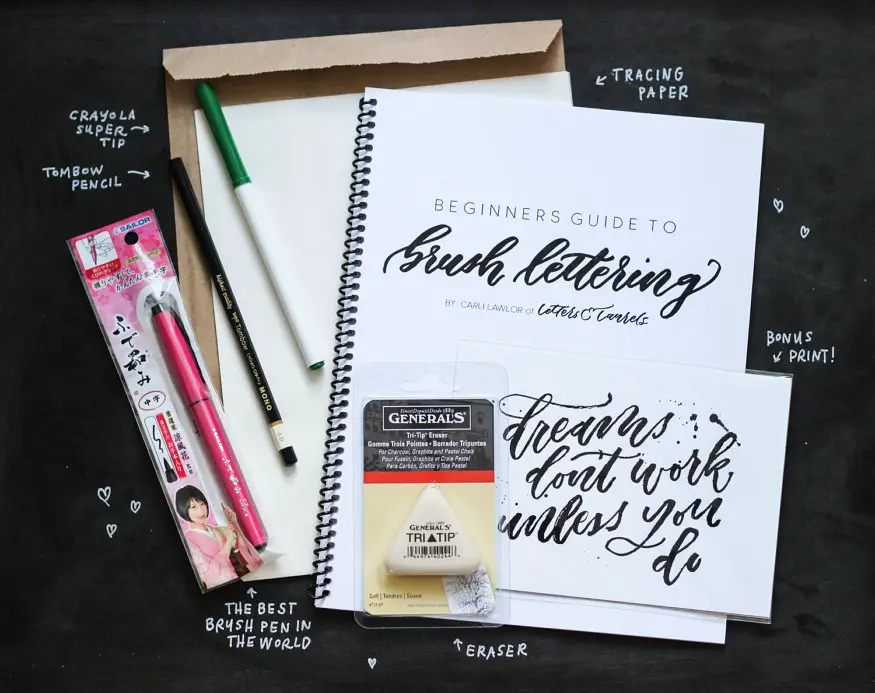 Letters and Laurels offers another great Brush Lettering Starter Kit.
This kit offers all the supplies you need to begin with brush lettering including a Black Sailor Brush Pen, Crayola Super Tip marker, Tombow pencil, Tri-tip eraser, 10 sheets of tracing paper, and a"Dreams don't work unless you do" print from the seller.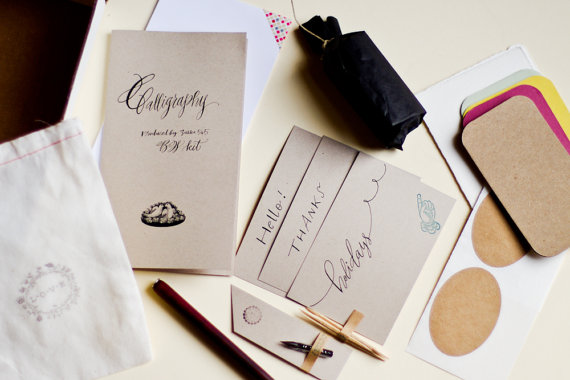 Rubato Pen offers a beginner calligraphy kit along with many great calligraphy tools.
This calligraphy kit has been featured in numerous wedding publications since it comes from Rubato Pen, creator of amazing pens and calligraphy tools. This calligraphy kit comes with a chart of Spencerian+Modern styles, white ink, black ink, sepia ink, pipette, G pen Nib- calligraphers' favorite, wood nib holder, and white cards of Crane, Black, Red, Pink, Colored, Kraft cards- assorted samplers in a muslin bag.  We love the concept of this kit since it send you a variety of materials. As you learn calligraphy you'll want to work on various papers so this kit is a great start!
Practicing Calligraphy
You can buy additional practice lettering sheets from most of these calligraphy related sellers and many others on Etsy.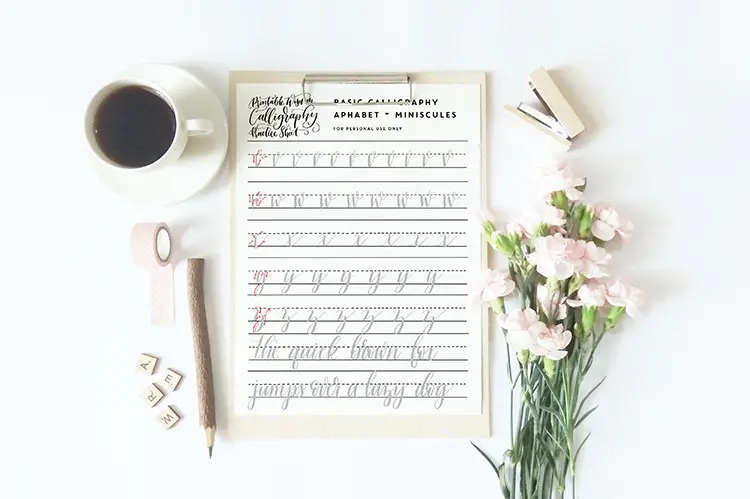 Printable Wisdom also offers calligraphy practice sheets in their Etsy shop if you need some extra help. These helpful practice sheets are perfecting for honing new calligraphy skills. After all, practice is what helps you learn calligraphy the best way! You'll perfect your craft through hours of practice and many sheets of practice lettering.
Practicing your letters and words using this basic modern calligraphy alphabet will help you learn the alphabet more quickly. The grey letters are just made for tracing practice with your traditional nibs, brush pens, markers or anything else!
If you're planning to learn calligraphy in order to address your wedding invitations then one of these DIY Calligraphy kits should help you get started! Send us photos of your awesome wedding envelopes when you're finished!