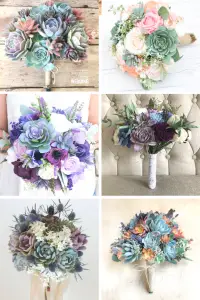 I personally love succulents. They are one of my long standing favorite trends in weddings and I personally had succulents in my bridal bouquet and our centerpieces. I just love succulents for weddings! I even love succulent wedding invitations.
Today's post is full of beautiful succulent wedding bouquets sure to inspire your bridal bouquet. The bouquets are sourced from a few of our favorite Etsy shops, a fantastic source of wedding decor and inspiration! Some links include affiliate links which helps support Mid-South Bride at no additional cost to you.
From real live succulents to succulents made of wood, there are plenty of options for your wedding day bouquet.
Living Real Succulent Bouquets
Did you know you can order a full bouquet full of succulents? You can contact an amazing local florist or even find one to order online from SucculentArtWorks.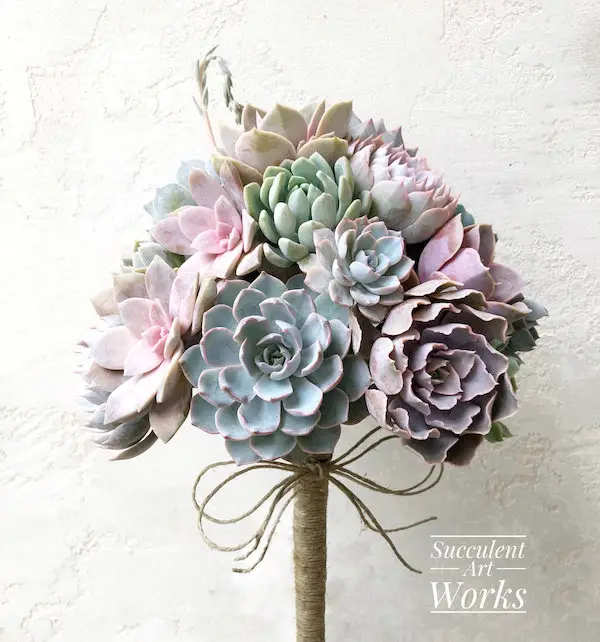 Succulent Wedding Bouquet by Succulent Art Works
SucculentArtWorks creates customized succulent wedding bouquets in the colors you choose. They create these gorgeous living bouquets full of succulents that are up to 11 inches and finished with ribbon or twine wrapped stems.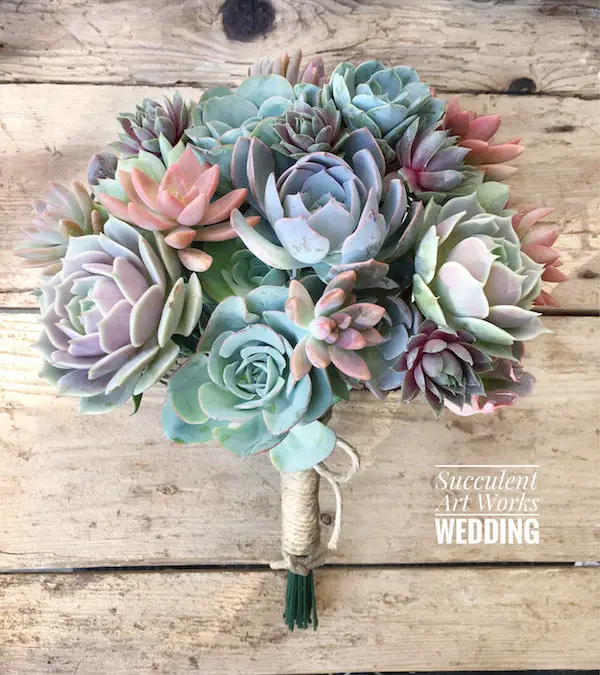 Customized Succulent Wedding Bouquet by Succulent Art Works
SucculentArtWorks is based in Southern California where these beautiful succulents are grown in greenhouses and then hand selected for bouquets. They offer several bridal bouquet options along with bridesmaid bouquets and boutonnieres too.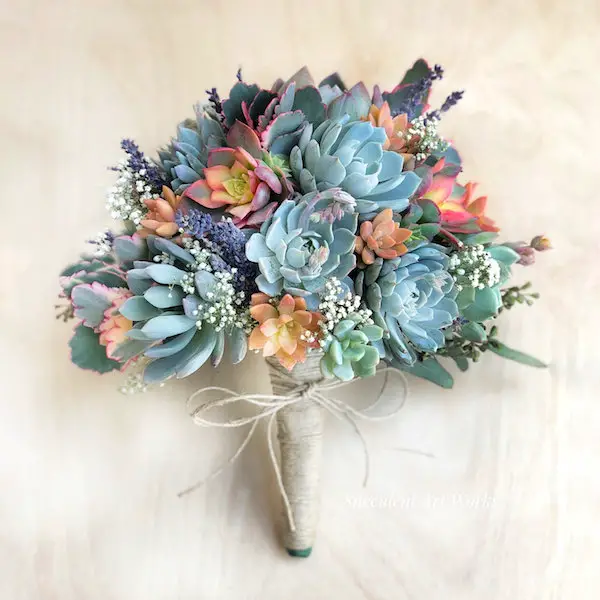 Customized Succulent Wedding Bouquet by Succulent Art Works
The best part about having a bouquet with real succulents? You can grow them after your wedding! Since these little plants take little care to grow you can have your bouquet last forever.

Succulent Wedding Bouquet by Succulently Urban
Succulently Urban is another shop that offers real succulents in wedding bouquets. They specialize in working with live succulent plants for weddings.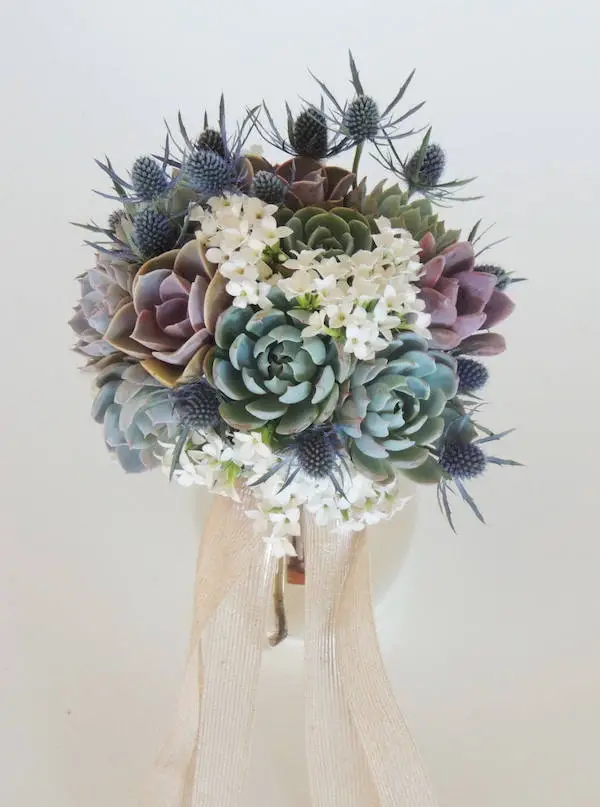 Succulent Wedding Bouquet by Succulently Urban
The beautiful succulents are designed with additional flowers to create a 9″ succulent bouquet. These bouquets are quickly shipped and can last up to two weeks since succulents can last that long without being replanted.
Fake Natural Touch Succulent Wedding Bouquets
Succulents are one of the few flower options that still look great when they are "fake" flowers. Wedideas offers gorgeous Natural Touch Wedding Bouquets that look like they could be real.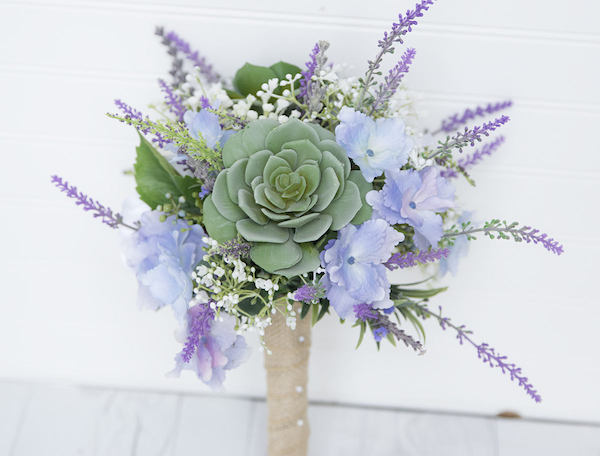 Succulent Bouquet Silk Wedding Bouquet by Wedideas
While these fake flower bouquets generally don't only feature succulents, you can tell them are the star of the show in each bouquet. Made from the most realistic silk flowers available, these succulent flower bouquets are quite realistic looking.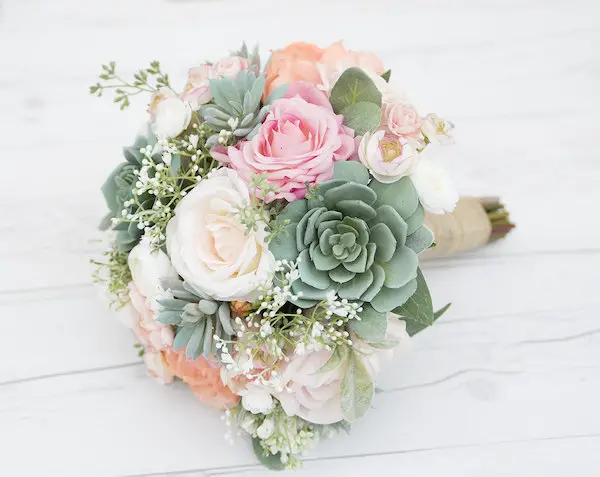 Wedding Succulent Blush Peach Silk Flower Bouquet by Wedideas
Luckily with these flowers the sky is the limit with color choices and arrangements for up to 11″ wide. This gorgeous example bouquet full of succulents, roses, peonies and a variety of fillers look gorgeous.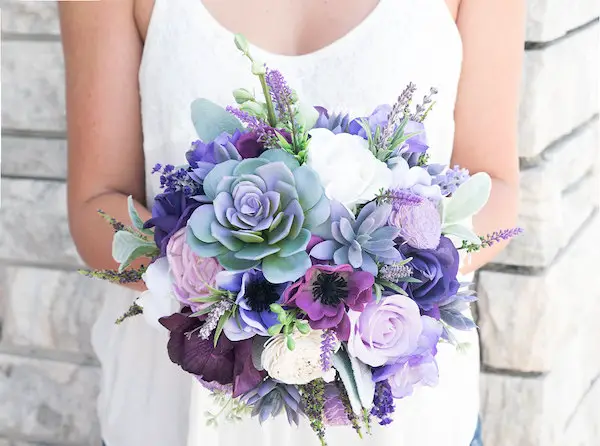 Lush Plum Purple Lilac Wedding Succulent Bouquet by Wedideas
Combining succulents with various types of silk flowers can create a gorgeous bouquet perfect for a garden wedding.
Wooden Sola Flower Succulent Bouquets
Wooden flower bouquets offer another option for succulent bouquets that are more unique than fake flowers and less expensive than real succulents. Vendors like Pine & Petal Weddings and create custom unique floral arrangements for weddings.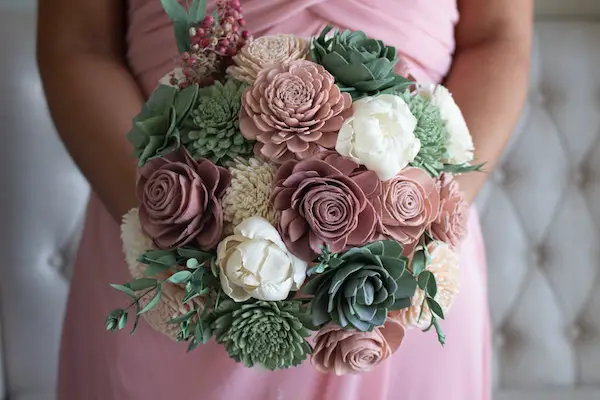 Berry Succulent Sola Flowers Wedding Bouquet
Wooden flower succulent bouquets from Pine & Petal Weddings are created from handmade wooden flowers and dyed in a variety of shades. The berry succulent bouquet for example comes in various shades of pinks, creams and greens.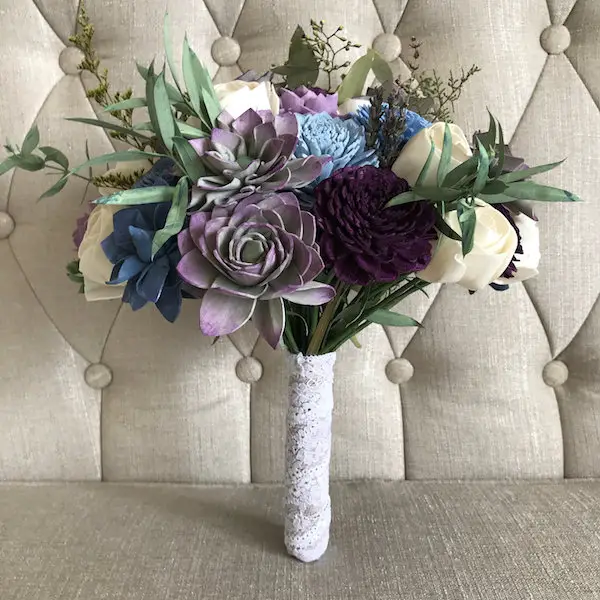 Fairytale Succulent Bouquet by Pine & Petal Weddings
These sola wooden succulents and delicate flowers are uniquely crafted and used along with dried naturals to create beautiful bouquets. Whimsical bouquets with wooden succulents are handmade and hand-dyed to show off beautiful colors.

Succulent & Sola Bouquet by Eucca
Eucca combines the best of all worlds with real succulents and sola wooden flowers. Combining succulents, sola wood flowers and dried blooms creates the most gorgeous bouquet! After the wedding you can take the succulents from the bouquet and plant them for enjoyment for years to come.
Whichever style of succulent bouquet you decide you are sure to love the succulents in your bridal bouquet on your wedding day!