After attending a wedding this past weekend where the bride had a brooch bouquet, we're in love with the idea of carrying a brooch wedding bouquet as a bride. The idea is not new but it carries massive amounts of personality and sentimentality since you can use brooches from a variety of sources.
The biggest benefit of a brooch bouquet? You can keep it forever just like the popular wood flower bouquets! It will look beautiful as a part of your home decor for years and years.
Here are a few of our favorite brooch filled bouquets we found through Etsy, a fantastic source of wedding decor and inspiration! Some links include affiliate links which helps support Mid-South Bride at no additional cost to you.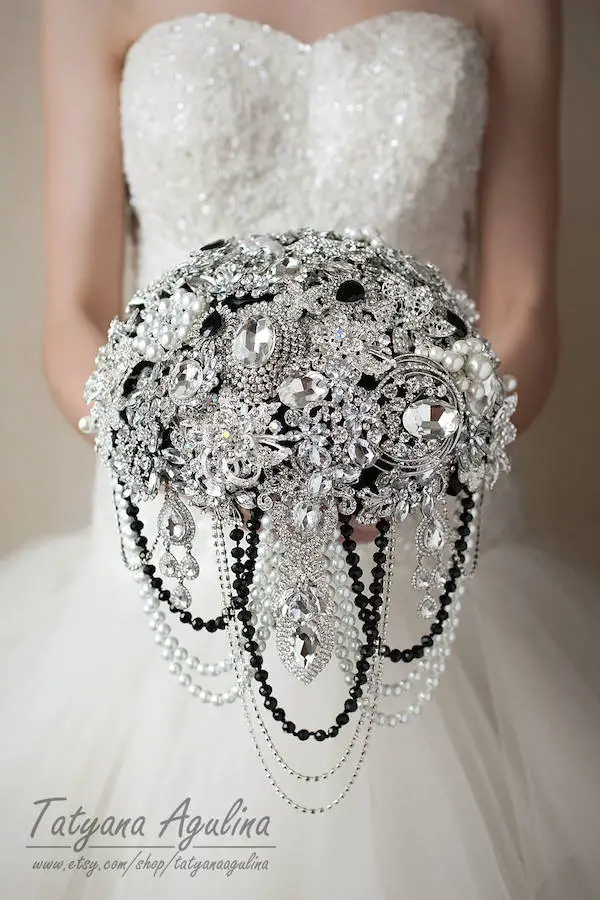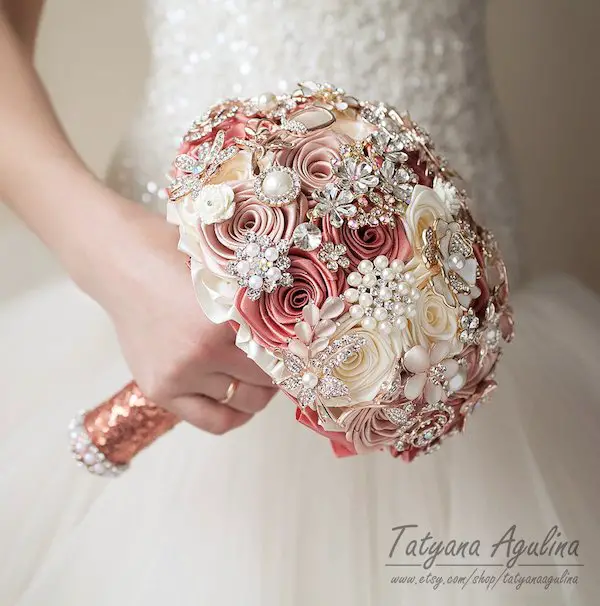 Color Coordinated Wedding Brooch Bouquets by Tatyana Agulina
Etsy seller Tatyana Agulina offers a wide range of brooch bouquets in many different coordinated color schemes. Every enchanting chic bouquet features a collection of brooches and handmade flowers with a finished stem covered in satin ribbon. Many of the brooch bouquets feature a cascade of pearls and rhinestones to make the gorgeous bouquet make even more of a statement.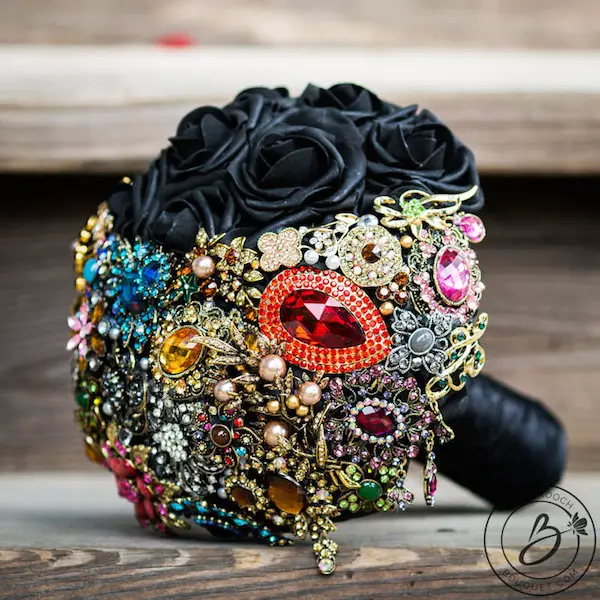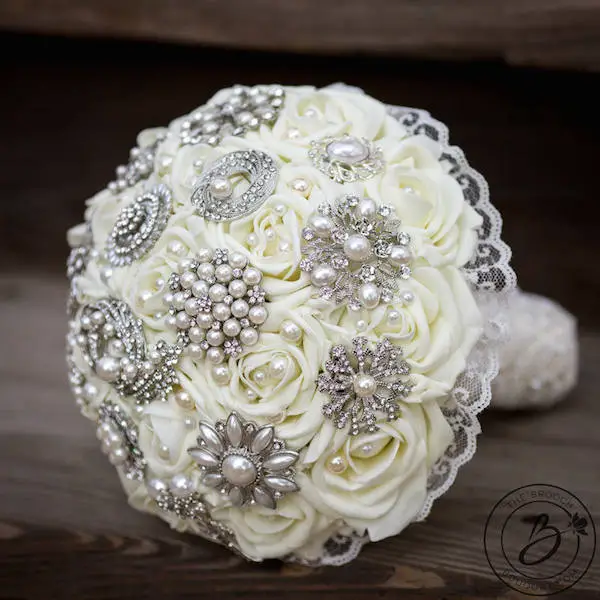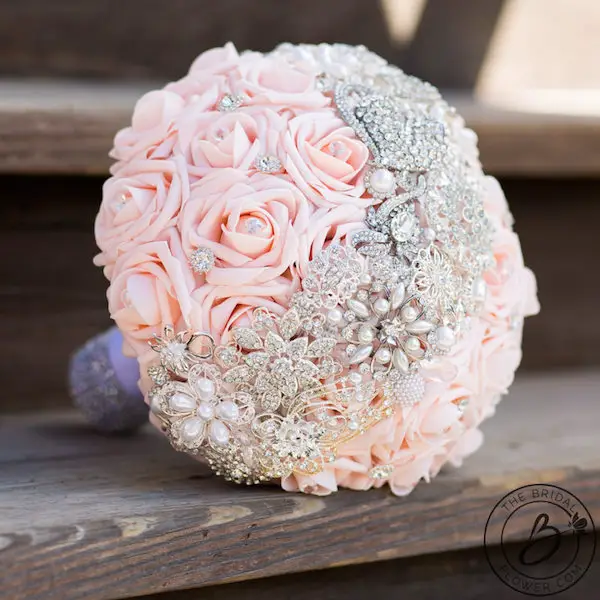 Creative Alternative Bouquets by The Bridal Flower
These brooch wedding bouquets handcrafted in Vermont by a woman-owned floral studio are the perfect way to utilize brooches for a wedding. By combining brooches and colorful Real Touch flowers they create unique brooch bouquets perfect for any style of wedding.From black bouquets to bright, vibrant colors, they offer something for every bride. The bouquets become a special keepsake to cherish after the wedding for years to come.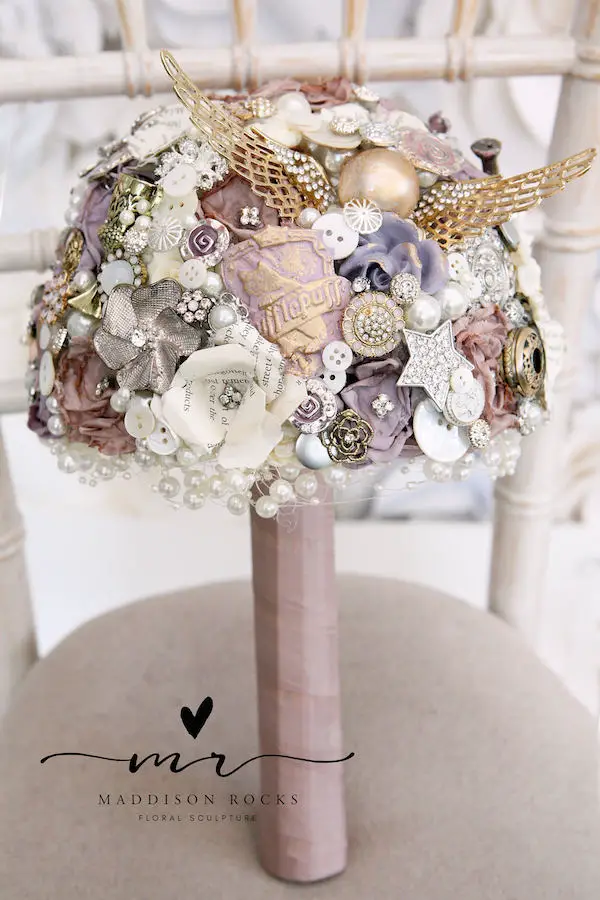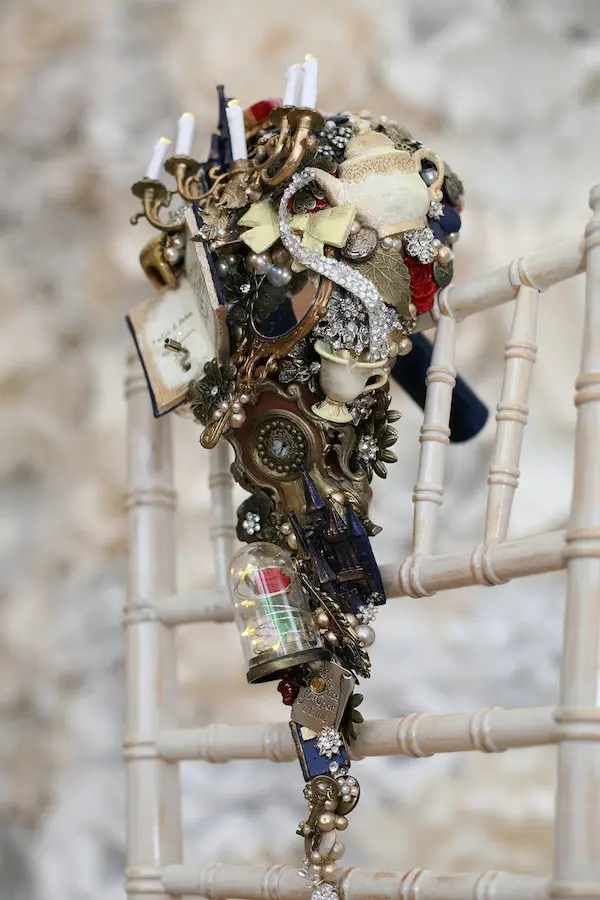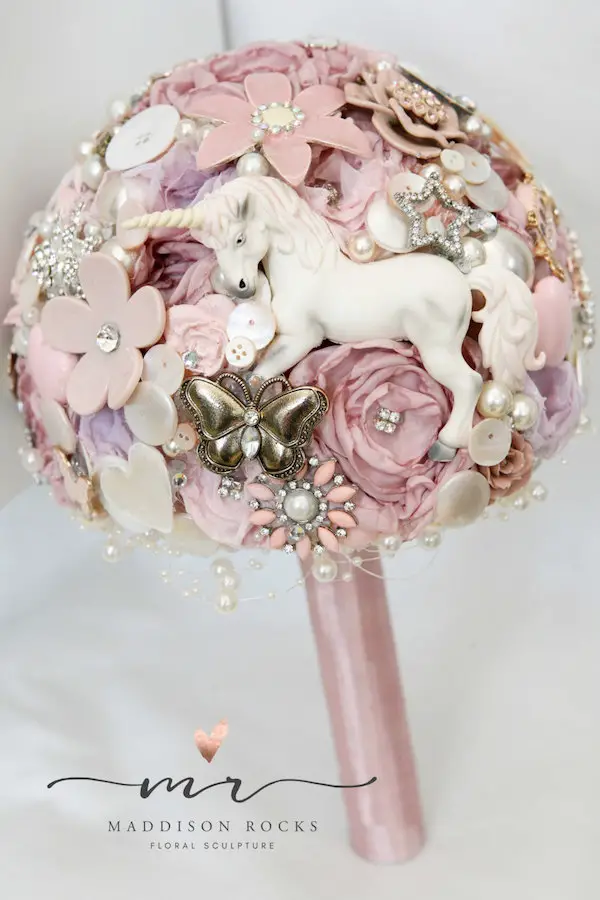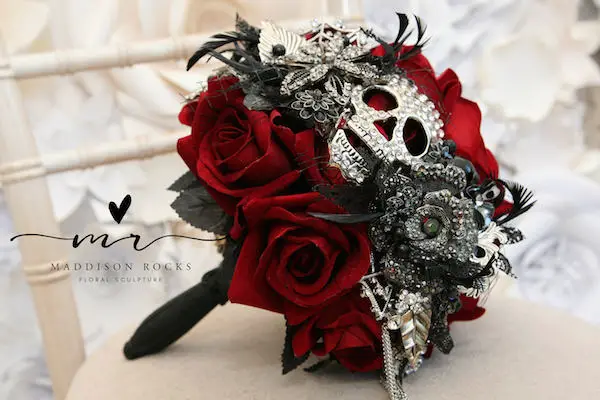 Unique Themed Brooch Bouquets by Maddison Rocks
Maddison Rocks Floral Sculpture create unique brooch bouquets centered around a theme special to the bride or the wedding. Some examples of these bespoke brooch bouquets include bouquets focused around Harry Potter, Beauty & The Beast, Fairy Tale Unicorns, and skulls. These alternative bridal bouquets are handmade from themed brooches including vintage and new brooches, jewelry, fabric flowers and more. These made to order bouquets can showcase your favorite movie or style at your wedding and for decades beyond.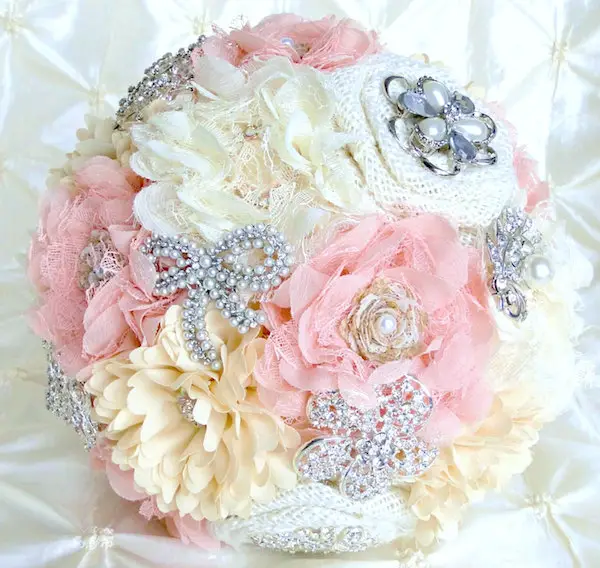 Customized Bridal Brooch and Fabric Bouquets by Deecreated4U
Deecreated4U creates custome brooch and fabric wedding bouquets in the colors of your choice. Bouquets from this creative Etsy shop include materials like brooches, lace, burlap, satin and more. These alternative bridal bouquets are custom created according to your color choices and are perfect for a vintage, shabby chic, or rustic wedding.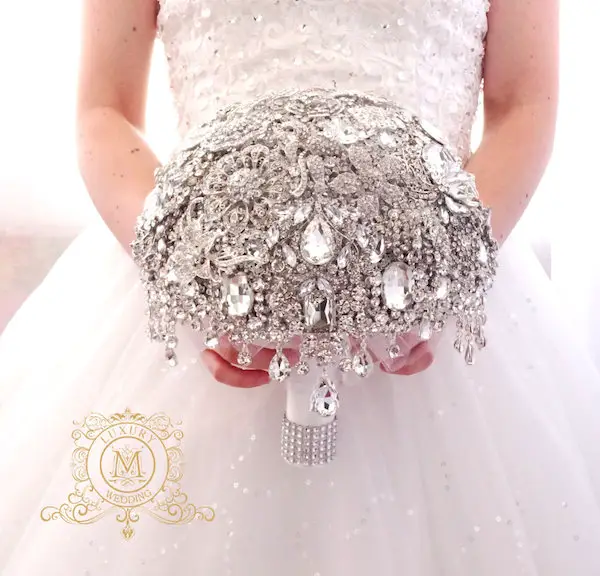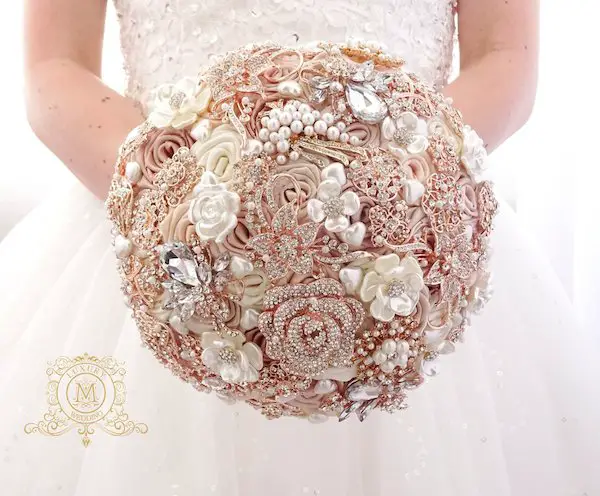 Handmade Brooch Bouquets by Memory Wedding Brooch Bouquets
Memory Wedding offers a variety of brooch bouquets organized mainly by color scheme. Brooch bouquet examples shown above include a champagne rose gold bouquet, ivory and pearl bouquet, and jeweled bling silver bouquet. Memory wedding also offers matching boutonnieres and corsages so the whole wedding party can be fitted out for beautiful brooch accessories.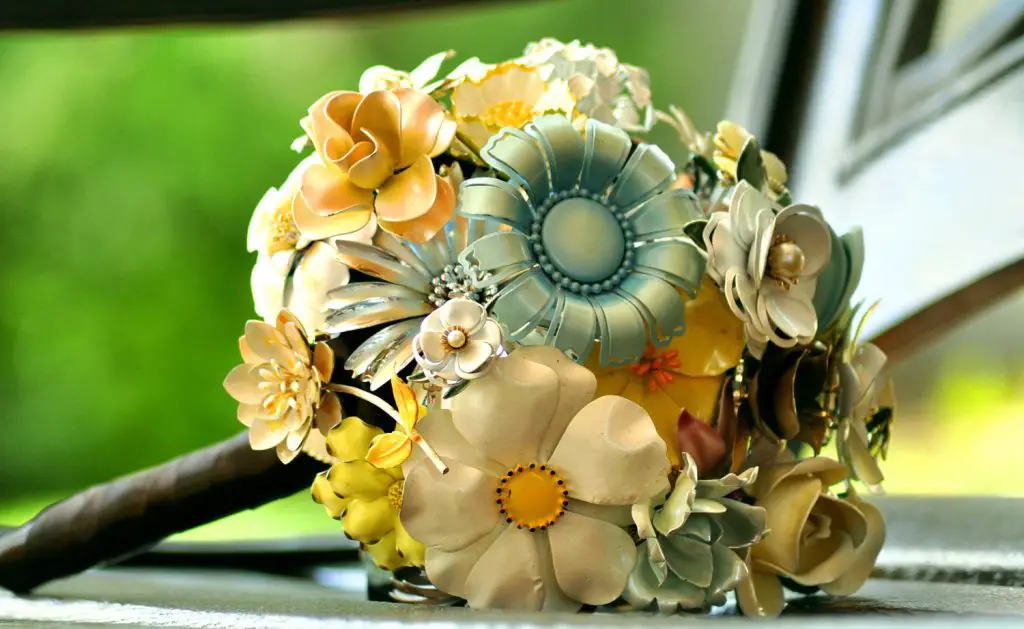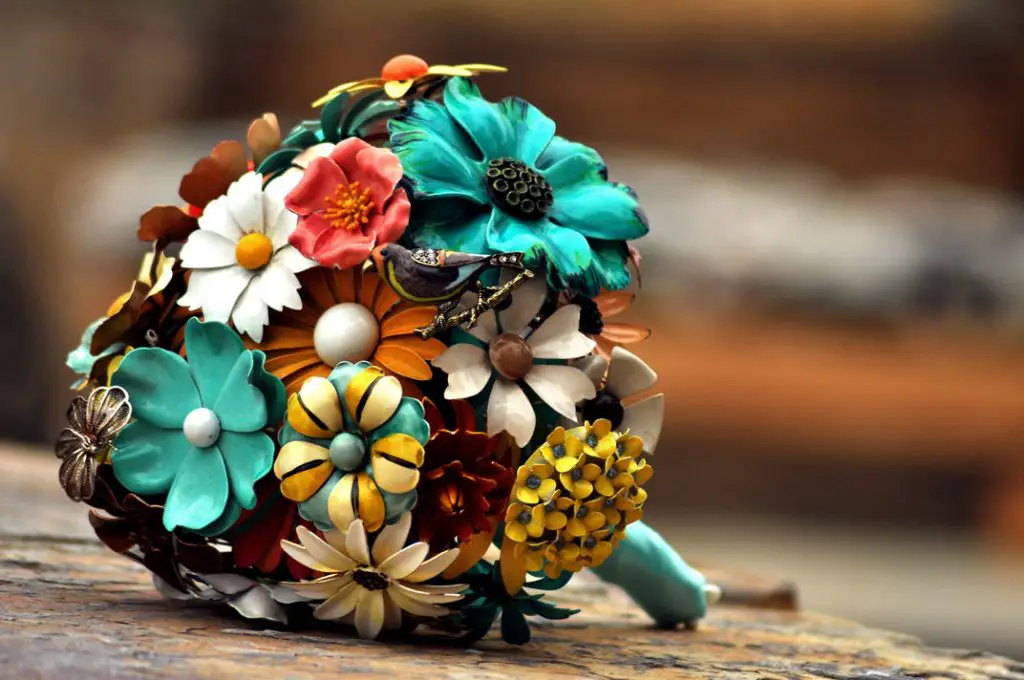 Custom Wedding Jewelry Brooch Bouquet by LionsgateDesigns
Lionsgate Designs offers custom brooch bouquets in a variety of vibrant and fun colors. These photo examples from past weddings show how colorful and fun the bouquets can be. You can work to select brooches from her huge collection or send in your own or work to do a combination on brooches matching your wedding color scheme. These one-of-a-kind pieces of art will last forever so you can remember your wedding day each time you look at your bouquet.
You can also purchase a brooch bouquet kit from Etsy to make your own bouquet with brooches you collect from family and other sources.
Reasons To Choose a Brooch Bouquet
If you're on the fence about choosing a brooch bouquet for your wedding, we've compiled a list of reasons why you might want to consider a brooch bouquet:
You can incorporate special sentimental pieces from family members into your bouquet.
Your bouquet will last forever and can become part of your home decor.
You won't have to worry about your or your bridal parties allergies.
You can truly match the colors your want, since many real flower color options don't work out.
You know what your bouquet will look like before your wedding day since it is finished beforehand.
You can pass it on to others to carry as their bridal bouquet.
You can carry on your fun theme from your wedding to your bouquet.
Those are just a few of the reasons why you may consider carrying a brooch bouquet for your wedding! Hopefully you find one you can love on your wedding day and forever after!