We're constantly running across cool new wedding small businesses on Instagram which is why we want to start sharing them here. One of those small businesses we discovered is Southern Ever After, a vintage-inspired Etsy shop that makes rustic and vintage inspired wedding garters.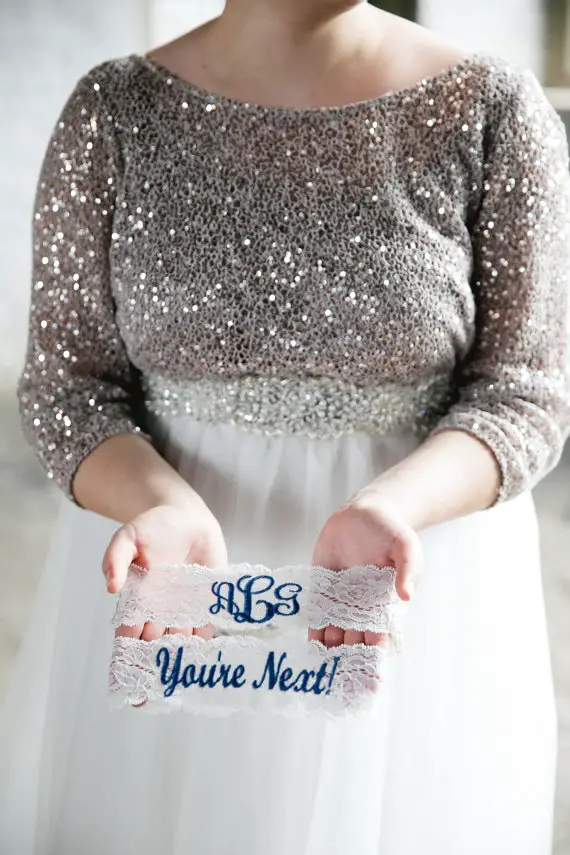 When you're planning your wedding the garter can sometimes be an after thought, if it's something you even choose to do. But these monogrammed lace garters and adorable "you're next" toss garters might make you as excited to buy your garter as anything else for your wedding. The garters come in a set you'll only have to think about the garter once and be done with this small part of wedding planning!
These monogrammed garters fromSouthern Ever After are handmade and stitched in blue thread, in case you need your "something blue" covered for the day. You can get the garters in various colors if you just ask for the color you want. All listings for wedding garters in the shop are custom for each customer when you send in your size and initials and color choices.
Remember – don't wait til the last minute to order your wedding garters. Handmade custom shops like this often have a several week waiting period since production time can take a while and they get a lot of orders for wedding garters. Give yourself at least a month of time to order your wedding garter and toss garter.
Make sure you browse through Southern Ever After to see all the different garter options. They offer lots of different garter sets with different variations on the toss garter, like this one that says "Good catch, you're next!" You can also see garters with different colored thread and embellishments like rhinestones.
Southern Ever After also has other lacy items like sashes, hair bands, and panties.
Head on over to Southern Ever After to browse the full collection of monogramed lace garters and other items from this cute little wedding garter shop!