Spring recently brought beautiful blooms and greenery to the South. Everywhere you look there are beautiful, bright green leaves and people hanging out on patios. It's a great time of year!
Spring is a popular time for weddings and a huge inspiration for wedding invitations. Nature often inspires wedding design and invitations as we've seen in previous posts on beautiful garden wedding invitations and nature inspired tree wedding invitations. That's why we think these green invitations are the perfect way to celebrate spring and the beauty of the season.
If you're in the mood for a spring like wedding invitation then perhaps you should consider one of the green wedding invitations:

Spring Dew Wedding Invitations
These spring inspired wedding invitations combine the blues, greens, and yellows of the season in a gorgeous watercolor print and design.

Metro Green Line Wedding Invitations
Simply and clean design allows you to feature your wedding photos in this green wedding invitations style.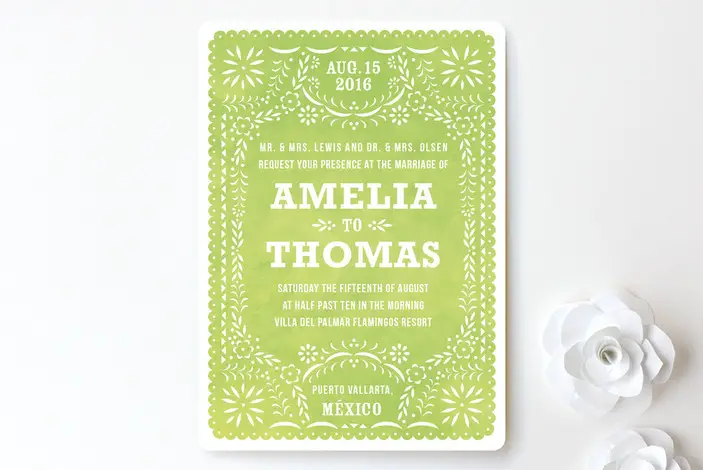 Fiesta Folk Art Wedding Invitations
Having a fiesta wedding? These green wedding invitations are perfecting for a fiesta or folksy wedding bash.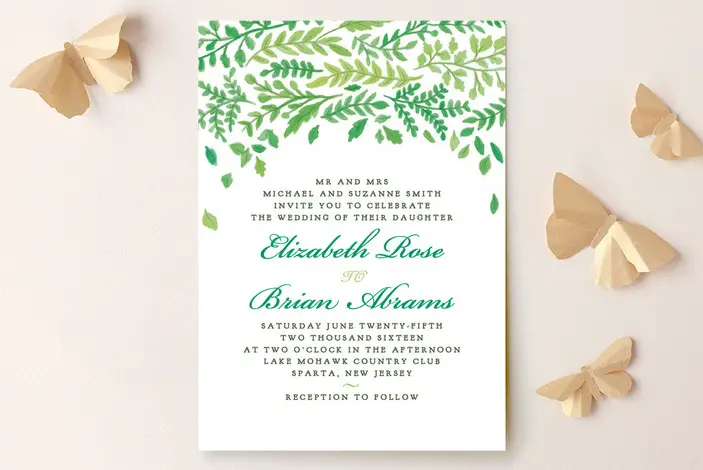 China Plate Wedding Invitations
Shades of green and various leaves create a beautiful and bright design on these green wedding invitations.

Gallery Label Foil-Pressed Wedding Invitations
The art deco style on this green invitation screams Gatsby and the 1920s. The real foil used on the invites makes a huge impact.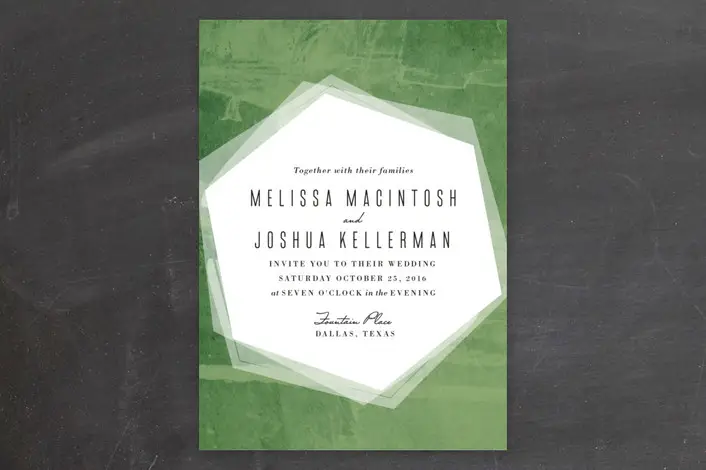 Green Hex Wash Wedding Invitations
A hexagon design with strong fonts is featured on a green color wash background in this intriguing green wedding invitation design.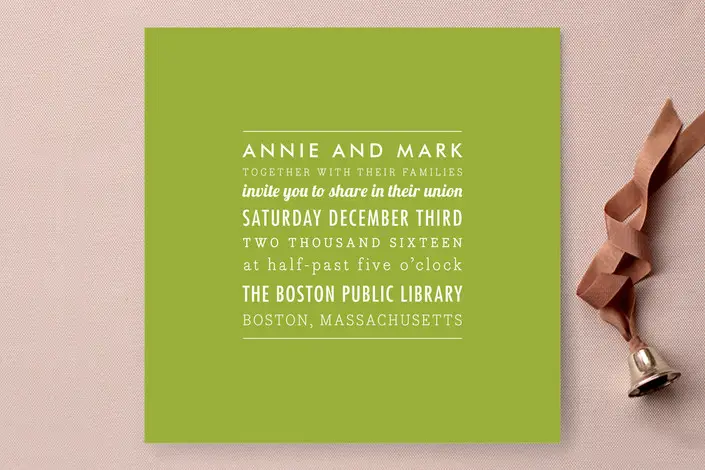 The Square Types Wedding Invitations
Square invitations might cost more in postage, but they make a huge impact with their shape and simplicity. This green wedding invite is the picture of simple but impactful design with typography.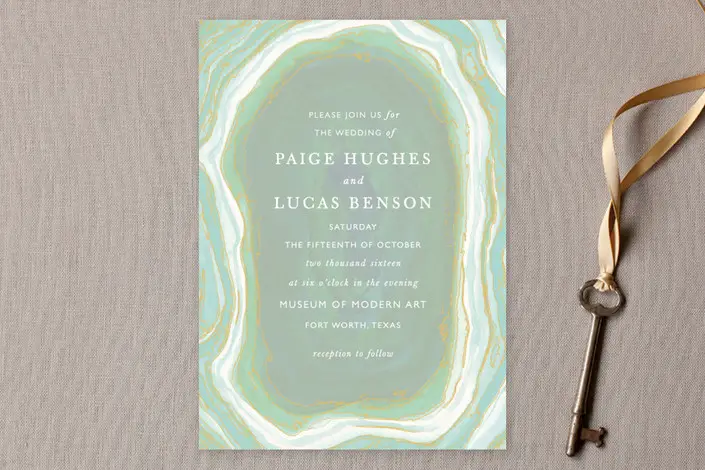 Gilt Agate Wedding Invitations
These gilt agate wedding invitations are perfectly designed to look like a geode. Perfect for the geologist at heart planning a natural wedding with green touches.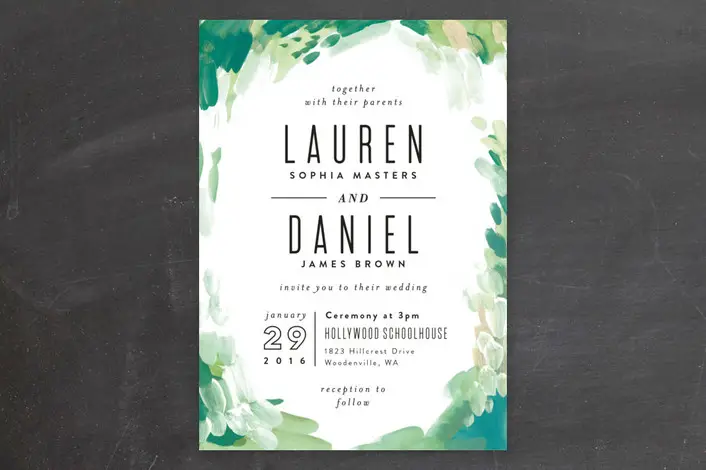 Gallery Abstract Art Wedding Invitations
Fans of abstract artwork will love this wedding invite with abstract green flowers creating a border around the invitation edges.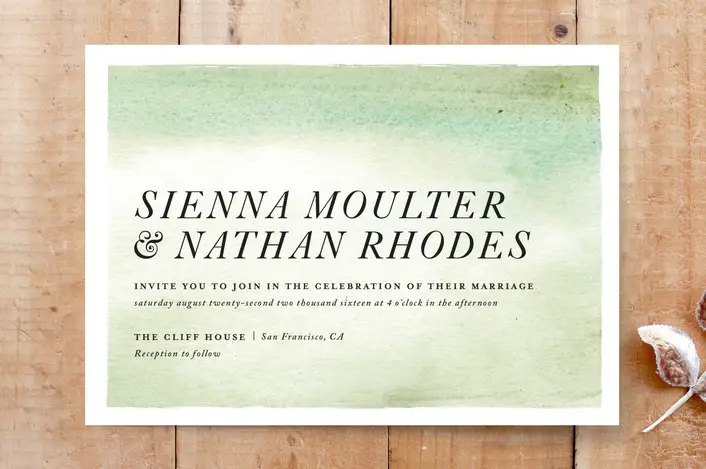 Green Sandstone Wedding Invitations
These sandstone wedding invites come in many colors but we love the green for it's natural and calming look.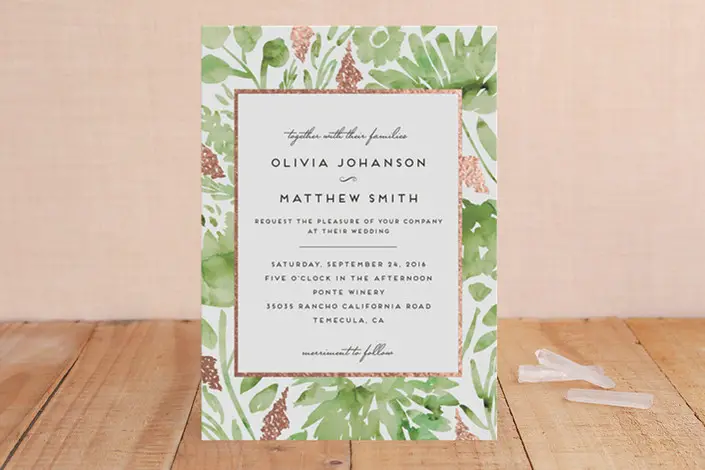 Watercolor Delight Foil-Pressed Wedding Invitations
These green wedding invitations combine popular watercolor technique with real foil for an impressive wedding invitation.
Beautiful green watercolor brushstrokes create a colorful backdrop for a traditional typeset in this wedding invitations design.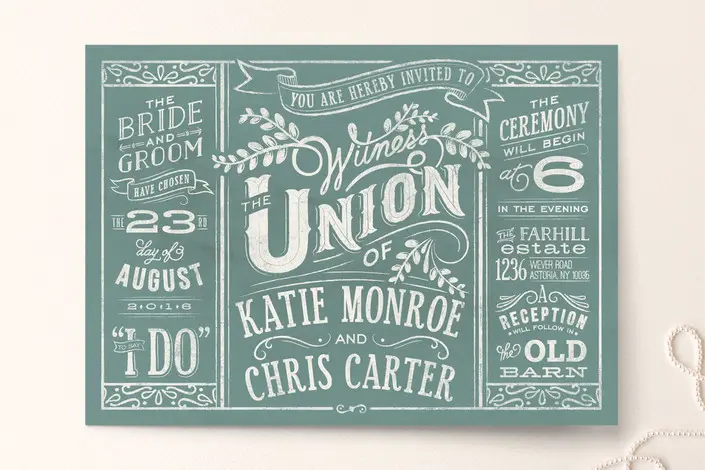 Slated Forever Wedding Invitations
This green wedding invitation uses the chalkboard style that has been incredibly popular over the last few years. Instead of going all black you can order these in a pleasing green color!
Hopefully you enjoyed these green wedding invitation ideas! Whether you choose one of these or find another or make your own, a green wedding invite is sure to be fun and fresh.