Flower bouquets from your wedding may last a few days. Do you want something you can keep longer? Then you need to know more about wood flower bouquets.
Similar to paper flowers, we love wood flower bouquets for their longevity. While you can get photos of your real flower bouquets, the actual flowers only last a few days.
Wood flowers give you a gorgeous bouquet on your wedding day and many years beyond.
They are also fully customizable, eco-friendly, cost effective, and beautiful!
Wood Flower Bouquets
Can you imagine the many different types of wood flower bouquets?
Here are a few of our favorite wood flower bouquets we found through Etsy, a fantastic source of wedding decor and inspiration! Some links include affiliate links which helps support Mid-South Bride.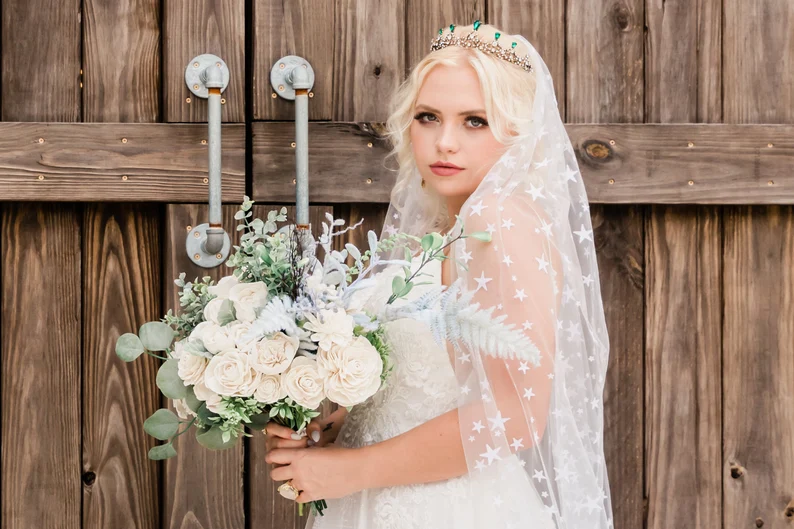 This whimsical bouquet blends off white sola wood flowers with soft faux greenery.
The woodland inspired bouquet features branches and greenery to give it a "just picked" feeling that compliments a fairy bride.
Delicate and unique, this wood flower bouquet showcases what white sola wood flowers can truly be.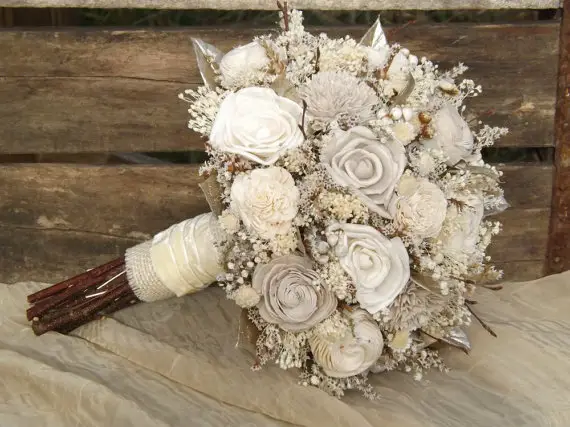 This rustic bouquet features cream and grey sola flowers with faux champagne leaves and rustic twigs for a rustic but elegant feel.
Sola wood flowers, made from tapioca wood, create a memento that will last years after your wedding.
This rustic bouquet would fit perfectly into a wedding at a barn wedding venue.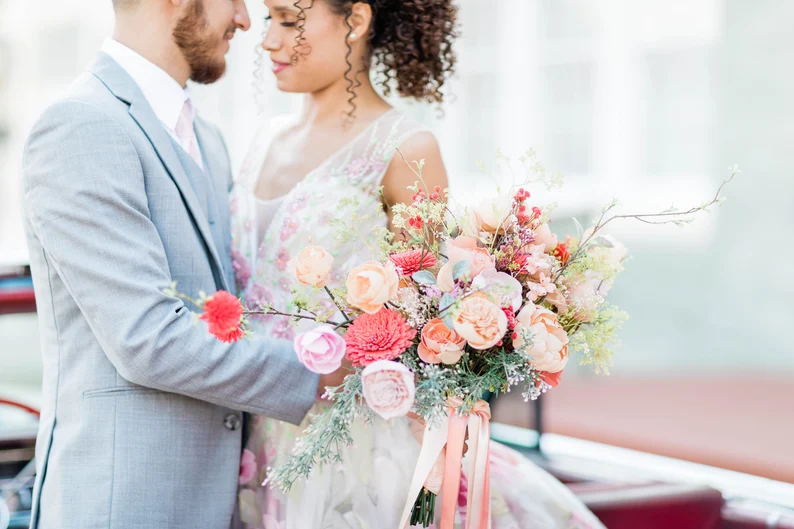 Wood flowers can be just as vibrant as actual living flowers. This asymmetrical bouquet contains a vibrant and breathtaking color palette.
The lasting wood flower arrangement will look gorgeous at your wedding celebration and long after. It is designed in a way you'll want to keep it on display forever.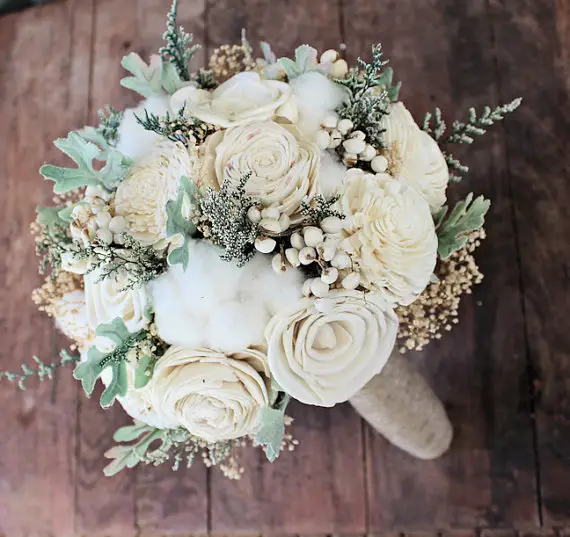 This luxurious wood keepsake bouquet made from ivory sola flowers and other materials will make a huge statement on your wedding day and provide beauty for years after.
Curious Floral makes each bouquet completely custom so you can change details and accents to fit your style!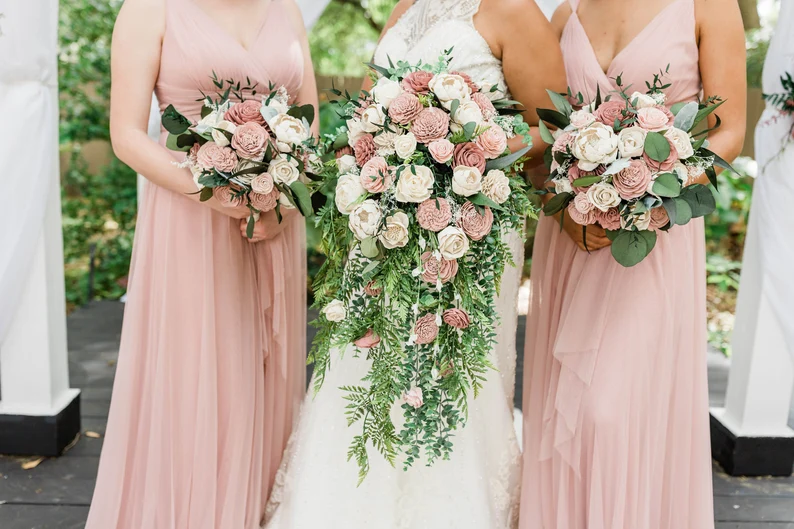 A classic dusty rose bouquet from Pine & Petal Weddings shows how wood flowers can be delicate and traditional.
The wood bouquet for the bride adds extra lush greenery to create a garden feel. The coordinating bridesmaids bouquets show how you can make all the flowers in the wedding work together.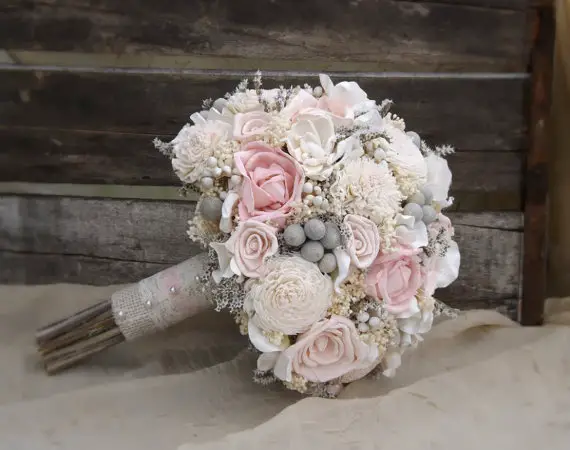 This pink and blush rose wood sola flowers bouquet is perfect for a country wedding or soft wedding palette. The silver brunia and tallow berries make it romantic and light along with the blush wood flowers.
The wood flowers in this bouquet come in pink, blush and ivory with beautiful paper flowers rounding out the bouquet.
Succulents and wood flowers? The perfect combination based on this gorgeous bouquet.
This natural wooden flower bouquet is handmade and hand-dyed. The white, blush, and mint wood flowers pair with succulents and faux greenery to create a lasting succulent bouquet.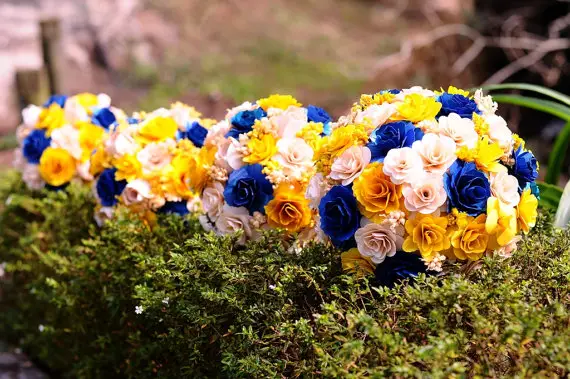 This bright and fun blue and yellow bouquet made of wooden flowers is a fantastic example of how different wood flowers can look!
Bouquets can be made to match your wedding colors and style. Want something vibrant and fun? It is possible!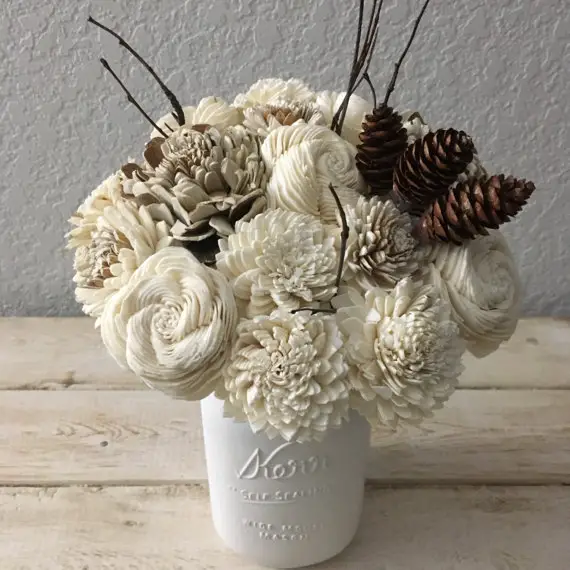 A wood bouquet is a great option during the winter when many real flowers are either unavailable or costly.
This winter themed sola flower wooden bouquet shows off many natural elements including the wood flowers, pine cones, and twigs.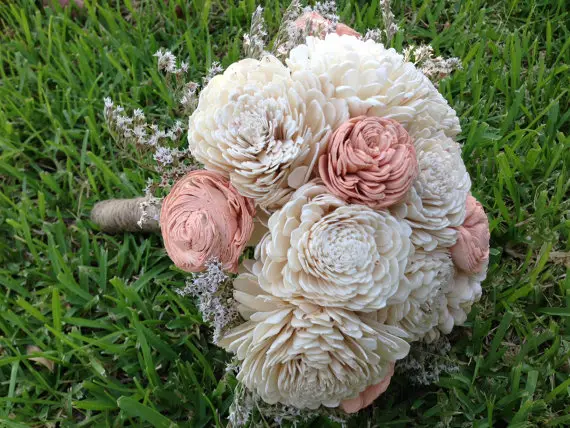 This bouquet consists of:
large ivory balsa wood flowers
small peach balsa flowers
dried German statice
The bouquet is handmade for your wedding and can feature as much of any item as you want. These flowers are carved from wood and look like real flowers but will never wilt or die.
DIY Wood Flower Bouquets
If you haven't been able to find the wood wedding bouquet of your dreams, you can also purchase packs of wood flowers and create your own bouquet!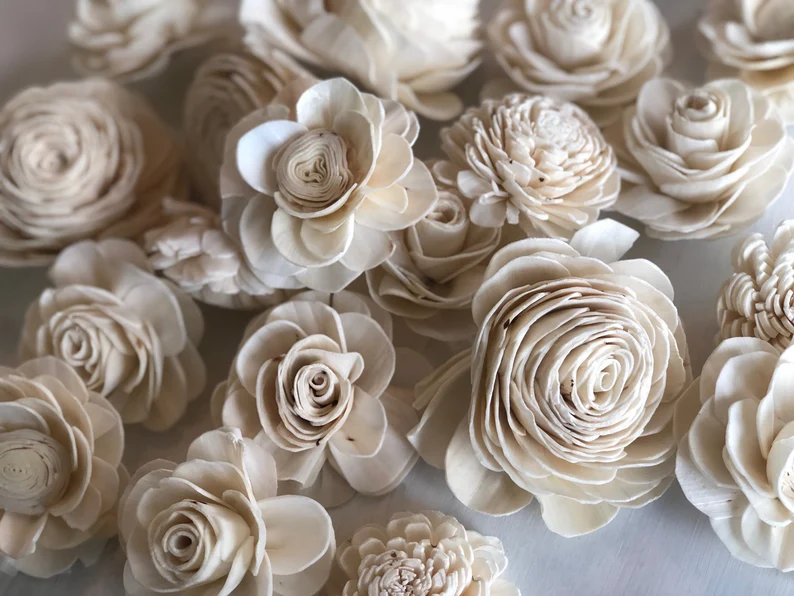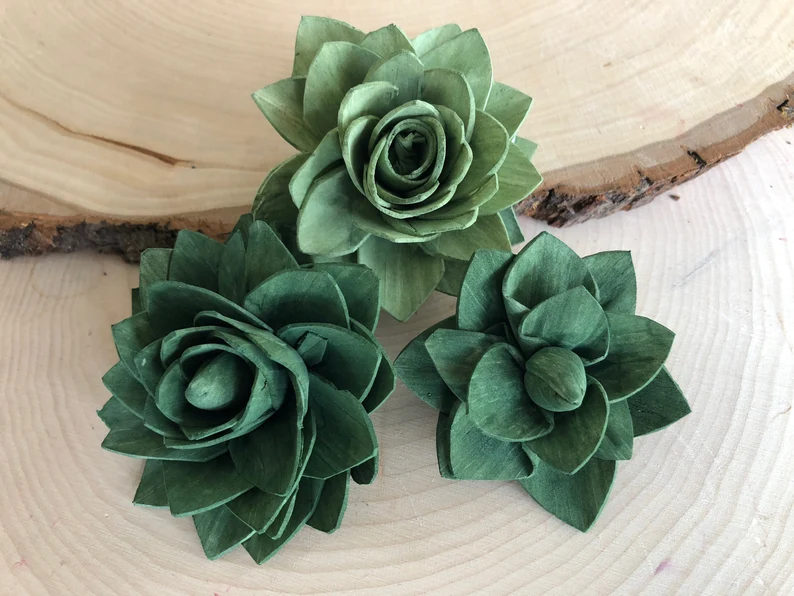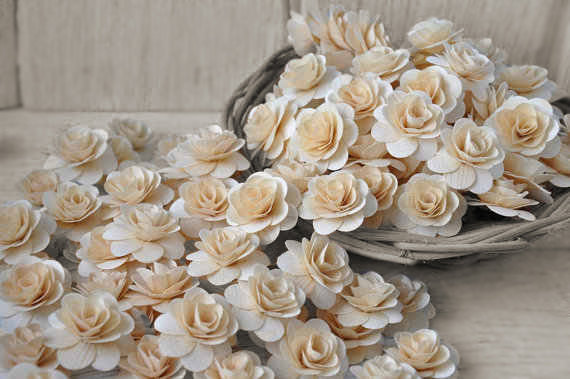 Many talented wood flower creators sell individual wood flowers like these.
These wood roses look so delicate and lovely but are quite sturdy for use in bouquets, centerpieces, and other decorations.
Why Use Wood Flowers?
There are many reasons to consider using a wood flower bouquet at your wedding.
Affordability
First, the cost! Sola wood flowers cost significantly less than many real bouquets with trendy flowers. If you want something like peonies or ranunculus in your bouquets you'll often pay a hefty amount to your florist.
Wood flower bouquets offer an alternative that is more cost effective. You also get more use out of your purchase since you can keep them forever!
Eco-Friendly
Another reason to use these flowers is the eco-friendly nature of these flowers.
Instead of contributing to the process of growing, shipping, and cutting flowers for bouquets you're purchasing a more sustainable and eco-friendly product.
Colors
As you can see from the selection of wood bouquets above, you can get wood flowers dyed in any color!
Because of the ability to dye wood flowers you can get a perfect match to your decor. You can go for bright vibrant colors or more muted shades.
You can even get colors that would never exist in nature!
No Seasonal Issues
Some flowers just aren't available year round. Those that are can often cost huge amounts if you want them during their "off season".
With wood flowers you never have to worry about paying extra to get the type of flower you want. They are always available no matter what time of year.
Resale Value
Since wood flowers last for a long time you can actually resale your bouquets.
Reselling your flowers to another bride after your wedding day is a great way to make these flowers even more affordable.
If you want to save money you could be the one to purchase wood bouquets being resold.
Choosing A Wood Flower Bouquet
Those are a few of our favorite options for wood flowers and wood wedding bouquets! These wood wedding flowers are a fantastic choice if you want flowers to last forever!
There are many fantastic artisans making wood flowers and full wood bouquets you can use as your wedding flowers.
You'll want to choose your wedding bouquet based on:
cost of the bouquets needed
reviews of the flower vendor
size and color options
ability to customize to your desire
These talented artists can create anything you dream up.
If you've got a vision for your wood wedding bouquet then just ask!