After studying paper flower making and reading books about paper flowers, the following paper wedding flowers were created for a local wedding. The project took some time and creativity but the result was fantastic!
Kusudama Paper Wedding Flowers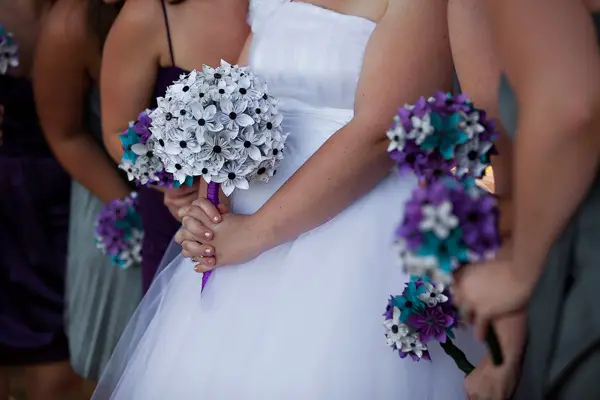 The main goal of using paper wedding flowers was to create a colorful and unique look.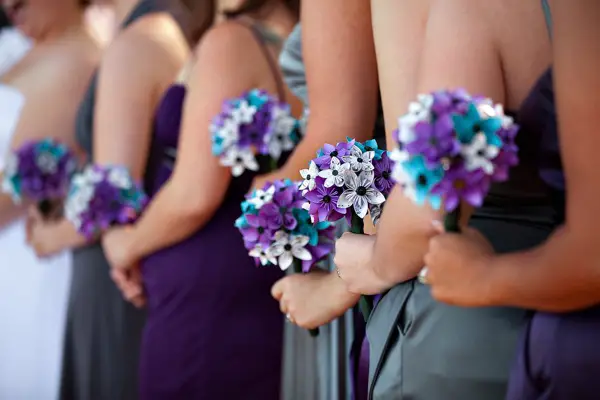 The bridesmaids bouquets were white, purple, and blue kusudama flowers.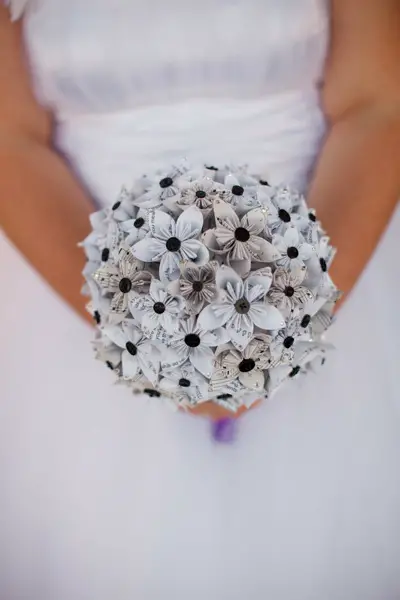 The bridal bouquet was made of white and creme kusudama flowers. You can learn how to make these paper flowers via our DIY kusudama flower tutorial.
Tissue Paper Wedding Flowers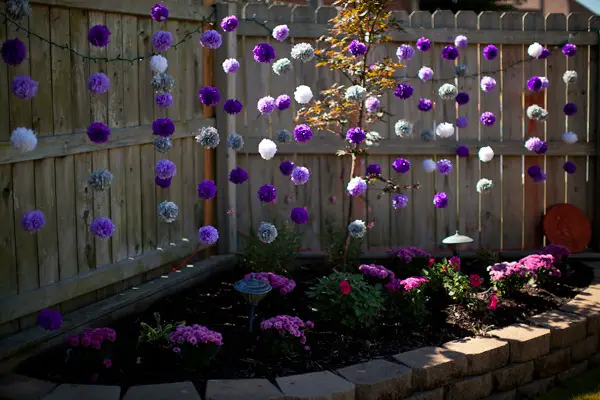 Additionally tissue paper flowers in white, gray, light purple, and purple were hung as a ceremony backdrop.
You can learn how to make these flowers via our DIY hanging tissue paper flower tutorial.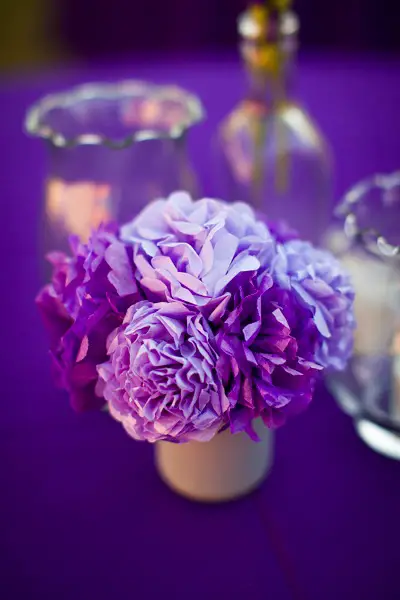 Similar tissue paper flowers in various shades of purple decorated the tables at the wedding reception.
Paper wedding flowers can be a great DIY project before the wedding. They can also be a way to keep a wedding fun, casual, and unique.
Paper Flower Instruction Videos 
Want to make your own paper flowers? Try following these instructional videos!
This diy tissue paper flower tutorial video shows how to make this quick and easy!
This diy hanging tissue paper flower tutorial video shows how to use those tissue paper flowers to create a backdrop.
Paper Flower Instruction Books 
Are you interested in creating paper flowers for your wedding? Several books teach you how to create beautiful paper flowers.
Books are a great resource in addition to online tutorials if you want to create paper flowers.
Start creating paper flowers with these step by step tutorial books:
Make playful party decorations, luscious bouquets, and sophisticated floral centerpieces with inexpensive tissue and crepe paper. Paper to Petal walks you through the easy basics of transforming simple materials into a vibrant display of fanciful handmade blooms suitable for every occasion.
Design experts Rebecca Thuss and Patrick Farrell inspire you to get creative with their time-tested techniques. Customize every petal, leaf or stem to go dramatic or delicate; mimic nature or fashion your blossoms in any color you can imagine to make something uniquely personal.
These exquisite blooms never wilt, are always in style, and are endlessly fun to create, share, and give to everyone you love.
Make a garden of paper flowers bloom with more than 25 sophisticated patterns designed by Jeffery Rudell, whose work has appeared everywhere from Tiffany & Co. and The New York Botanical Garden to Good Housekeeping magazine. Just follow the gorgeous step-by-step photos and simply cut, fold, and crumple to create these extraordinary blossoms, which feature a variety of papers such as tissue, vellum, and glassine. Pretty and modern, these easy-to-do projects are perfect for weddings, holidays, and other celebrations, and make great centerpieces, garlands, bouquets, card decorations, and more.
Learn how to make 100 beautiful flowers, from lifelike to fanciful, with How to Make 100 Paper Flowers! These creations are perfect for weddings and other celebrations, and this comprehensive guide brings you a wide variety of techniques and styles. Step-by-step instructions are accompanied by color photos and diagrams; techniques include general crafting (cut, shape, and glue), origami, and quilling. All patterns are included! Color your world and satisfy your craft cravings with delightful, handmade, paper flowers.
Paper Wedding Flower Kits
Additionally companies like Martha Stewart sell kits with all the supplies needed to make tissue paper flowers and other paper flowers. If you want to take some of the work out of DIY paper wedding flowers you can purchase one of those kits to make flowers.
Martha Stewart Crafts Vintage Girl Tissue Paper Flowers
You can create your own centerpiece bouquet with these Vintage Girl Tissue Paper Flowers from Martha Stewart Crafts. Kit includes 24 sets of tissue paper, 24 twelve-inch wires, 24 four-inch wires; 9 leaves, 72 stamens, 1 large polystyrene ball, 2 small polystyrene balls, and florist's tape.
Martha Stewart Crafts Pom Poms, Pink, 2 Sizes
This kit has easy assembly pom pom tissue paper flowers you can make from pre-cut pieces. Each kit from Martha Stewart makes 5 pom poms and can coordinate color wise with other party decor.
More Paper Flower Wedding Ideas
Love the idea of making paper flowers to incorporate into your wedding?
Check out these ideas for more inspiration:
No matter what kind of paper flowers you decide to create for your wedding you will not be disappointed. Enjoy!