One of the most beautiful and historic wedding venues in Memphis is Annesdale Mansion.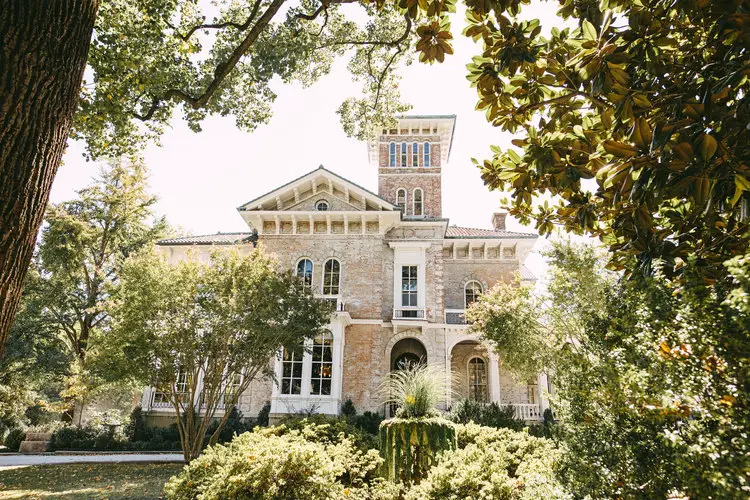 Photos: Kelly Ginn Photography
About Annesdale Mansion
Built in 1850, Annesdale is one of the largest and oldest homes in the Memphis area. Set on 7 acres in the Annesdale Snowden Historic District, the Annesdale Mansion and its gardens were home to the Snowden family for over 160 years. The home even served briefly as a Civil War hospital.
Since 2010 the current owner has preserved the beautiful historic nature of the home, from 14-foot ceilings, Aubusson window treatments, and beautiful garden.
The 9,000 square feet mansion includes grand parlor, library, sun room, dining room, and full kitchen. The spiral staircase, marble entryway, crystal chandeliers,hand-painted ceilings, bride's room, groom's den, and green room make it perfect for hosting weddings.
You've likely seen gorgeous wedding photos from outside the mansion in the romantic gardens. The cobblestone path, fountain area, and beautiful walls create fantastic photo opportunities in a historic storybook setting.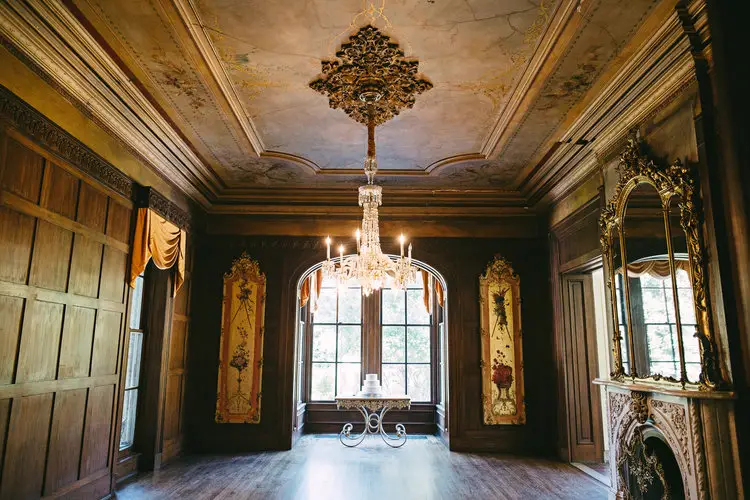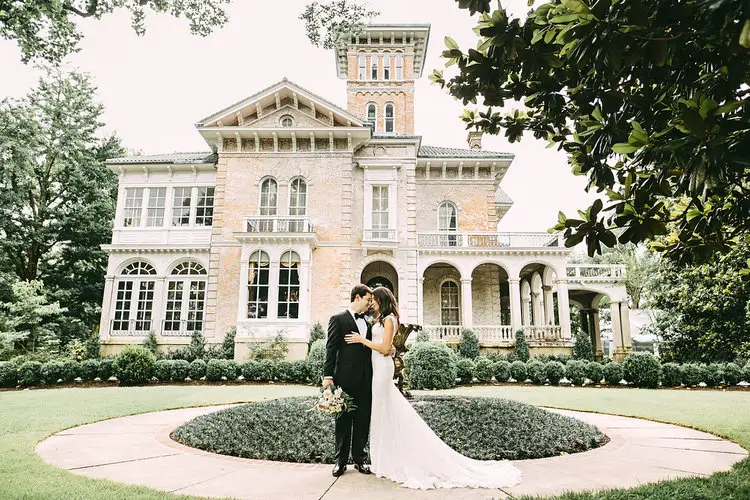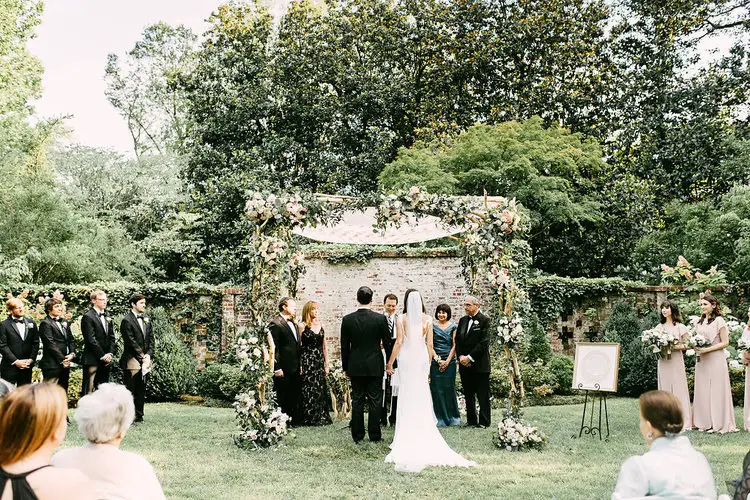 Photos: Kelly Ginn Photography
To visit Annesdale Mansion:
1325 Lamar Ave
Memphis, TN  38104
You can also call (901) 490-9460 or visit them online at www.annesdalemansion.com.
Weddings At Annesdale Mansion
Below are a few of the gorgeous weddings that have taken place at Annesdale Mansion.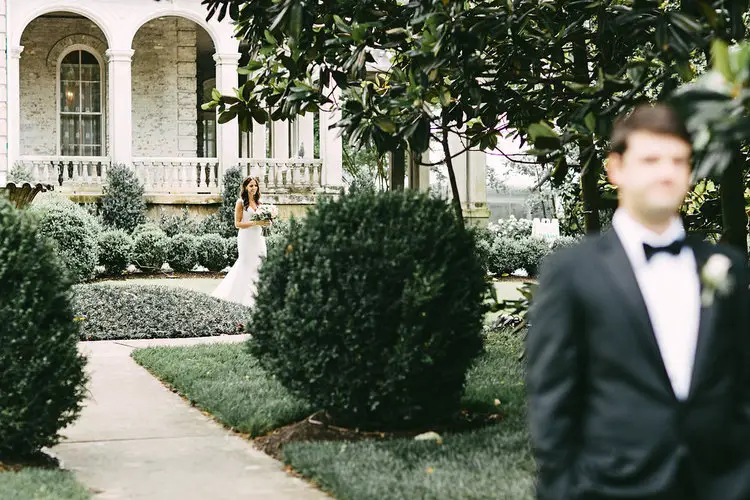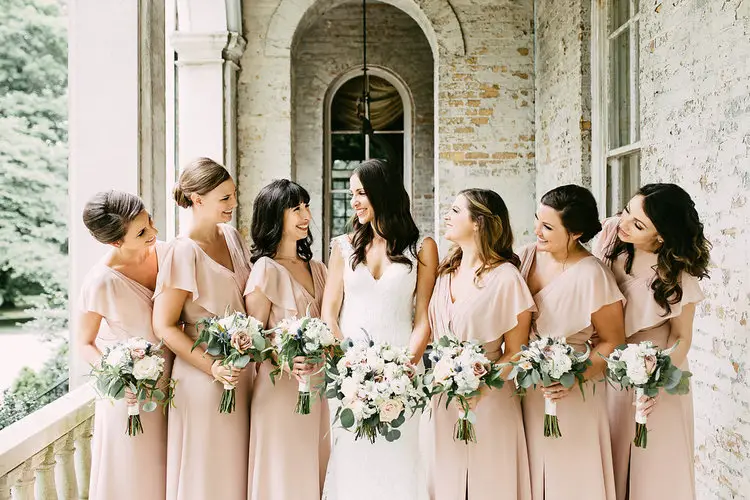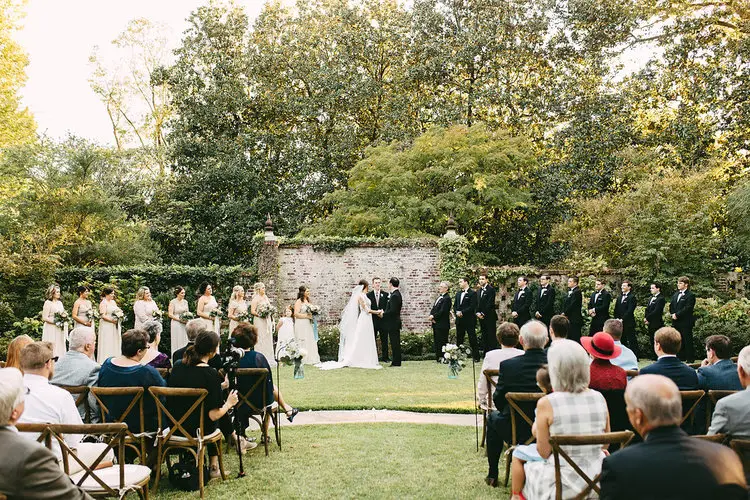 Photos: Kelly Ginn Photography
The cost of the venue for a wedding is $11,500 on a Saturday and $9,500 for events Sunday through Friday*.
This fee includes all of the following:
(75) Gold Chiavari Chairs
(12) 48″ round tables
(10) 30″ bistro tables
(200) white folding garden chairs
Full valet service (for up to 200 people and 7 hours)
12 hour rental
Security guard(s)
The entire bottom floor of the mansion
3 rooms and bathrooms upstairs
The ceremony garden, back patio and dance floor, and side yards and fountain
Rehearsal walk through time (depending on availability)
Pre and post clean
Annesdale representative for vendor deliveries
Exclusive access for bridal or engagement portraits
Most wedding ceremonies are held in the gardens, but Annesdale can accommodate indoor ceremonies of limited capacity. The flexibility offered makes Annesdale one of the most popular Memphis wedding destinations. They do not require you use specific vendors and instead let you choose the professionals you really want as long as they are licenses and insured. This allows you to make the wedding vendor choices you really want to make.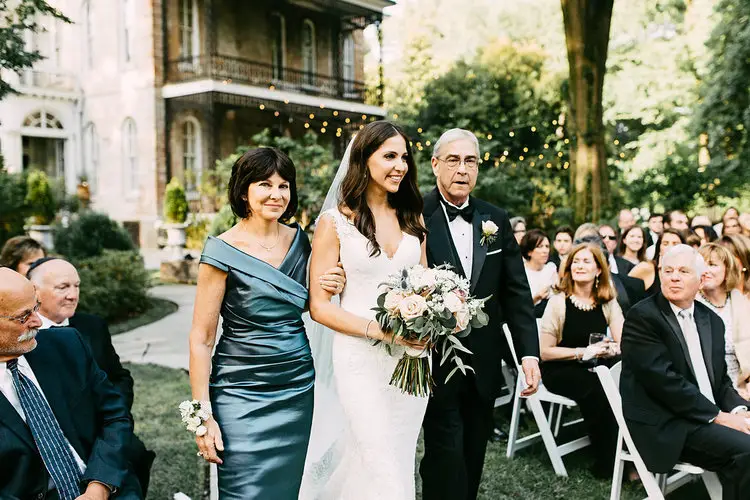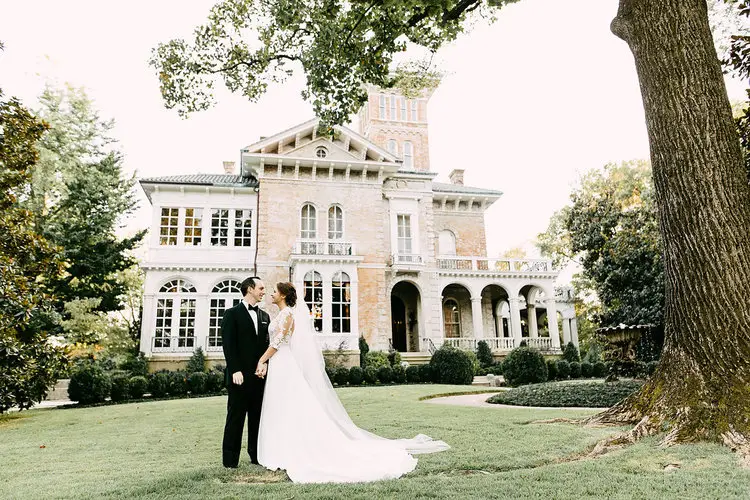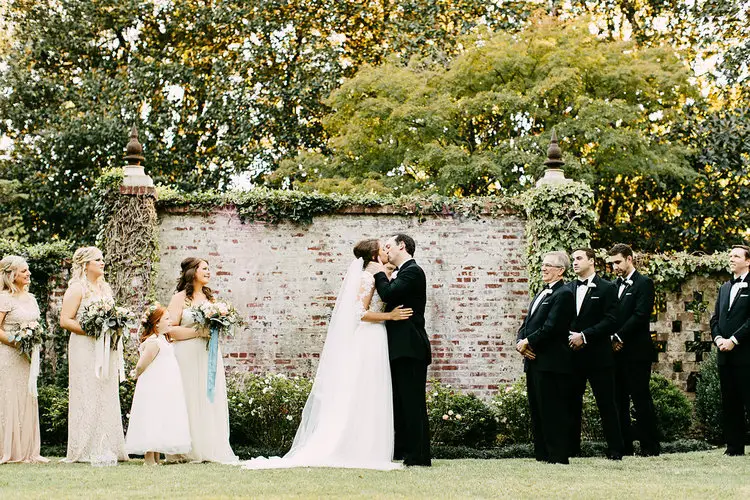 Photos: Kelly Ginn Photography
Annesdale Reviews
Here are a few reviews of Annesdale from around the web:
"We toured several venues for our wedding, and we couldn't find a place that just WOWED us, until we got the privilege of meeting Valerie and touring Annesdale. I guess you could say, it was love at first site! Annesdale is GORGEOUS! We were able to have the full experience all on site, separate suites for the bride and groom to get ready with the wedding party, ceremony, and reception all in one place. The staff was amazing, accommodating, and very helpful. All I can say is… VALERIE… I love you, you are wonderful! Thank you Annesdale for making all of our dreams come true on our special day!"
"There are absolutely no words to describe this place. As soon as I laid my eyes on this beautiful venue I quickly changed our wedding date to an available Saturday at Annesdale. I knew right away it was the setting to my dream wedding. Valerie and her staff are outstanding and i now consider them friends of mine. Annesdale Mansion will always have a special place in my heart! Can't wait to come back and visit."
"I am a wedding photographer and this place is a photographers dream venue. It is beautiful with many beautiful locations for shots. I absolutely love it. And tbe staff is very courteous."
"We used Annesdale for our rehearsal dinner and Val could not have been easier to work with. She went out of her way to make sure that every detail in setup was taken care of. She worked closely with our caterer to ensure that everything that we wanted was handled and the setting was breathtaking. Even when we thought it was going to rain on our outdoor event, she took charge and made our original plan happen when the rain moved out. She could not have been easier to work with!"
"Best venue to book in the Memphis area! Valerie was WONDERFUL and very responsive! My wedding was raved about from all the guest I was so in love with my wedding day and how things flowed."
"The most romantic wedding venue in Memphis, truly. My guest were so impressed when they pulled up that long drive with the gorgeous mansion at the end of it and not to mention how beautiful the pictures turned out! Also, hardly any decorating has to go into this venue. Annesdale itself is all you need. The venue is perfect and Valerie, the manager, is so helpful. She took so much stress off my shoulders. Just having her at my wedding making sure everything was going smoothly was such a relief. You can't loose with Annesdale. Gorgeous, easy to work with, and no extra decorating cost!"
"The most beautiful venue!!! Everything was perfect! Valerie and staff were the best and made sure every little detail was absolutely perfect! I didn't have to worry about a thing!"
"The most beautiful, amazing ,romantic place you could ever want. Val,the manager, is amazing and accommodating, and so kind. We had an amazing experience. It is a truly beautiful place."
"The grounds are amazing, the house is amazing, the staff is amazing. We loved this venue because it is new to the wedding industry and unique. Also, we loved being able to have the ceremony and reception in one place."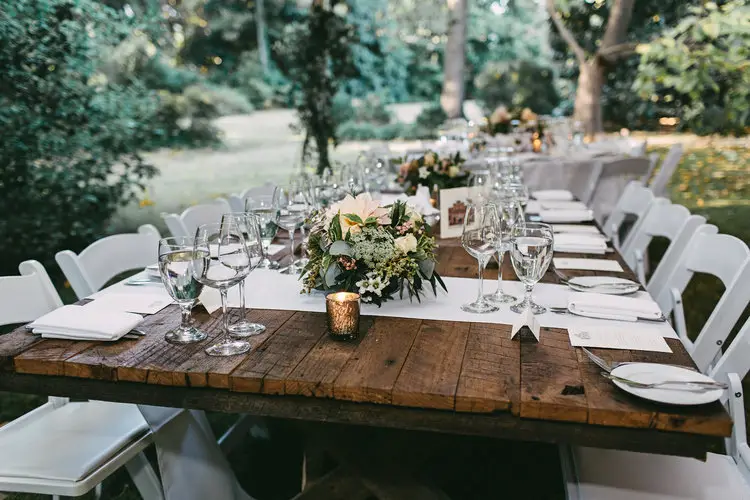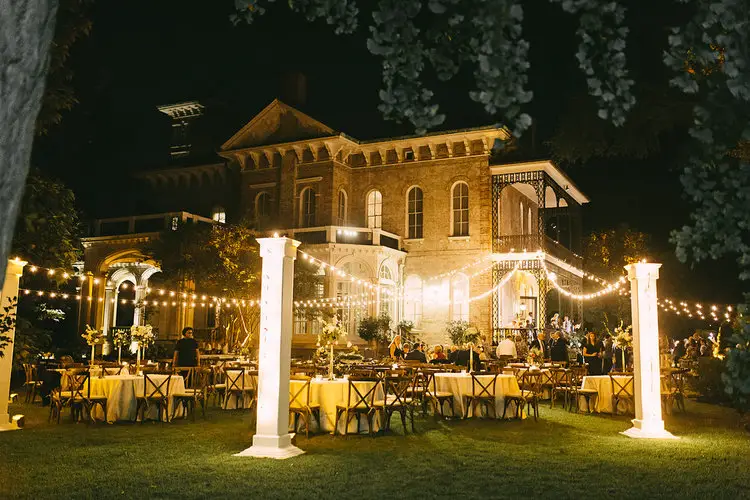 Photos: Kelly Ginn Photography
Annesdale Mansion Events
You can also host many different events at Annesdale Mansion including:
Rehearsal dinners
Bridal showers
Corporate banquets
Business retreats
Non-profit galas
Dinner parties
Private events
You can contact Annesdale Mansion for pricing for private events.
Call (901) 490-9460 or visit www.annesdalemansion.com.
Photography courtesy of Kelly Ginn Photography