The Cadre Building is a 36,000 square-foot historic Memphis landmark built in 1928 perfect for glamorous weddings large and small.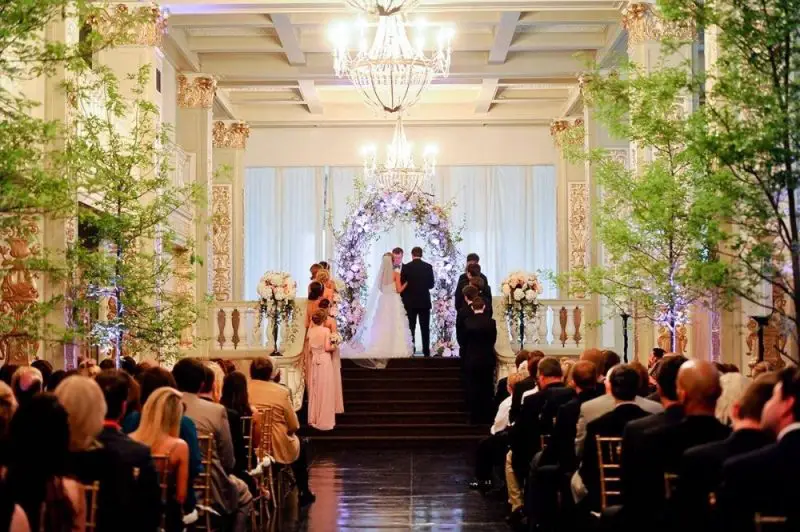 Photo: Lindsey Lassau Phtography
About Cadre Building
Open 7 days a week, 365 days a year the event space at Cadre Building features an elegant 13,000-square-foot grand ballroom with an overlooking 2,500-square-foot mezzanine and an additional landing area.
Built in 1928, at the height of the Art Deco movement, The Cadre Building's rooms contribute a classic look to events with:
brilliant crystal chandeliers
intricately crafted columns
detailed hand-painted, gold-leaf molding
champagne-hued drapery
All of this glamor and beauty is included in every booking, no matter what type of event you're planning.
Weddings At Cadre Building
A grand ballroom with a spacious mezzanine, brilliant crystal chandeliers, intricately crafted columns and an exceptional staff, The Cadre Building is a one-stop shop for planning your event.
With event capabilities for both intimate gatherings and large celebrations, we specialize in customizing events to your exact needs.
With two full-time event professionals dedicated to coordinating all aspects of your event, they have longstanding relationships with vendors and in-house services to make event planning easy.
They can arrange all aspects of your event, including food and beverage, florals, transportation, entertainment, specialty décor and any other detail you might need so you will be able to rest comfortably, knowing your event will be wonderful.
Cadre Building Wedding Costs
As of 2022, wedding prices at Cadre Building were as follows for the venue rental:
Monday-Thursday: $4,500
Friday and Sunday: $6,500
Saturday: $8,500
Holiday rates for Monday-Sunday: $10,500
This price includes the 10 hours of venue rental time with three levels of rental space. It also includes a number of tables, chairs and other items.
Additionally you can add on bar packages and other service items offered by the Cadre team.
Location & Contact Information
To contact this venue:
Visit: Cadre Building, 149 Monroe Ave, Memphis, TN 38103
Event address: Cadre Building: 42 S. Second Street, Memphis, TN 38103
Call:  901-676-7696
You can visit them online here: