There's a new bridal / wedding event coming to Memphis! It's a perfect opportunity for past, current, and future brides to mix and mingle all while exchanging decor and inspiration.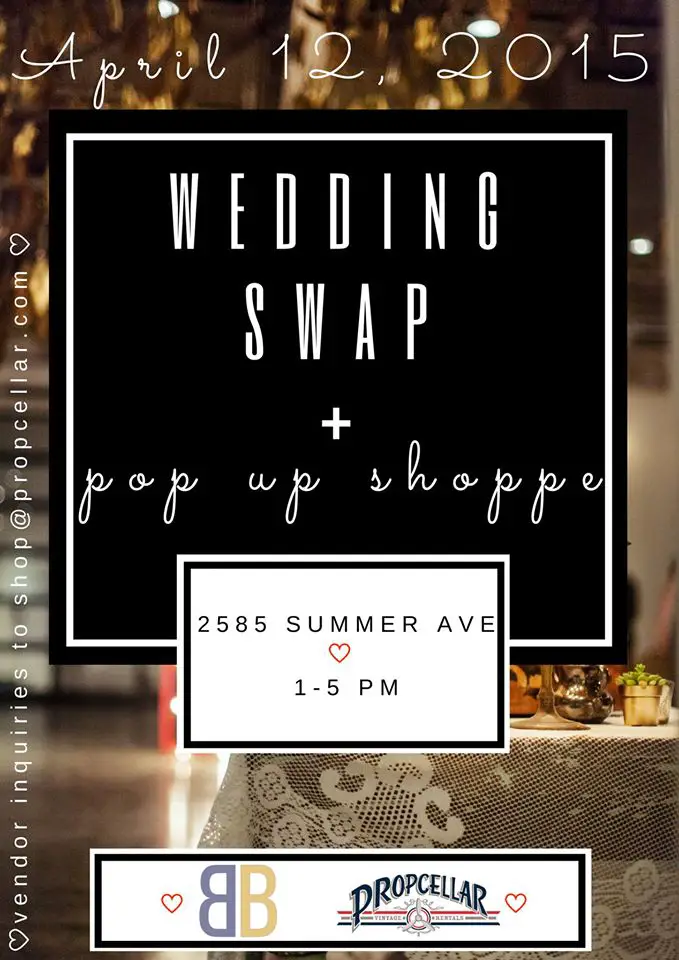 Bella Baxter Special Events, LLC and Propcellar are cohosting the inaugural Wedding Swap + Pop Up Shoppe.
Wedding Swap & Pop Up Shoppe Details
What: Wedding Swap & Pop Up Shoppe
When: Apri 12, 2015
Time: 1:00 p.m. to 5:00 p.m.
Where: Propcellar Warehouse, 2585 Summer Ave
Tickets: Free! Come shop!
Wedding Swap & Pop Up Shoppe Info
This new event is an exciting way to get some excellent items for your wedding from local vendors. If you've been wanting to shop local for your event, you must attend this inaugural pop up shoppe event.
Former brides and wedding vendors alike will be at the event selling wedding related items. There will be art, decor, DIY, and more! Youll see items from Memphis favorites like Propcellar, Bella Baxter Events, Mrs. Post, Poplar Press, Dorothy Art, Mary Claire White Candles and more! This is also a great opportunity for past brides to share the decorations and items leftover from the wedding.
If you're a past bride, local wedding vendor, or designer, contact [email protected] to secure a space at the event.
Visit their event page for more details and updates! We will see you there!