We love ModCloth for their funky style, easy online ordering, and cool community built website. We also love them for their amazing selection of Bridesmaid Accessories & Gowns.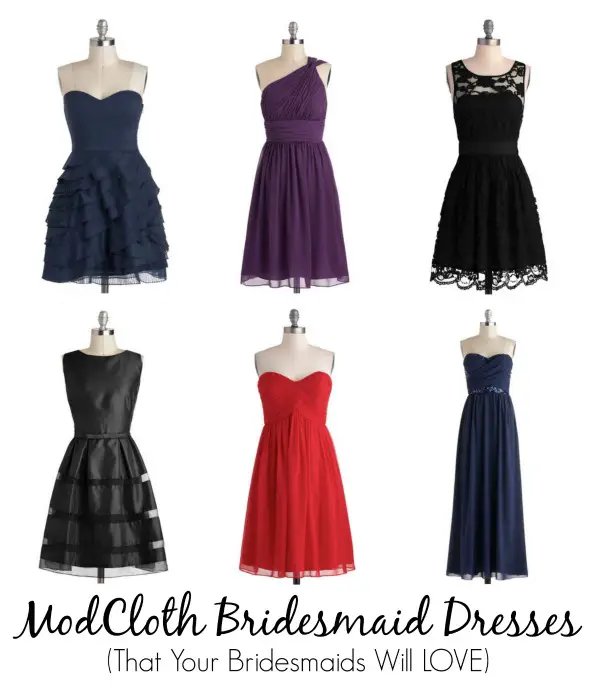 If you didn't know ModCloth offered spectacular and affordable bridesmaid dress in all lengths and styles to fit all sizes we hope you know now! We've picked 8 of our favorite bridesmaid dress options from the site
8 ModCloth Bridesmaid Dresses You'll Love
Here are our eight favorite bridesmaid dresses from ModCloth, ranging from short to longer lengths. We've selected our favorite colors for each bridesmaid dress but many come in multiple color options. Check the ModCloth website for details.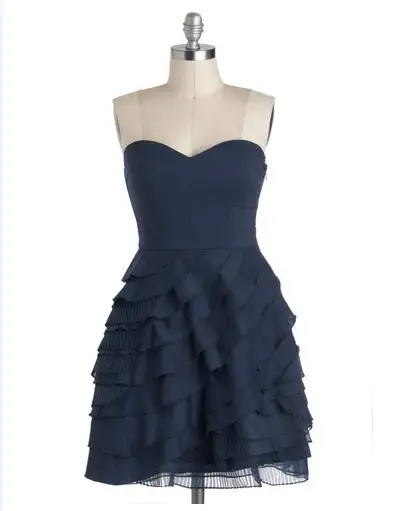 ModCloth Bridesmaid Dress: Baklava Beauty Dress in Blueberry
These fantastic layers of ruffles in this dress make it a perfect choice for a romantic summer wedding. From its slightly padded sweetheart bodice to its full skirt of circular plain and pleated tiers, this fully-lined cotton frock is quite the tasty treat. Don it with polka-dotted tights, a gold bib necklace, glittery heels, and delight in your decadent ensemble all night long!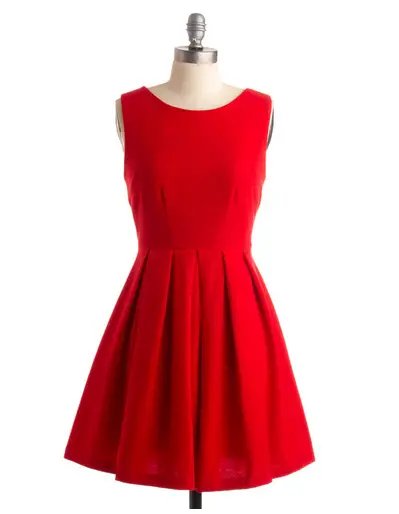 ModCloth Bridesmaid Dress: Cue the Compliments Dress
Suddenly all the attention is on you in this pocketed, silky polka dot-lined, back-zipped frock with leopard print wedges and an arm stacked with bangles. This ravishing vintage-inspired cotton-blend dress is a sure hit among bridesmaids who want a dress they can wear again and again for multiple occasions!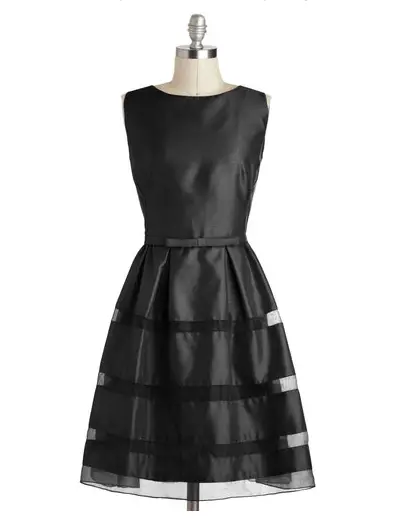 ModCloth Bridesmaid Dress – Dinner Party Darling Dress in Black
This classic black dress with a twist is a wonderful choice for a classic wedding. This satiny frock flaunts a dainty waistline bow, charming back buttons, and sheer skirt stripes that reveal the smooth lining beneath. Posh and refined, this fab fit-and-flare will be the delight of your guests, particularly when served with pearly earrings, ankle-strapped pumps, and a radiant rhinestone hair accessory!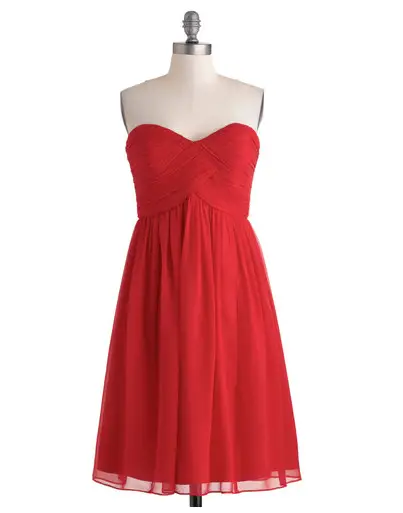 ModCloth Bridesmaid Dress: Flirting with the Idea Dress in Poppy
A ModCloth-exclusive, this red-hued dress in details both dashing and classic, takes a light and fun approach to bridesmaid dresses. Its sweetheart neckline, gathered top, built-in bra and no-slip tape, hidden zipper, and lined skirt make it both a comfortable and beautiful choice for your bridesmaids. Finish off the look with a floral fascinator and your new favorite shade of pink lipstick to make a statement with your bridesmaids.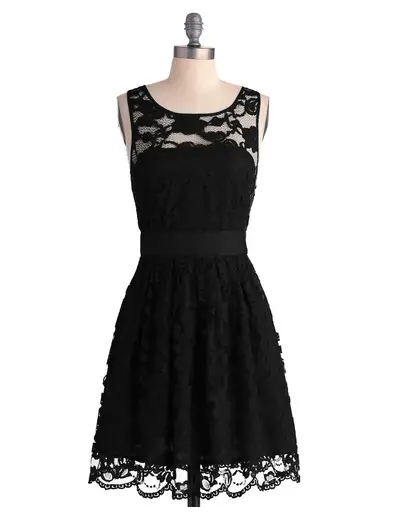 ModCloth Bridesmaid Dress: When the Night Comes Dress in Noir
This lacy black dress is an instant classic in a romantic wedding. This beautiful lace dress by BB Dakota  is a marvelous ModCloth exclusive! Your bridesmaids will love the back-zipped black frock, its lace overlay, and its adorable illusion neckline with the stunningly scalloped bottom hem and ribbon waistband. This elegant dress is sure to delight your bridesmaids and guests alike!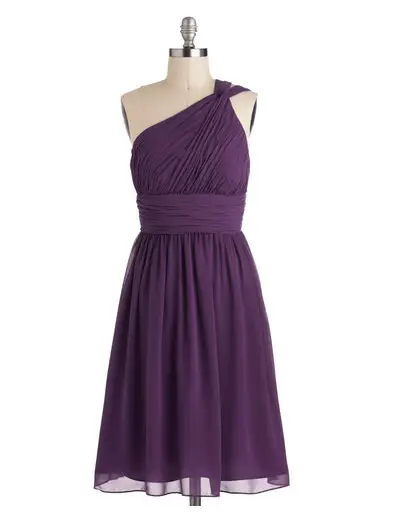 ModCloth Bridesmaid Dress: Moonlight Marvel Dress in Plum
This plum, one-shoulder dress with a ruched bodice of this back-zipped A-line is perfect for a formal wedding featuring lots of color. Boasting a broad, banded waist and a duo of shoulder straps that twist to one side, this dress makes you feel like you're the essence of graceful elegance. The sheer overlay of the mid-length skirt flutters in the wind for a delicate look.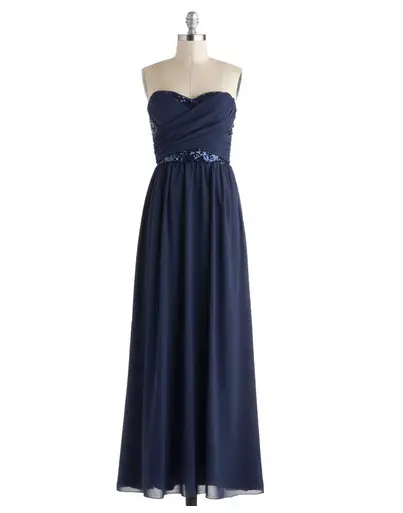 ModCloth Bridesmaid Dress: Receiving Line Dress in Navy
Let your bridesmaids dance the evening away in this elegant navy-blue gown! From the sweetheart neckline to the lightly padded bust, the top of this lovely dress is wrapped in shimmery sequins and chiffon crossing at the front. The long, satiny, blue skirt is covered with a flowy chiffon overlay, creating a simple and classic silhouette.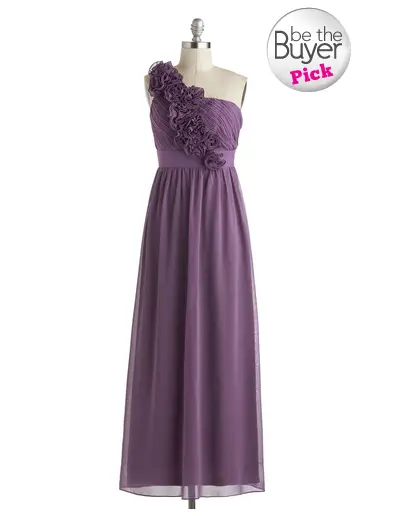 ModCloth Bridesmaid Dress: Let Love Flourish Dress
This item was picked by ModCloth users in the Be the Buyer Program and is sold exclusively online at ModCloth. The violet gown's lined length, as well as the beautiful ruffles blossoming up its single-shoulder silhouette, make it a statement dress for your bridesmaids. This padded dress is accented with feminine pleats and a hidden side zip.
View More ModCloth Bridesmaid Dresses
Those are our current favorite ModCloth bridesmaid dresses. Browse more bridesmaid ModCloth dresses and get FREE US shipping on orders $50+!