When you are writing your wedding vows you'll probably want some inspirational marriage quotes to help.
Romantic quotes about love and marriage are the perfect source of inspiration for your wedding vows or even the ceremony.
The video above gives you 50 romantic love and inspirational marriage quotes but keep reading for even more inspirational marriage quotes!
Inspirational Marriage Quotes
Below we are sharing 125 quotes you can use to inspire your wedding vows or even your wedding ceremony or invitations.
Whether you're looking for a sentimental saying or a funny quote you'll find some unique ideas in this list. From poets to singers to unknown sources, these quotes can help you capture the love you feel.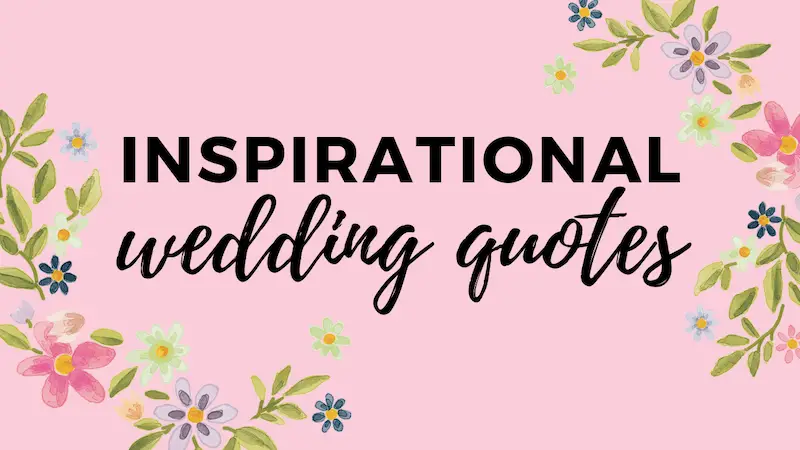 "Grow old along with me, the best is yet to be." —Robert Browning
"It's amazing how one day someone walks into your life, and suddenly, you can't remember how you lived without them." —Anurag Prakash Ray
"When I look at you, I see everything I've ever wanted." —Anonymous
"I fell in love the way you fall asleep, slowly and then all at once." – John Green, The Fault in Our Stars
"How lucky I am to have something that makes saying goodbye so hard." —Winnie the Pooh
"I know they say there are a lot of fish in the sea, but you're my Nemo." —Unknown
"A marriage is always made up of two people who are prepared to swear that only the other one snores." —Terry Pratchett
"Love doesn't make the world go round; love is what makes the ride worthwhile." – Elizabeth Browning
"Whatever souls are made of, his and mine are the same." — Emily Brontë
"Marriage is the highest state of friendship. If happy, it lessens our cares by dividing them, at the same time that it doubles our pleasures by mutual participation." — Samuel Richardson
"True love stories never have endings." — Richard Bach
"Tis better to have loved and lost, Than never to have loved at all." — Alfred Lord Tennyson
"Love recognizes no barriers. It jumps hurdles, leaps fences, penetrates walls to arrive at its destination full of hope." – Maya Angelou
"To be fully seen by somebody, then, and be loved anyhow–this is a human offering that can border on miraculous." – Elizabeth Gilbert, Committed: A Skeptic Makes Peace with Marriage
"Love is like a friendship caught on fire." – Jeremy Taylor
"When you realize you want to spend the rest of your life with somebody, you want the rest of your life to start as soon as possible." —Harry, When Harry Met Sally
"The highest happiness on earth is marriage." – William Lyon Phelps
"Nobody has ever measured, not even poets, how much the heart can hold." – Zelda Fitzgerald
"Let there be spaces in your togetherness, And let the winds of the heavens dance between you. Love one another but make not a bond of love: Let it be rather a moving sea between the shores of your souls." – Kahlil Gibran, The Prophet
"Make sure you marry someone who laughs at the same things you do." —J.D. Salinger
"To love and be loved is to feel the sun from both sides." – David Viscott
"You are the finest, loveliest, tenderest, and most beautiful person I have ever known and even that is an understatement." – F. Scott Fitzgerald
"A successful marriage requires falling in love many times, always with the same person." – Mignon McLaughlin
"All, everything that I understand, I understand only because I love." – Leo Tolstoy, War and Peace
"I love being married. It's so great to find that one special person you want to annoy for the rest of your life." – Rita Rudner
"Love doesn't just sit there, like a stone, it has to be made, like bread; remade all the time, made new." – Ursula K. Le Guin, The Lathe of Heaven
"The heart has its reasons which reason knows not." – Blaise Pascal
"When I saw you I fell in love, and you smiled because you knew." – Arrigo Boito
"I love thee to the depth and breadth and height my soul can reach." – Elizabeth Browning
"Love is that condition in which the happiness of another person is essential to your own." – Robert Heinlein
"You don't love someone for their looks, or their clothes or for their fancy car, but because they sing a song only you can hear." – Oscar Wilde
"In all the world, there is no heart for me like yours. In all the world, there is no love for you like mine." – Maya Angelou
"It doesn't matter if the guy is perfect or the girl is perfect, as long as they are perfect for each other." – Good Will Hunting
"We can do no great things; only small things with great love." – Mother Teresa
"We're all a little weird. And life is a little weird. And when we find someone whose weirdness is compatible with ours, we join up with them and fall into mutually satisfying weirdness–and call it love–true love." – Robert Fulghum, True Love
"Love is not something you feel. It is something you do." – David Wilkerson
"I swear I couldn't love you more than I do right now, and yet I know I will tomorrow." —Leo Christopher
"One word frees us of all the weight and pain of life: That word is love." – Sophocles
"Some souls just understand each other upon meeting." —N.R. Hart
"This is what we call love. When you are loved, you can do anything in creation. When you are loved, there's no need at all to understand what's happening, because everything happens within you." – Paulo Coelho, The Alchemist
"Love me when I least deserve it, because that's when I really need it." – Swedish proverb
"Ever thine, ever mine, ever ours." – Ludwig van Beethoven
"Love is a temporary madness. It erupts like volcanoes and then subsides. And when it subsides, you have a to make a decision. You have to work out whether your roots have so entwined together that it is inconceivable that you should ever part." – Louis de Bernieres, Captain Corelli's Mandolin
"Only one is a wanderer; two together are always going somewhere." – Vertigo
"Being deeply loved by someone gives you strength, while loving someone deeply gives you courage." – Lao Tzu
"We loved with a love that was more than love." – Edgar Allan Poe
"Love is life. And if you miss love, you miss life." – Leo Buscaglia
"A great marriage is not when the 'perfect couple' comes together. It is when an imperfect couple learns to enjoy their differences." – Dave Meurer
"For you see, each day I love you more. Today more than yesterday and less than tomorrow." – Rosemonde Gerard
"The best thing to hold onto in life is each other." —Audrey Hepburn
"I love you without knowing how, or when, or from where. I love you simply, without problems or pride: I love you in this way because I do not know any other way of loving but this, in which there is no I or you, so intimate that your hand upon my chest is my hand, so intimate then when I fall asleep your eyes close." – Pablo Neruda, 100 Love Sonnets
"I would rather share one lifetime with you than face all the ages of this world alone." – Arwen, The Fellowship of the Ring
"Romance is the glamor which turns the dust of everyday life into a golden haze." – Elinor Glyn
"My love for you is a journey, starting at forever and ending at never." – Unknown
"You should be kissed, and often, and by someone who knows how." – Gone With the Wind
"The bride and groom–May their joys be as bright as the morning, and their sorrows but shadows that fade in the sunlight of love." – Minna Thomas Antrim, A Book of Toasts
"Love does not consist of gazing at each other, but in looking outward together in the same direction." – Antoine de Saint-Exupery, Airman's Odyssey
"I would not wish any companion in the world but you." —William Shakespeare
"Once in awhile, right in the middle of an ordinary life, love gives us a fairy tale." – Unknown
"There is never a time or place for true love. It happens accidentally, in a heartbeat, in a single flashing, throbbing moment." – Sarah Dessen, The Truth About Forever
"If I know what love is, it is because of you." – Hermann Hesse
"Never love anyone who treats you like you're ordinary." – Oscar Wilde
"I would rather share one lifetime with you than face all the ages of this world alone." — J. R. R. Tolkien
"Love is a friendship set to music." – Joseph Campbell
"In dreams and in love there are no impossibilities." – János Arany
"Love is of all passions the strongest, for it attacks simultaneously the head, the heart and the senses." – Lao Tzu
"Love is like a friendship caught on fire. In the beginning a flame, very pretty, often hot and fierce, but still only light and flickering. As love grows older, our hearts mature and our love becomes as coals, deep-burning and unquenchable." – Bruce Lee
"Life without love is like a tree without blossoms or fruit." – Khalil Gibran
"Love must be as much a light, as it is a flame." – Henry David Thoreau
"Walking with your hands in mine and mine in yours, that's exactly where I want to be always." – Fawn Weaver
"I'm feeling alive and with every breath that I take, I feel like I've won. You're my key to survival." –
Secondhand Serenade
"I don't wish to be everything to everyone, but I would like to be something to someone." – Javan
"Doubt thou the stars are fire; Doubt that the sun doth move; Doubt truth to be a liar; But never doubt I love." – William Shakespeare
"Trust your heart if the seas catch fire, live by love though the stars walk backward." – E.E. Cummings
"You know you're in love when you can't fall asleep because reality is finally better than your dreams." – Dr. Seuss
"Wise men say only fools rush in but I can't help falling in love with you." – Elvis
"Chains do not hold a marriage together. It is threads, hundreds of tiny threads which sew people together through the years." – Simone Signoret
"Then the Lord God said, 'It is not good that the man should be alone; I will make him a helper fit for him.'" – Genesis 2:18
"In the arithmetic of love, one plus one equals everything, and two minus one equals nothing." – Mignon McLaughlin
"And I knew exactly how old Walt Disney's Cinderella felt when she found her prince." – Elizabeth Young
"They say a person needs just three things to be truly happy in this world: someone to love, something to do, and something to hope for." – Tom Bodett
"There is no more lovely, friendly, and charming relationship, communion or company than a good marriage." – Martin Luther
"Real love amounts to withholding the truth, even when you're offered the perfect opportunity to hurt someone's feelings." – David Sedaris
"Being someone's first love may be great, but to be their last is beyond perfect." – Unknown
"Every heart sings a song, incomplete, until another heart whispers back. Those who wish to sing always find a song. At the touch of a lover, everyone becomes a poet." – Plato
"There is no remedy for love but to love more." – Henry David Thoreau
"I don't know where I'd be without you here with me. Life with you makes perfect sense. You're my best friend." – Tim McGraw
"What we have once enjoyed we can never lose. All that we love deeply becomes a part of us." – Helen Keller
"When I sleep, I dream of you, and when I wake, I long to hold you in my arms. If anything, our time apart has only made me more certain that I want to spend my nights by your side, and my days with your heart." – Nights in Rodanthe
"I am my beloved and my beloved is mine." – Song of Solomon 6:3
"A friend is always good to have, but a lover's kiss is better than angels raining down at me." – Dave Matthews Band
"Two souls with but a single thought; two hearts that beat as one." – Friedrich Halm
"The minute I heard my first love story, I started looking for you, not knowing how blind that was. Lovers don't finally meet somewhere. They're in each other all along." – Rumi
"A happy marriage is a long conversation which always seems too short." – Andre Marois
"Even a pain in the ass needs someone to take care of them." – 28 Days
"The real act of marriage takes place in the heart, not in the ballroom or church or synagogue. It's a choice you make on your wedding day, and over and over again and that choice is reflected in the way you treat your husband." – Henry Ford
"Doubt thou the stars are fire; Doubt that the sun doth move; Doubt truth to be a liar; But never doubt I love." – William Shakespeare
"To find someone who will love you for no reason, and to shower that person with reasons, that is the ultimate happiness." – Robert Brault
"You make me want to be a better man." – As Good As It Gets
"A good marriage is like a casserole: only those responsible for it really know what goes in it." – Unknown
"What greater thing is there for two human souls, than to feel that they are joined for life — to strengthen each other in all labor, to rest on each other in all sorrow, to minister to each other in all pain, to be with each other in silent unspeakable memories at the moment of the last parting?" – George Eliot
"All you need is love, love. Love is all you need." – The Beatles
"Love doesn't make the world go round. Love is what makes the ride worthwhile." – Franklin P. Jones
"When we are in love, we open to all that life has to offer with passion, excitement, and acceptance." – John Lennon
"And now these three remain: faith, hope and love. But the greatest of these is love." – Corinthians 13:13
"I'll never let you down. No matter what you do. If you just walk with me. And let me walk with you." –Neil Young
"The beauty of marriage is not always seen from the very beginning— but rather as love grows and develops over time." – Fawn Weaver
"Your task is not to seek for love, but merely to seek and find all the barriers within yourself that you have built against it." – Rumi
"To love or have loved, that is enough. Ask nothing more." – Victor Hugo
"The greatest thing you'll ever learn is just to love, and be loved in return." – Moulin Rouge
"I know she's not perfect but she tries so hard for me. And I thank God that she isn't 'cause how boring would that be." – Brad Paisley
"You don't marry the person you can live with — you marry the person you can't live without." – Unknown
"Love insists the loved loves back." – Dante Alighieri
"When the darkness rolls in, I'll be there through thick and thin." – Hilary Duff
"I am nothing special, of this I am sure. I am a common man with common thoughts and I've led a common life. There are no monuments dedicated to me and my name will soon be forgotten, but I've loved another with all my heart and soul, and to me, this has always been enough." – Nicholas Sparks, The Notebook
"Faith makes all things possible. Love makes all things easy."– Dwight Moody
"Love never gives up, never loses faith, is always hopeful and endures through every circumstance."
– Corinthians 13:7
"The best friend will probably get the best spouse, because a good marriage is based on the talent for friendship."  – Friedrich Nietzsche
"Love is not weakness. It is strong. Only the sacrament of marriage can contain it." – Boris Pasternak
"A perfect relationship isn't actually perfect, it's just that both people never give up." – Unknown
"Love one another and you will be happy. It's as simple and as difficult as that." – Micael Leunig
"True love is the joy of life." – John Clarke
"Love is our true destiny. We do not find meaning of life by ourselves alone—​we find it with another." –  Thomas Merton
"Love is composed of a single soul inhabiting two bodies."– Aristotle
"And I'd choose you; in a hundred lifetimes, in a hundred worlds, in any version of reality, I'd find you and I'd choose you."— The Chaos of Stars by Kiersten White
Need more inspiration for your wedding ceremony? Check out this Wedding Ceremony Script Example!
How To Use Quotes In Weddings
These inspirational marriage quotes are things you can use in multiple ways.
Places you can use these inspirational marriage quotes include:
your wedding vows
in your wedding ceremony
on your wedding decor
as part of your wedding album
on a frame with your wedding photo
You can use this list of inspirational marriage quotes to pepper in beautiful words throughout your wedding experience.
When you select the inspirational marriage quotes or other romantic quotes for your wedding you should look at what matches you as a couple. Are you fun, romantic, whimsical? Choosing quotes that fit your relationship style can make your wedding ceremony seem more authentic.
These inspirational marriage quotes can add bits of romance and communicate the love you feel in a beautiful way. Using the words of famous writers, poets, and other wordsmiths helps craft a meaningful experience.