If you want to create your own wedding ceremony script it can be very hard to start from scratch. What needs to be included? Which parts of the traditional wedding ceremony should you still keep? The best way is to base your original script off on a wedding ceremony script example and make changes as needed.
The following wedding ceremony script is an example to give you a jumping off point to create your own wedding ceremony script. Take the parts you like, leave out the parts you don't, and make it your own! It's your wedding!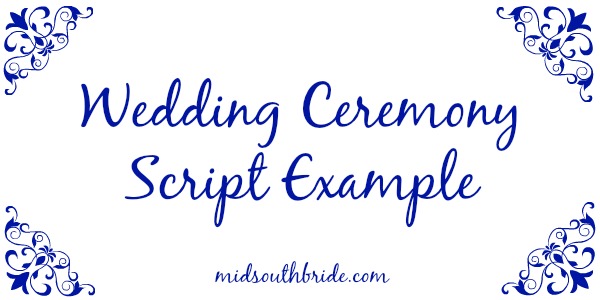 Wedding Ceremony Script Example
The following wedding ceremony script example is a short wedding ceremony that also includes a ring warming.
Officiant: Dearly beloved… We are gathered together in the sight of GOD, and the face of this company, to join together this man, and this woman, in the Holy estate of matrimony. If any man knows reason why Bride & Groom should NOT be joined together, let him speak now, or forever hold his peace.
Officiant: Who blesses this union? (Parents: I do)
(start ring pass through bridal party)
Officiant: Now as Bride & Groom come from their community of family and friends, and ask our support as they begin their journey together…. They also ask for your blessing upon their marriage. Later in the ceremony Bride & Groom will exchange rings as a symbol of their love and commitment to one another. As the ceremony proceeds they would like to invite family and friends to take part in The Warming of the Rings. As the rings make their way through the group please take a quick moment to hold them, warm them with your love, and silently make a wish or ask a blessing for this couple and their future together. When these rings return they will contain your love and support for their union to keep it strong throughout the years.
Officiant: Let us Pray… (prayer by minister)
A reading from I Corinthians:
If I speak in the tongues of men and of angels, but have not love, I am only a resounding gong or a clanging cymbal. If I have the gift of prophecy and can fathom all mysteries and all knowledge, and if I have a faith that can move mountains, but have not love, I am nothing. If I give all I possess to the poor and surrender my body to the flames, but have not love, I gain nothing.
Love is patient, love is kind. It does not envy, it does not boast, it is not proud. It is not rude, it is not self-seeking, it is not easily angered, it keeps no record of wrongs. Love does not delight in evil but rejoices with the truth. It always protects, always trusts, always hopes, always perseveres.
Love never fails. But where there are prophecies, they will cease; where there are tongues, they will be stilled; where there is knowledge, it will pass away. For we know in part and we prophesy in part, but when perfection comes, the imperfect disappears. When I was a child, I talked like a child, I thought like a child, I reasoned like a child. When I became a man, I put childish ways behind me. Now we see but a poor reflection as in a mirror; then we shall see face to face. Now I know in part; then I shall know fully, even as I am fully known.
And now these three remain: faith, hope and love. But the greatest of these is love.
And now, a reading from Captain Corelli's Mandolin by Louis de Bernieres:
Love is a temporary madness,
it erupts like volcanoes and then subsides.
And when it subsides you have to make a decision.
You have to work out whether your roots have so entwined together
that it is inconceivable that you should ever part.
Because this is what love is.
Love is not breathlessness,
it is not excitement,
it is not the promulgation of eternal passion.
That is just being "in love" which any fool can do.
Love itself is what is left over when being in love has burned away,
and this is both an art and a fortunate accident.
Those that truly love, have roots that grow towards each other underground,
and when all the pretty blossom have fallen from their branches,
they find that they are one tree and not two.
Perhaps equally important as the LOVE which has brought you together, is the FRIENDSHIP and RESPECT that you share for each other; for with these three things I submit to you that: "A successful marriage is a never ending journey that two people take… hand in hand…With the love of GOD to shine as a beacon in the difficult times…And as a golden sunrise in the happy times."
Reading from the wedding singer (surprise song) Grow Old With You:
I wanna make you smile whenever you're sad
Carry you around when your arthritis is bad
All I wanna do is grow old with you
Ill get your medicine when your tummy aches
Build you a fire if the furnace breaks
Oh it could be so nice, growing old with you
Ill miss you
Ill kiss you
Give you my coat when you are cold
Ill need you
Ill feed you
Even let ya hold the remote control
So let me do the dishes in our kitchen sink
Put you to bed if you've had too much to drink
I could be the man who grows old with you
I wanna grow old with you
Officiant: Do you Groom take this woman to be your wife: to live together in the Holy estate of matrimony; and do you promise to love her, comfort her, honor and keep her in sickness and health; and forsaking all others, keep yourself only unto her… so long as you both shall live?
Groom: I DO
Officiant: Do you Bride take this man to be your husband: to live together in the Holy estate of matrimony; and do you promise to love him, comfort him, honor and keep him in sickness and health; and forsaking all others, keep yourself only unto him… so long as you both shall live?
Bride: I DO
Exchange of vows written by Bride & Groom.
(Minister asks for the rings from the crowd or best man.)
(Groom is instructed by Minister to place the wedding ring on the bride's finger…and to repeat the following, followed by the bride doing the same):
Groom: Bride, I give you this ring/ as a token of my love / and with all that I am / and all that I have / I honor you
Bride: Groom I give you this ring/ as a token of my love / and with all that I am / and all that I have / I honor you
Officiant: Let us pray (prayer by minister)…
Officiant: For as much as Bride & Groom have come together in front of you… their family and friends, and by their promises to one another…..I as a Minister of the word of GOD, and according to the state of Tennessee; am proud to pronounce you "Husband and Wife". You may kiss your bride… Ladies and Gentlemen, May I introduce to you Mr. & Mrs. Bride & Groom!
Wedding Ceremony Script Resources
The wedding ceremony script above is just one example of a wedding ceremony script. There are tons of ways to create a wedding ceremony. The resources below will help you plan and create your own unique wedding ceremony script.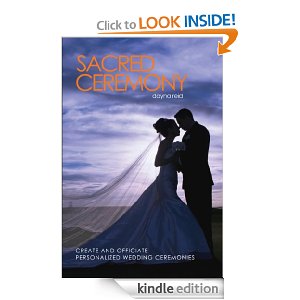 Sacred Ceremony: Create and Officiate Personalized Wedding Ceremonies
Brings the focus back to the real purpose of a wedding - the sacred agreement between two people that defines their marriage.
This book describes the elements of a wedding ceremony from beginning to end, and the choices people can make with each element. "Sacred Ceremony" includes a wealth of wording and ceremony selections, to celebrate diverse styles, beliefs and traditions, from Christian to Zen, to the simple declarations of love that transcend tradition.
Contains a large collection of spiritual and non-spiritual wording examples, several sample wedding and renewal ceremonies, a worksheet to help easily compose the ceremony, and more.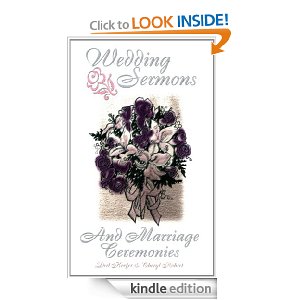 Wedding Sermons and Marriage Ceremonies
This creative resource provides several unique marriage liturgies, guaranteed to put meaning into one of the most important days of a couple's life.
This collection also contains 14 five-minute wedding homilies which addresses a variety of situations. Blending images from scripture and the practical realities of modern life, these succinct messages reveal the connection between faith in God and the promises of marriage.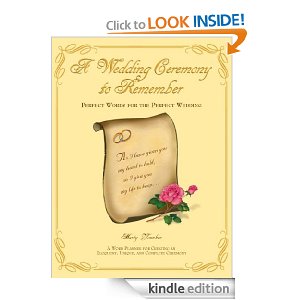 A Wedding Ceremony to Remember: Perfect Words for the Perfect Wedding
This best-selling book now offers nine complete ceremonies, a variety of Vows, Readings, Prayers and Blessings, Wedding Traditions, and other Special Touches to design your ceremony and make it uniquely you.
An Order of Service, Program Samples, Diagrams, Rehearsal and Ceremony Worksheets assist you with all the details that make your decisions "a piece of cake." This book is written for and highly recommended by Brides and Grooms, Wedding Consultants, and Ceremony Officiants.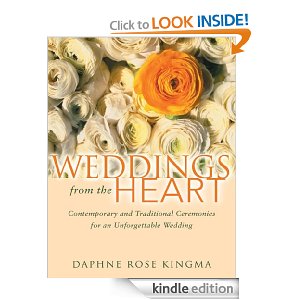 Weddings from the Heart:: Contemporary and Traditional Ceremonies for an Unforgettable Wedding
Weddings from the Heart offers five complete new ceremonies, the texts of traditional Christian and civil ceremonies, and hundreds of vows, consecrations, and blessings. Includes more than fifty heartwarming, philosophical, and poetic readings on love from a wide range of writers and poets such as Pablo Neruda, Rainer Maria Rilke, Shakespeare, and Elizabeth Barret Browning.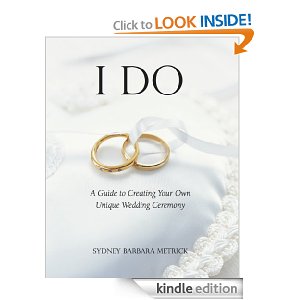 I Do: A Guide to Creating Your Own Unique Wedding Ceremony
I DO is a creative, accessible guide that helps you devise a ritual that is as unique as you are. I DO explains the traditions behind the well-known elements of a wedding-the bridal veil, the exchange of rings, the cake, the vows-and then offers inspired alternatives drawn from a wide range of cultures including ancient Greece and Persia, pagan Europe, and Elizabethan England. Step-by-step instructions and planning guides are included to help you create your own personal event that incorporates the symbols and words most meaningful to you.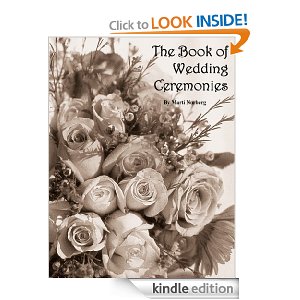 The Book of Wedding Ceremonies
This book was created as a way for you to make your wedding day an exceptionally special day for you, your family and your friends. This is a book of wedding ceremonies -- some traditional, some non-traditional and all ready to be personalized in order to create your special wedding day. Included are four complete ceremonies; some long and some short. There are special vows for people who have been married before.
This book includes complete ceremonies. All of these ceremonies can be adapted to make your wedding day extra special for you. You can start with one of the complete ceremonies then add elements. You can mix and match – a little from this ceremony, a little from that. You make it personal. You make it special. You make it uniquely yours.
Create Your Wedding Ceremony Script
We hope these wedding ceremony script resources help!
We know you will create and use a wedding ceremony script perfect for your wedding. Feel free to share with us!